Adelaide: For three in every four years, this part of the Australia summer doesn't matter an awful lot. Not these days anyway. Bilateral one-day series don't prompt the crowds they once did, nor do they dominate the discussion as they may have a generation or two earlier. Sad but true.

But that's a different story when it is a World Cup year or when India are in town. This January, we have both. And with the hosts having a chance to win their first ODI series since the Mesolithic Age (well, two years ago), in straight sets no less, there will be plenty of eyes trained on Adelaide Oval on Tuesday, in front of an audience far healthier than for the Test Match played here just last month.

That it would be a proper, actual series without Steve Smith and David Warner is perhaps more important again, especially as it is now far less certain how the former will be able to influence the World Cup with elbow surgery keeping him in a brace for six weeks.

If winning is a habit, it is one that Alex Carey has not yet got to enjoy as an international. "I definitely want to win a series against India," the smiley South Australian said on the eve of the second rubber. "With the World Cup not far away to have some success in Australia against one of the best white ball sides in the world would mean a lot for our cricket moving forward."

Now the vice-captain as well, Carey could easily end up leading the national sides one day, his leadership qualities identified by the powers-that-be at Cricket Australia from the moment that he came into contention for higher honours. Sure enough, then, he can see the bigger picture as well as the here and now, repeating one word time and again when addressing the media — opportunity.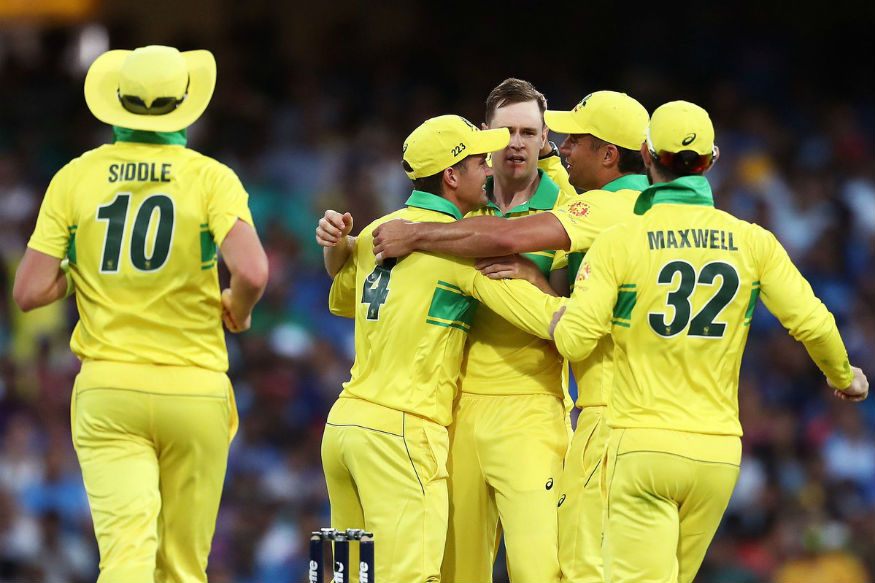 (Image: Twitter/BCCI)

"There are so many opportunities for guys to put their hand up and really make a spot their own," he said. "Not only is it a good lead up to the World Cup it is a really good opportunity for guys to say 'that's my spot, I want that spot' and we saw that the other night. So, there is another opportunity (for that) tomorrow."

Masked somewhat by the final result at the SCG was that Australia had the chance to make many more runs than the 288 they landed on at the end of their 50 overs. In four and a half months' time, when their World Cup campaign begins in England, the confidence of the side will need to be at a point where they feel comfortable putting the foot down earlier to maximise the damage in the final burst when they have wickets in hand nearing the 40 over mark.

On Saturday, while the 66 runs piled on in the final six overs did the trick, only 27 were added between overs 37 and 43 at a rate of 3.85 an over. Of course, walking before running is essential through this period so that conservatism was understandable after a year with so little success in 2018. But so it is that Glenn Maxwell - the side's most dynamic player and fastest scorer - gets a chance to spend more than five balls in the middle when the quadrennial tournament rolls around.

"We thought the guys out in the middle summed up conditions really well," Carey said. "They could have pulled the trigger earlier (but) if they lost a wicket, that could have put us back a bit. So for guys to have calm heads in that situation I thought it showed a lot of maturity from (Marcus) Stoinis, and Peter Handscomb."

As for Maxwell's position specifically, described pre-series as a "floater", Carey agreed that it is a "good question" whether he should be elevated. "Having him in the sheds when there's three overs to go it means you've done something right through the middle and the top order," he said. "So you could argue the point that he could be batting higher. Personally, sitting next to him with three overs to go it's pretty exciting to have that power hitting later in the innings. He doesn't need too many balls to make a big impact."

Over the last ten ODIs at this ground the average score may be only 243 – Australia themselves overcoming South Africa with 231 in November - but with a forecast top of 41 degrees, there is little doubt that the side winning the toss will be able to take full advantage. If the hosts do get that chance, and go on to win, it will underpin some badly needed belief that they can do more than make up the numbers when defending their World Cup mid-year. Better late than never.