It has been a season of twists and turns with several closely fought games that have kept fans on the edge of their seats. So, what have been the big takeaways from the season? Has power hitting acquired an all new dimension? Will some of India's World Cup bound players be affected by their poor form? Is increased use of technology the solution to repeated umpiring gaffes?

Former India Captain and CricketNext Brand Ambassador Anil Kumble reflects on these issues and more in this freewheeling interview.

GK: First of all, we must talk about what has been an intriguing tournament in terms of the number of games that have gone to the last over, the number of close finishes we have seen. Have you been impressed with the quality of cricket?

AK: Yes, I think the quality of cricket has been good, you can say that the catching hasn't been special. I mean there have been some brilliant catches taken but some simple catches have been dropped. There have been some close finishes, we saw a couple of Super Overs and the power hitting has been really special. It's really scary to be a bowler now with the way that batsmen can hit, we have already seen some 770 sixes (739) in 56 games, which is ridiculous and one batsman hitting almost 50 sixes in a tournament is crazy. So yeah, I mean we have seen some wonderful display of cricket skills and also some unique strategies as well, some illogical (laughs), but I think the quality has been really good.

GK: I wanted you to touch upon power hitting in general. You have been a bowler yourself, but as a tactician and as a coach are you seeing now players technically model themselves differently, to be able to hit consistently the sort of sixes that they are hitting?

AK: I think what has been really remarkable has been the consistency that these power hitters have shown. Earlier you would say 1 or 2 or 3, and he is going to get out, but now it just keeps happening and you know someone like Andre Russell or Hardik Pandya have been consistently hitting those kinds of boundaries in every game. Earlier, it used to be the power-play in the first 6 overs, the last 5 and the consolidation phase, now I don't think there's any thought of consolidation phase. You just go there; pack your team with power hitters and then you know that one will come good.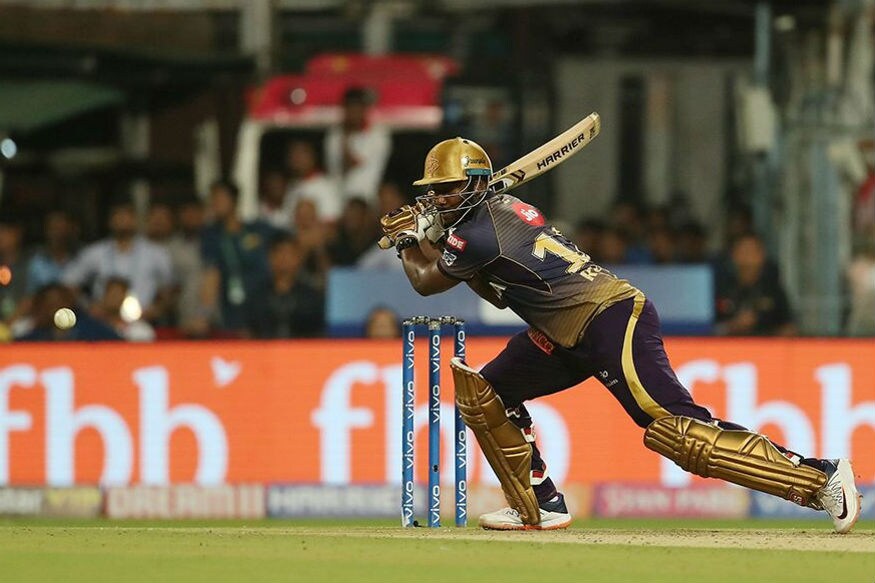 Andre Russell chases a wide ball. (IPL T20)

GK: Is this a model, Anil, that you see becoming more and more prevalent especially with how T20 cricket is being played, that actually players are going to be constructed in the mould. I know it's not going to be easy to make a Hardik Pandya overnight, but are going to be trained in this way from a very young age to be power hitters like the kinds Pandya, Pant, Russell are?

AK: Oh yes, I think you know you will start building a squad around power hitters and probably wrist spinners, and you know that's the kind of game you are seeing today. The wrist spinners have been successful, the power hitters have been successful and you need some all-round capabilities as well. I mean if you look at this year's IPL versus last year's, yorkers have gone out of the window. The percentage of bowlers bowling yorkers in the death has come down drastically, so it has become a knuckleball kind of an IPL.

Last year also there was a lot of success, especially with SRH, Siddarth Kaul last year bowled a lot of these knuckleball deliveries and picked up wickets and this year, you know batsmen could read and so he couldn't play, he got dropped from the SRH team. So, I think players are also now coming back with smarter options, knowing fully well what the opposition bowlers do. Rashid (Khan) you know, people have sat on him and not really given him too many wickets and because in the middle overs when he hasn't picked up wickets, Bhuvi has found it difficult towards the end because he is bowling at set players now. So, I think most teams are working around a solution where it's power hitting and then also look at spinners who can give you the options and fast bowlers who are out and out fast bowlers.

GK: The one unique thing about this IPL was that it was for the first time being played before a World Cup and that meant that there was a lot of talk about the likely impact on the World Cup. In your view, do performances, especially guys who don't do so well in the IPL will have a knock on effect on their performances in the World Cup? There have been a quite a few - Kuldeep struggled, Vijay Shankar has gone cold a little bit…

AK: It certainly affects the confidence a little bit but then we are talking about a different format. If it was a T20 World Cup then I would say that yes this would certainly have an effect. It's a longer format than the T20 so I am sure the players that you spoke about, whether it was Vijay Shankar then even Kedar Jadhav or Kuldeep who got dropped, I don't think they will carry this too much into the World Cup. But having said that, if they don't do well in first couple of warm up matches, then it will start playing on their minds. So, I am hoping that these players and also the players who have performed — obviously it's a new format and World Cup is different — need to get into the World Cup format very quickly. So, you expect that all the players who have performed, non-performers also will start building confidence in the first couple of matches.

GK: You have spoken very highly of Kuldeep Yadav who is obviously India's main spinner at the World Cup. Does it concern you at all that he has been dropped from his franchise team?

AK: I think the batsmen certainly are smarter and trying to figure out who your main bowlers are and then how can you start using match ups, who can go and dominate and put the team under pressure and literally take their plans out of the window, that's what the opposition teams have done and KKR lost 6 in a row. So they had to make changes and they identified perhaps that Kuldeep was someone who needed a break. So yes, Kuldeep would have probably thought through but knowing him, he is only young, I mean it's only couple of years that he has been a part of international set up. He is someone who loves challenges, he is not afraid to throw the ball in the air and take those challenges upfront.


IPLT20.com

GK: Now one of the things that always happens or more than once, that we always have talking points at the end of the IPL. The one talking point in this season that has made a lot of people agitated is the no-balls situation, umpires not being able to call them. Do you think something radical needs to change for the situation?

AK: There has been a lot of debate. You know there have been missed no balls over the last 140 years. There been no-balls that were given and they were not no balls in the last 140 years. And there was an instance where the ICC did trial in a series where the third umpire called all no-balls. And there were only seven instances throughout the series where they called a no-ball. And I am sure you would have left it to the on-field umpire, he would have perhaps called six out seven or seven out of seven. So, when something like this happens, I know probably you are referring to the RCB vs MI game but it is tough you know. There are times when the standing umpire doesn't see the no-ball. And we are talking about the last ball of the match that's why it becomes so important. But what happens if it was the second or the third ball and he has missed it and then we aren't even looking at it.

If you look at the T20 format, when we first started the IPL in 2008, if you remember all batsmen had to be sitting in the dugout. They needed to run because one minute is what they were given to cross over and be ready to take the ball. Now we are not talking about it. Now T20 games are finishing four hours from the start of the game. And I know we need to get all the right decisions made.

But then what happens to the height no-balls. Are we going to refer it to the third umpire? What happens to catches? So, every decision that umpire makes in the field. If we are going to refer, then we will be playing eight hour T20 games. So, you need to bring about the balance. And trust the people who are doing the job.

GK: Couple of other things happened in the course of this tournament. The hugely contentious one was the Mankad, completely split the World community down the middle. Let me ask you, as a bowler, in Ashwin's shoes, would you have done that?

AK: No, I wouldn't have done that but at the same time I don't think we should go hammer and tongs with Ashwin because he is entitled to run a batsman out if he feels that he's taking undue advantage. We've seen the technology being there. We saw MS Dhoni's stumping of Shreyas Iyer, he was a millimetre up. If the technology wasn't there, I don't think any umpire would've given Shreyas Iyer out. Like that, we've seen a lot of run-outs. By a whisker, a batsman has been saved and batsmen have been run-out. So, if you're getting the advantage at the non-striker's end, then obviously it's a part of the rules. I think that's one agenda point in the cricket committee, where we're looking to change the name of this, we don't want Vinoo Mankad to be associated with this.

Again, you talk about the spirit of the game. I don't think it's got anything to do with the spirit of the game. So, it should come under the laws of run-out and it should remain there.

Currently, it comes under unfair play. So, that's a change you'd want to see. But otherwise if you don't have this rule then every batsman will be running too far ahead. You don't want that either. If a bowler goes by a millimetre, and we spoke about technology coming in. For Malinga we're discussing that he probably went over the line by half an inch, whereas a batsman has gone 6 inches ahead and we're blaming the bowler.

So, I guess it's the part of acceptance and in today's cricket when the stakes are too high, everybody looks to play the game according to the rules and I think it's only fair that all of these matters are looked at. Yes, you need the spirit of the game because it's extremely essential. You want that not just applicable to this one event, where you're isolating it and then trying to look at it. It needs to encompass the whole game itself. So, spirit of the game encompasses the whole game. The rules need to be aligned and the players need to align to the rules.




GK: So, the argument that was made by several players at that time, former players as well is in that situation it's almost mandatory upon the bowler to first warn and then execute it. Do you buy that?

AK: No. I don't think so. There's no rule that you need to warn now, there used to be before. That was again something that the player did. So, I don't think there's any such thing that they need to warn. Like I said, if I was a bowler would I have done it? Not really. So, it all depends on that individual and I don't think we need to really go in depth and crucify either Jos Buttler or Ashwin in this instance.

GK: Okay Anil, thank you for those thoughts. Just before we wind up, the IPL will finish soon and then India goes into the World Cup straight away. Just having looked at India's players over the course of the last few weeks, do you believe that this is as strong a team as India could've fielded?

AK: I mean, a couple of the players will be disappointed for not being a part of the squad. Players like Rishabh Pant and Ambati Rayudu, they will certainly feel disappointed that they're not a part of the 15. But having said that, you can only take 15. With the team that's there, I think India certainly has all the credentials for going all the way and winning the cup. Number 4 is a debate, for me number 4 is MS Dhoni. So, one batsman is a debate, will it be KL Rahul, will it be Vijay Shankar, will it be Dinesh Karthik. I would've been a lot more comfortable if this debate was already addressed in a couple of series leading up to the World Cup, rather than having that discussion or settling that discussion in a World Cup. That's my only concern. The other concern, perhaps, the fast bowling back-up, we did discuss this prior to the selection that you prefer having a fast bowling back-up. India doesn't have that, they're heavily dependent on Mohammed Shami, Bhuvneshwar Kumar and Jasprit Bumrah. Of course, Hardik has done really well in this IPL, whether he'll be able to replicate that bowling form in a 50-over game, only time will tell. But, I would've preferred to have some sort of backup.