On December 19, 2016, Karun Nair was living a dream, thrashing helpless England bowlers for fun at the MA Chidambaram stadium in Chennai. It was just his third Test, and Nair became India's second triple-centurion after Virender Sehwag, and only the third player in history to convert a maiden Test ton into a triple.

Naturally, the stunning, unbeaten 303 went on to define him for the immediate future. So much so, that he even got a Ford Mustang with a number plate that read KA 03 NA 303.

But it didn't take much time for Nair to realise that life wasn't always that rosy.

The competition for spots in the Indian middle order was so high that he had to make way for Ajinkya Rahane in the one-off Test against Bangladesh. Nair thus became only the fourth batsman to be excluded from the playing XI of the next Test after scoring a triple hundred in his previous game.

The Karnataka batsman did win back a place in the XI for the home series against Australia, but only managed scores of 26, 0, 23 and 5. By then, memories of the triple-ton had faded away, and Nair came crashing down.

"If I have to be honest, after the 300, I did get weighed down by those expectations," Nair told Sportskeeda recently. "It took me a couple of months to get back on track."

The couple of months he took, however, cost him big. Nair lost his place in the Indian Test squad immediately, and hasn't featured in any of the 18 Tests India have played since the final Test against Australia in Dharamsala last year.

Through the 18-Test period, Nair went through a rollercoaster ride in terms of selection. Nair constantly kept knocking on the doors and reminding the selectors with consistency in the domestic circuit and A tours. But those weren't enough for him to make it to the South Africa Test tour, as India went with Rohit Sharma instead.

"I started expecting too much from myself. It took me a long time to realise I was being too hard on myself. It came to a point when I had to do something about it and the best thing I could do was to let go," he had said then, after being overlooked for the South Africa tour.

"I started playing cricket like I did when I was a schoolboy. I started enjoying middling the ball. I'm still working on it because it can't change in a couple of months. Now, I'm not into numbers, or even if I don't do well, I know there is another game coming up. In the past year, I have seen the highest of highs and lowest of lows. Good that I have experienced all that in the early stages of my international career. Going forward, this one year will help me improve my game and get me stronger mentally. I've learnt unforgettable lessons."

The mental struggles and the consistency in domestic circuit soon bore fruit. Rohit failed in South Africa, and Nair got in for the one-off Test against Afghanistan in June and the Test tour of England.

By then, Nair was ready to move on and start afresh. Move on from the 303, the lows and highs of 2017.

"It's time we all moved on and looked ahead," Nair said ahead of the Afghanistan Test. "I have become fitter. For one-and-a-half years I have been out of the team and making efforts to improve my skills. I have worked on batting and fitness. I scored runs in domestic cricket. I know for myself, I am a better batsman than what I was two years ago."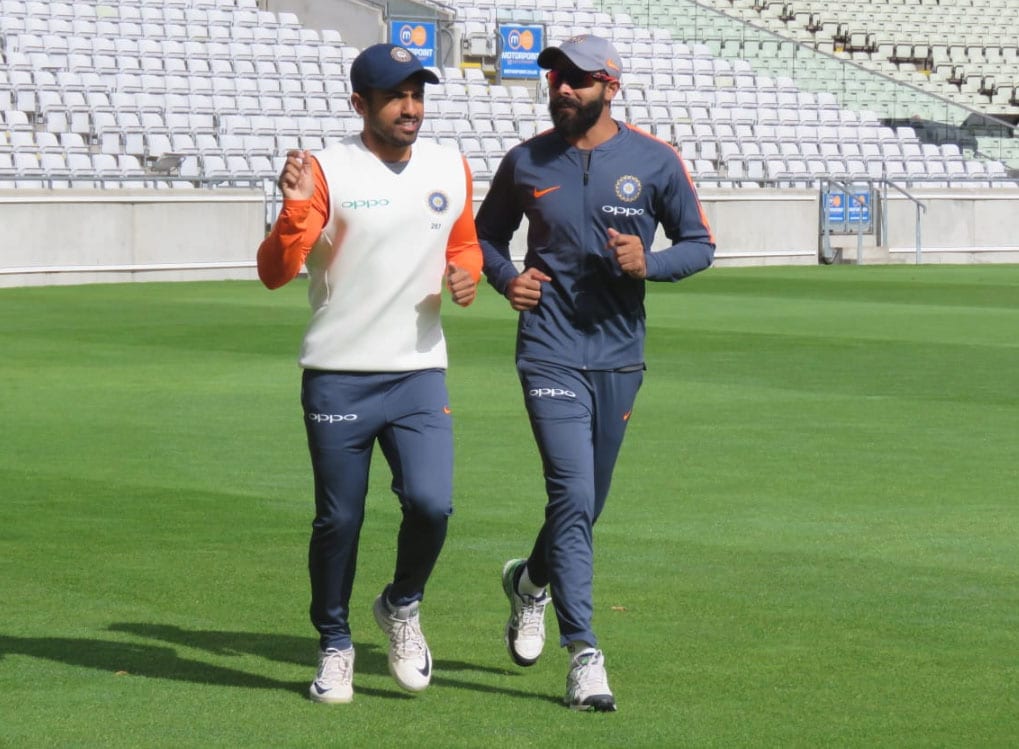 Karun Nair and Ravindra Jadeja (R). (BCCI Image)

What Nair might not have expected though was a different type of low that would strike him in the fag end of the tour. India kept him out for the first four Tests, which was perhaps understandable given they had a chance to win the series till then. The fifth Test, a dead rubber, might have been a good opportunity for India to give Nair a chance, but that didn't happen. More than just the non-selection, what can hurt Nair is Hanuma Vihari - who wasn't in the squad until the fourth Test - getting a chance ahead of him.

It was a decision that left even Sunil Gavaskar fuming.

"He is not your favourite player. The selectors seem to have brought him. Don't think the team management likes him," Gavaskar said in a pre-match show televised by Sony Six. "Karun Nair has every right to ask the team management why he is not in the team. He deserves an answer. You didn't pick an extra specialist batsman earlier, but now that you have, Karun Nair deserves an answer.

"There is no argument that is going to ever satisfy me. What has Karun Nair done not to get in? I know he has not been your favourite player. You don't want to pick him. He scores a triple hundred. You leave him out. He fails in a couple of games, you leave him out. You have brought him back in the team. It could be the selectors who have brought him back. The team management probably doesn't want him. And that's why they haven't given him the opportunity to play in this game.

"How many Indians have got triple hundreds? Virender Sehwag twice and Karun Nair once. You don't give that man an opportunity. So what are you trying to tell him? 'Look we don't think you are a good player?'

"All the best to Hanuma Vihari. I really wish him well. Karun Nair has every right to ask the team management what he has done wrong. He deserves an answer. 'Why am I not picked?' If you are going to pick an extra batsman, which they should have done from the first Test itself, and if you haven't given him the opportunity, he deserves an answer."

From the last Test of England's tour of India to the last Test of India's tour to England, life has come a full circle for Nair. He might or might not deserve opportunities, but he deserves at least an explanation.


First Published: September 8, 2018, 8:41 AM IST