Lakshmanan: Umesh Muscles His Way Into Playing XI Contention Down Under
Updated: October 16, 2018, 8:47 AM IST
It will become increasingly difficult to leave out Umesh Yadav when Virat Kohli and Ravi Shastri sit down to decide on the playing XI for the first Test in Australia later this year.

Over the last eight Tests in South Africa and England combined, Yadav has been the last pacer in the pecking order, behind Ishant Sharma, Mohammed Shami, Jasprit Bumrah and Bhuvneshwar Kumar. It meant he played only one of the eight Tests, despite having been their most preferred pace option in the previous two seasons. For some reason or the other, Yadav became a specialist at home and the last option in conditions which should ideally suit him.

His performance in the Windies series, where he bagged 10 wickets in the second Test in Hyderabad, was a cry for a bit more faith in him when India go to Australia. Bumrah, Ishant and Bhuvneshwar will return to the squad after their breaks, but as Kohli acknowledged after the game, Yadav too should be considered in the same league.

It required a 10-wicket haul to bring attention on him, but his rise should surprise no one. He is no longer the fast but erratic ball sprayer he was in the past; the Umesh post 2016 is fast and accurate.

Seven off Yadav's ten wickets in Hyderabad were bowled or leg before, showing his ability to be on target consistently. Not once did his pace dip too; He was consistently hovering around 90 miles per hour, while not compromising on pace.

The performance in Hyderabad was just a small sample of the changes in Yadav's bowling over the last few years.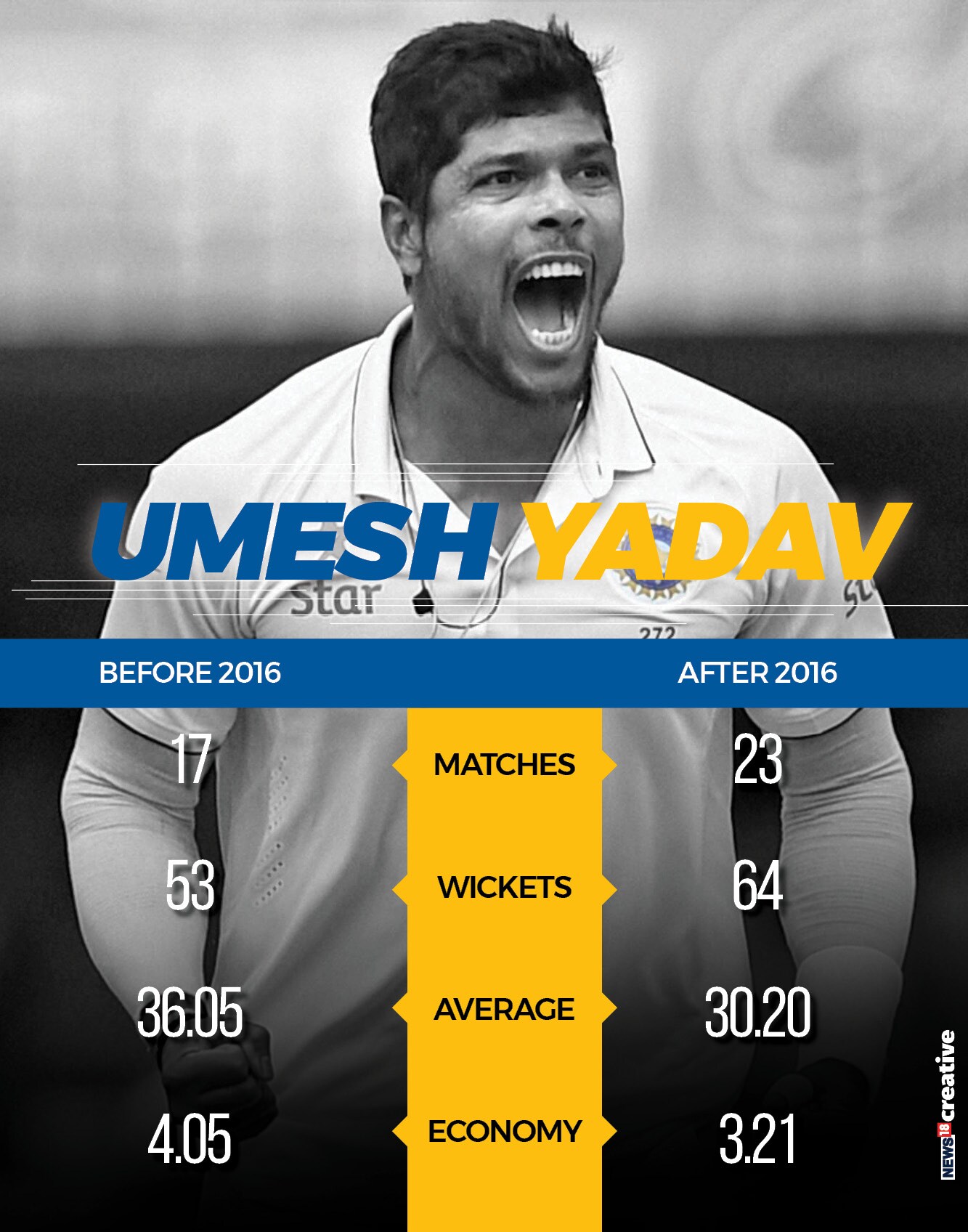 20 of Yadav's 23 games post 2016 have been in the sub-continent. Incredibly, he hasn't broken down even once. Umesh played 17 of the 19 Tests – including 12 off the 13 games in the marathon home stretch - in Asia between September 2016 and end of 2017. In the same period, Shami played 11 Tests, Ishant played only seven, and Bhuvneshwar merely three.

Unlike in the past, India did not opt for rank-turners throughout that home season, which meant the pacers too had quite a bit to do. Since July 2016, Umesh bowled 601.5 overs in Test cricket alone. Add One-Day Internationals, Twenty20 Internationals and the IPL, and that number goes up to 845.4.

It's this fitness level that will improve his chances in Australia, as the captain himself acknowledged.

"Four Tests in Australia can be brutal because the (Kookaburra) ball does not do much like in England. So you have to come in and run in all day and hit the right area with pace. But I think from that point of view, Umesh is right up there to be featuring in Australia," Kohli said after the series against Windies.

"Because he (Umesh) has got the pace, he has got the fitness levels to run in all day, picks up wickets at crucial times and he gets good bounce as well, so it's a great headache to have.

"Not many people realise but he is a very, very talented bowler. He can bowl you unplayable deliveries every now and then which we experience in the nets all the time. He will just bowl a ball which you feel you couldn't have done anything else except getting out. He is gaining more confidence about his own game."

Yadav has also played more Tests in Australia than Bhuvneshwar, Shami and Bumrah combined. He has played seven Tests Down Under split across two tours, but apart from a five-wicket haul in Melbourne in Perth in 2012, he hasn't done much of note.

In fact, his performances overseas in general has been poor, as the average and economy rate reflect.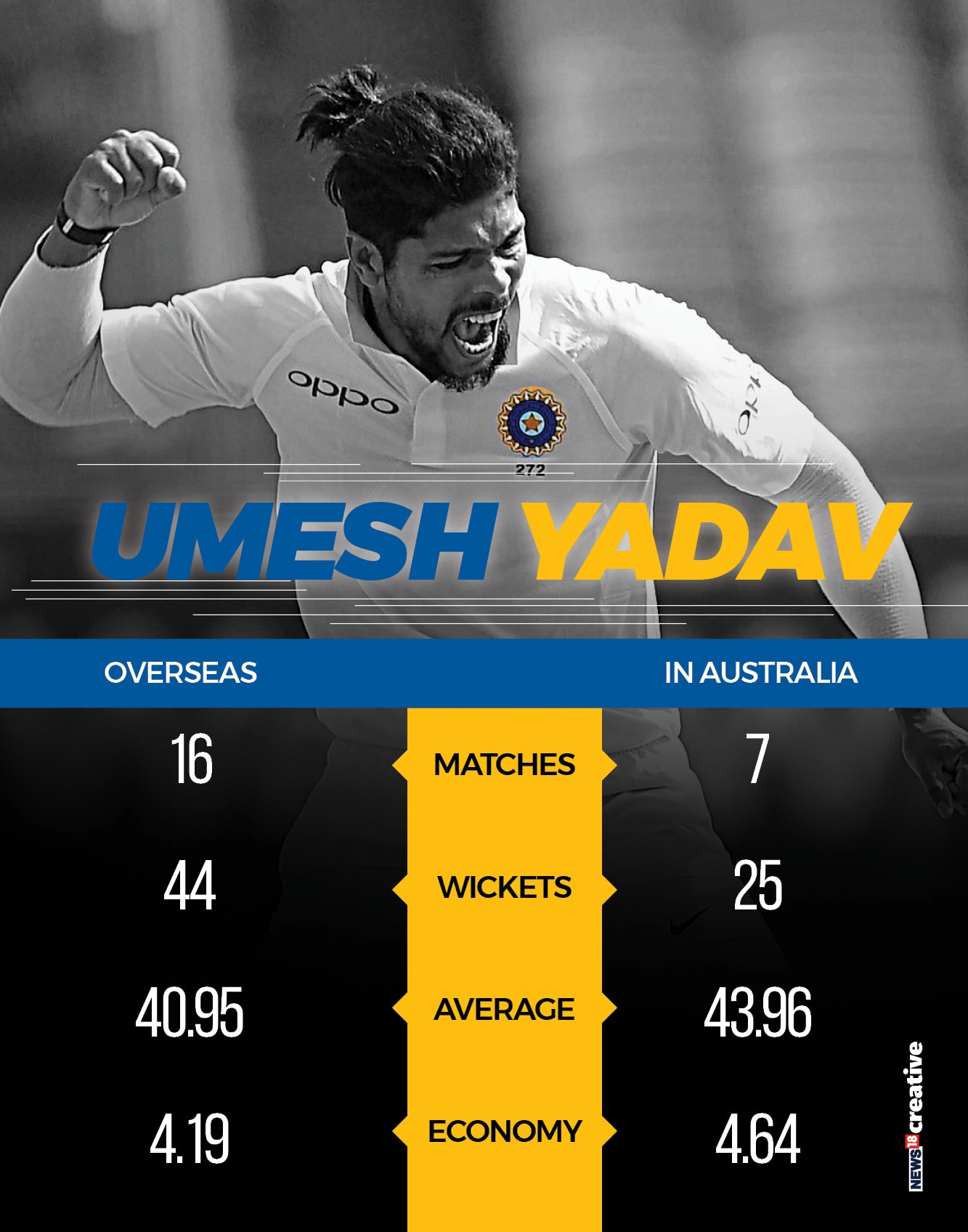 However, 10 of these 16 matches abroad came before 2016. The bowler that he is now, this could well be Yadav's best chance to improve his overseas record.

Whether he gets the chance or not remains to be seen, but it's clear Yadav is not the kind to complain even if he doesn't.

"Sometimes the team combination is such that you have to sit out," he had told ESPNcricinfo before the Windies series about his sporadic appearances overseas. "The selectors and our management committee also wouldn't want me to sit out. They know Umesh is bowling well, so they also feel bad telling me that I have to sit out. But if your team combination doesn't sit right, then it will be an even bigger problem. I can't complain. I have also got lots of chances, I've played lots of Tests continuously."

"It is difficult. You are sitting for five days, trying to read the game from outside, to be aware of what's happening. Nobody likes to sit out. You can't really do anything. Sometimes you feel like,'I would have got wickets if I was playing'."

"Sitting outside is more tiring than playing! So yes, it was disappointing for me that I got to play only one of the last eight away Tests, but I think there's nothing to be gained from harping on it. Now I need to focus on how to do better if I get a match, so that I get more chances in the future."

Yadav has gone on to do just that. Over to Kohli and Shastri now.
---
---
Team Rankings
Rank
Team
Points
Rating
1
New Zealand
2764
126
2
India
2987
119
3
Australia
1844
108
4
England
3753
107
5
Pakistan
2481
92
FULL Ranking
Rank
Team
Points
Rating
1
New Zealand
2054
121
2
England
3793
119
3
Australia
3244
116
4
India
3624
113
5
South Africa
2267
103
FULL Ranking
Rank
Team
Points
Rating
1
England
7786
278
2
India
7093
273
3
New Zealand
6048
263
4
Pakistan
8883
261
5
South Africa
6640
246
FULL Ranking
Upcoming Matches