Rajkot: He could be in line for a Test debut against Windies but Prithvi Shaw shouldn't curb his attacking style of batsmanship provided he gets the nod, feels India vice-captain Ajinkya Rahane.

"I am happy for Shaw. I have seen him since his young days, we used to practice together, he is an attacking opener and done well for India A and got the reward," he said.

Rahane however didn't commit on who among Prithvi and Mayank Agarwal will partner KL Rahul in the opening Test in Rajkot, starting October 4.

"Personally we don't know the combination what we are going to play. But there is no pressure, it is an opportunity for every individual to express ourselves. I wish him good luck and I am sure he will do well. I just want him to play as he has been doing for Mumbai and India A and I think he will be fine," Rahane said.

"It is a good opportunity particularly for youngsters like Prithivi, Mayank and (Mohammed) Siraj as they have all done well in domestic cricket. So as a batsman they can score runs, as a bowler they can pick wickets. It is all about going out there and giving your best without thinking much about future," he added.

After a disappointing outing in England, Rahane led Mumbai to victories over Baroda, Karnataka and Railways in the Vijay Hazare Trophy last month and he said it provided him good match practice ahead of the Windies series.

"After coming back from England, I was just looking to do well for Mumbai at that point of time and get some match practice (although it was white ball cricket) ahead of the West Indies series. Vijay Hazare was a good match practice for me," said Rahane.

"I always believe whether it is a domestic, international or practice match, it brings a different pressure and I think it helped me to prepare. I am really confident and looking forward to do well and keep contributing towards my team."

India will need to quickly adapt to the different yet familiar home conditions at home to dominate the two-Test series, felt the Indian vice-captain. India had failed to bring their best in English conditions, losing the five-Test series 1-4 last month.

"Here we have to see how the wicket behaves, it is hot here, so we have to adapt to the conditions quickly during the practice sessions," Rahane said.

"We know the Indian conditions and we know how to go about our job and what shots to play here. England was different, so we will have to quickly switch mentally.

"Each and every match is equally important and we are just looking to play to our standards, rather than thinking about our opponents. It is important to start off well, we have two practice sessions before the Test match starts," he added.

The 30-year-old Mumbaikar said the focus of the team is to improve its own game without thinking about their opponents.

"It was a great achievement to win Asia Cup and players who got an opportunity there did well, but this is a new series and we can't take them lightly. We have to focus to improve our own game," said Rahane.

"No matter whom we play, whether it is Australia, England or West Indies, it is important to improve our own standard. Our goal will be to play some good cricket, definitely to dominate from the first match and improvement as a batsman, as a bowler and as a team, that would be the focus."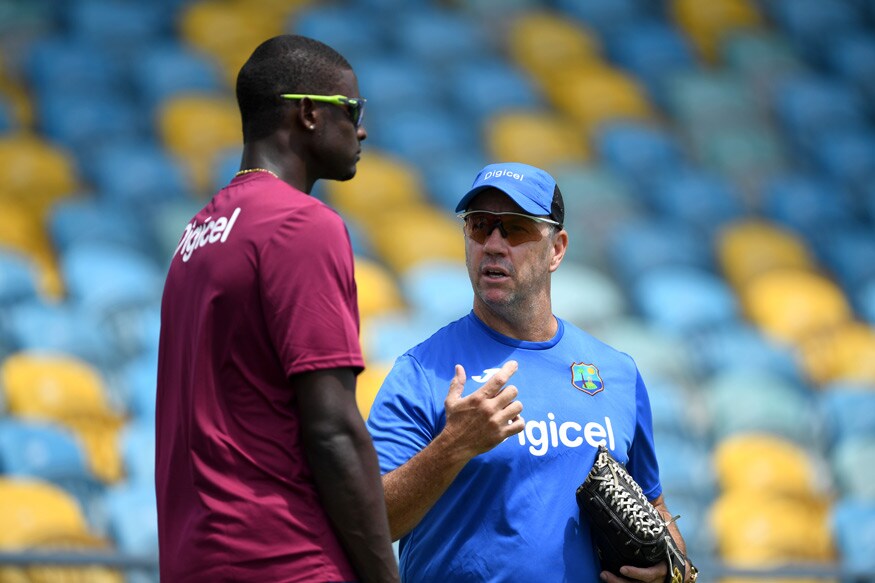 Meanwhile, Windies coach Stuart Law is not reading much into India's recent troubles in overseas Tests.

"We have spoken a lot (ahead of the series). We played two good home series against Sri Lanka and Bangladesh. At the same time, I don't read too much into India's form in England. I was there watching pretty closely. It was a lot closer than the 1-4 scoreline. England were just able to win the crucial moments," Law said Tuesday.

"India are the number one side, we are further down the ladder (at 8). We are playing in their own backyard, it is a huge task. Not many teams have come here and won. We understand that but on the flipside we are getting better and better," said the Australian, who will join Middlesex after the tour of India and Bangladesh.

The last time Windies won a Test series against India was at home in 2002. The team has lost six straight series against India since then. Law, however, sounded confident going into the series opener.

"We spent good eight days (in Dubai) before we came to India. It was 45 degrees during the day in Dubai so heat here won't be an issue. Then we had a good couple of days in Baroda (only tour warm-up), the pitch was similar looking to what I see here today. Preparation has been good.

"We have talked a lot but it is time now to stop talking. It is time the boys show what they have got on the field. Touring India has always been tough for teams, we have to show the world that we can play the game and grab hold of those opportunities," he said.

Asked about the Windies opening combination of Kraigg Brathwaite and Kieran Powell, Law said batting in the top-order in Test cricket is only getting tougher.

"Look we are seeing a pattern arise that batting at the top three and four has become quite difficult. We are in a similar position. Kraigg and Kieran have opened the batting plenty of times together and they have been good so far here, they are in good head space.

"We have got our plans obviously and the boys have to show it in front of fanatical crowds against the world number one team. Something we should enjoy and not fear," he reiterated.

Pace has been West Indies' strength but Law is also relying on his spinners to trouble the Indian batsmen, like Moeen Ali did in England.

"Moeen Ali really took to India in England, bowling into footholes. We got to use what is available. Roston Chase is a bit taller than Ali, bowls at similar pace. Devendra Bishoo and Jomel Warrican have got some good control as well. Pace has been our strong point but the spinners can also do the job."

Law, who joined the Windies in February 2017, got a tad emotional while talking about his time with the Caribbean unit.

"It has been a fantastic two years. They are a great bunch of guys. I consider them as my sons if you like. They try, don't shy away from hard work which we had to instil in them and it is beginning to show in results. But we would have liked far more positive results.

"The result that I am actually seeing now is that we are preparing better and executing better. We have seen at U19 level that there is a lot of talent. It just has to be nurtured well back in the region," he added.