SPECIAL | 20 Years to Perfect 10 – Kumble Recalls Historic Moment
Updated: February 7, 2019, 7:57 AM IST
On February 7, 1999 Anil Kumble became only the second man in the history of Cricket since Jim Laker in 1956 to take all ten wickets in a Test innings. Kumble ran through Pakistan at the Feroze Shah Kotla in Delhi to deliver not just a memorable victory but also a moment that will resonate forever in the annals of the game. Twenty years to the day, Kumble speaks to CricketNext about his memories of that unforgettable performance, recounting in great detail how the spell unfolded.

GK: I know it is 20 years on from that day, but is it as fresh in your mind?

AK: Yeah, it is. I can remember every wicket. The way it happened, it unfolded. I mean it is something that is very very special. So you don't tend to forget that. If you do there are lots of people who are around it who will talk about the ten wickets.

GK: You are one of the greats of the game and you have achieved so many things, but in terms of a standout, singular, individual achievement, is this right on top of anything that you ever achieved in the game?

AK: You don't go into the game thinking that you are going to pick up all ten. This was probably destiny playing its part. Divine intervention so to speak of helping me to get all those ten wickets. I mean you tend to go through in your mind the previous evening, you sit and visualise what you are supposed to do the next day. Then you go through those ten wickets, then you go through the batsmen and you get them out, in fact you go through all the eleven and get them out in your mind. And for me it was one of those days where whatever I had thought through the previous night actually happened and it unfolded in front of me.

GK: In-fact it stays with you because your Twitter handle is ten-seven-four right?

AK: Yes (Laughs).

GK: You have kept it your part of daily existence.

AK: It is, I think people obviously remember the ten wickets. And they associate me with the ten wickets. So why not?

GK: Let's set the stage for a little bit in the build-up to the moment. Now this is 1999, you have been playing for almost a decade for India, you are quite experienced but this is the first time India is playing Pakistan in a Test series in a decade and Chennai happens where India came so close but lose. Going into Delhi. What was your thought process as a team?

AK: Yeah, it was just a two Test series. After that there was the Asian Test championships. So, we were very disappointed coming this close to winning in Chennai. It was a close game we lost by 12 runs. And going into Delhi we knew that we couldn't lose. You have to beat Pakistan. You can't lose the series. Because this was after 12 or 13 years since we last played Pakistan in a Test series. Then this was the only Test match that was happening in India.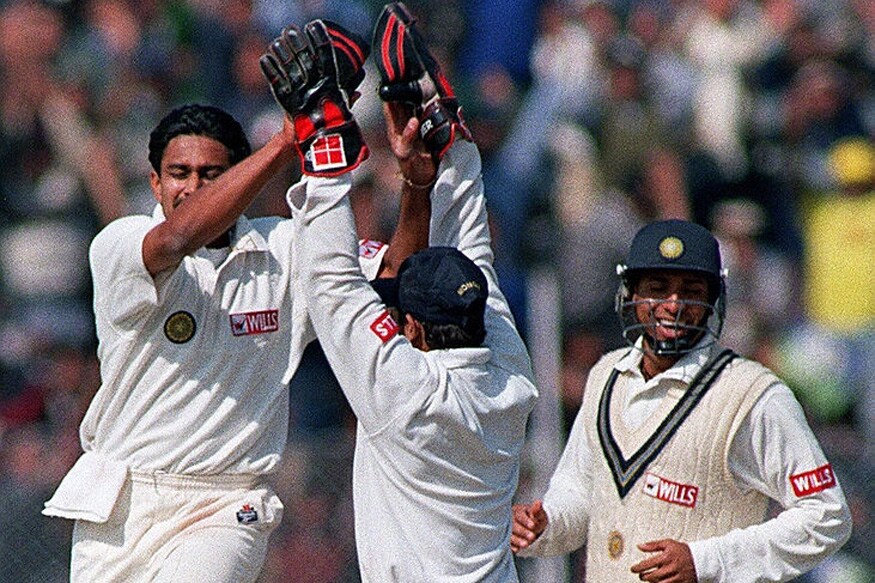 GK: Right, think back on yourself as well being the premier strike bowler in the squad but you haven't played Pakistan before this in Test cricket. Did that add a little bit of spice to the context from your point of view as well?

AK: If you look back at spin bowling, you know that the Asian subcontinent batsmen were certainly really good players of spin. I had tested my skills against Sri Lanka and not necessarily against Pakistan and they were exceptional when it came to playing spin. So it was certainly a pressure situation because I was the premier spinner. Harbhajan Singh had just came into the Test squad. He was really young, so I was the senior spinner. And the onus was on me to deliver. So yes there was a lot of pressure but you know I enjoyed those challenges and to go out there and bowl against the likes of Inzamam, Afridi, Saeed Anwar, Yousuf Youhana (now Mohd Yousuf), Salim Malik.

GK: First innings, you pick up four wickets. Anything that you took away from that innings in terms of how the Test match was going to unfold. What was your assessment of the conditions?

AK: It was a slow wicket which was obviously a little two paced. I remember taking a caught and bowled of Ijaz Ahmed and I knew that the Kotla wicket would deteriorate as the game progresses. So it was important that we set the game up and the first innings wasn't a great score for us. Then Ramesh (Sadagopan Ramesh) batted really well. He missed out on a hundred. Sachin got some runs, Sri (Javagal Srinath) got runs. Sourav got runs. So, I think it was in the second innings that we really took the game away from Pakistan. We knew if we batted and got 400 runs, it wasn't going to be easy chasing those runs.

GK: The target was 420. Then Pakistan got an absolutely rollicking start with Afridi and Anwar adding 100 plus. Were there some nerves with the way Pakistan started?

AK: It was all about getting the first wicket. Because for any new batsman to come in and get used to the pace of the pitch wasn't easy. So we knew once the shine wears off, it is not going to be easy for a new batsman. It was also important that we get the first wicket. There was a Lunch break. So I sat around Anshuman Gaekwad who was the coach. He spoke about the importance of lifting our game. He felt from the outside that we were a little flat in that session. Possibly because we had 420 runs to defend. So, after Lunch I thought through and realised that look I am the senior spinner, so I need to take the pressure for the rest of the bowlers. I swapped ends, after Lunch, I came from the pavilion end and it immediately happened. So there was such a change in the luck with the sweater and the cap. So that was the ritual that was started in that Test match. Sachin gave that sweater and the cap to the umpire and the luck changed. I got two wickets in that over.

GK: The first of those, still gets talked about a lot - Shahid Afridi. Sitting on the outside you felt oh massive edge that should be straightforward but his reaction was like he had been robbed. Can you just recall that moment, what happened? Because there was an animated conversation between you guys as well.

AK: We heard a loud noise. There was a deflection. And Mongia (Nayan Mongia) the keeper went up straightaway and even I went up straightaway so we believed it was out. Straightforward nick and I mean at that point in time in live match there was a loud noise of the bat and the ball. So that's why we went up and we were surprised that why was he even thinking of standing there and then trying to show that...look he was nowhere near the ball so I was a bit surprised but later on I saw the replays. You can see the deflection so I am not really sure what he was...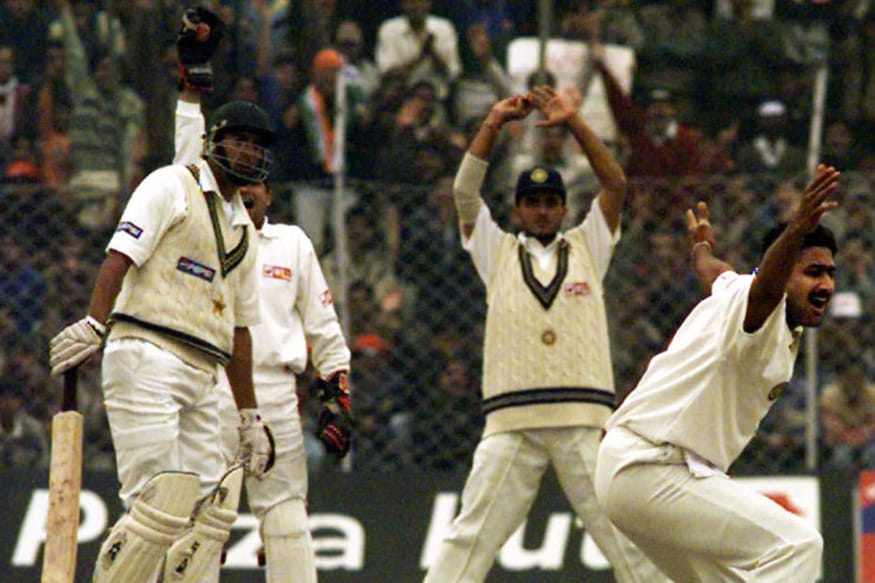 GK: It seemed there was some colorful words that went on around the park at that time!

AK: That's something that happens in that kind of a moment where exchanges do happen but it was one of those moments...Yeah he was batting well, he believed that he could take the game deeper. He had got... He got a good fifty in Chennai and even in this game and Saeed Anwar...two quality players so just a matter of time when we picked the first one, so Afridi got out.

GK: So 100-1 becomes 128-6 and now you're just on top of the Pakistanis at this point. Can you recall that particular sequence of events as the wickets started to tumble?

AK: Once I got the first wicket, I realized that Ijaz when he walks in, I'm going to bowl one really full because he puts his foot forward and he literally commits himself too early on the front foot. Because of the pace at which I bowled, he realized that was the way to counter me. So I thought if I can bowl one full, yorker length and hit him on the full then I have a chance and that happened and he got out. Inzamam was a lucky wicket, he obviously wanted to come in and dominate. He was looking to hit boundaries and this was literally a back-of-a-length ball which he tried to push, inside edge, bowled. So, that was a lucky dismissal.

Yusuf again, I knew that he's someone who looks to play with the pad, not necessarily bring the bat along. The pitch was dry there would be some deviation if I pitched the ball in. So, when I pushed it as well, the ball came in and hit him on the pad, he was out. When you have 4, then suddenly you're on top of the game. Moin obviously, there was a patch in an area where the ball was kicking from and I found that. It took the edge and Sourav took a good catch at slip.

Then Saeed Anwar was batting really well, him and Salim Malik who was injured. So, he walked in and they put together a decent partnership. So, I changed from bowling over the stumps to around. I was getting a bit tired at the time because I was bowling a long spell between lunch and tea. So, I thought let me go around the stumps and get a bit more body into the action. Try and get some bounce because the pace was not there on the pitch. I did that and then shifted back to over the stumps because sometimes when the body is not coming behind the ball, that's the technique that I followed. Go around the stumps a few deliveries so that the body comes in and then you come back again over the stumps so that you get the bounce back. So, I got the bounce back, got him out at short-leg and I'm glad there was a tea break because I was getting tired, I'd bowled almost 16-17 overs in that session in one go.

GK: So, it's 128-6 and one of the memories that you have just watching it on television and when you see the replays is that every time an lbw decision got given, the face of the Pakistan player who was dismissed was - Gosh, this is the most awful decision on planet Earth. When you look back at them now, do you believe if there was DRS and all that's available, would you have picked up those 4 lbws?

AK: I think I'd got my 4 earlier (laughs). I strongly believe that all of them were hitting the stumps and I don't think there was any issue with any decision there but India-Pakistan, you have to win, one team has to win. They had the better of us in Chennai and we had the better of them in Delhi. So, I don't think there's any thought of decisions going our way or their way.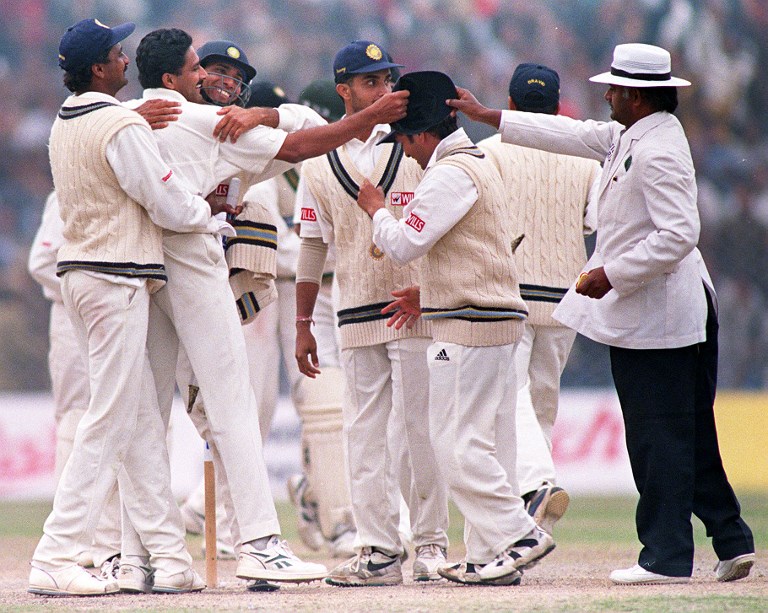 GK: So, no Pakistan player, in all these years that you've interacted with them has said that I wasn't out and I was given out?

AK: No, I don't think so. I think it was only that day that they showed the dissent.

GK: Now, 186-7 and you'd mentioned the part that Wasim played really well and he kept you guys off for a little while, but at 186-7 when is the first time that the word Jim Laker popped up?

AK: Not really, it never popped up. During the spell, no. The only thing that popped up was well, I had six on six. At tea time I thought that this is a good time to better my previous one which was 7 against Sri Lanka in Lucknow. So, I said okay this is a good time, I can pick up 2 more hopefully and then I'll have a better 8-for and that too against Pakistan. So, that was the only thought process. Then when I got Malik out and then Mushie (Mushtaq Ahmed) and Saqlain got out in two deliveries. 8 and 9 happened in two deliveries. So that's when I realised that I have a chance to get all 10.

GK: I think it was 58th-59th over that two wickets fell on consecutive deliveries. Do you remember any teammates coming up to you and saying that you've got to go for 10 now?

AK: No, I think the whole team had that thought. I don't think anyone spoke about 10, it was all a blur, and I was going through a lot of emotion of wanting the ball again in my hand. The 5th and 6th ball I got 8 and 9, and I just picked up my sweater and walked to the third man position. Sri came on to bowl in that over and that's probably the worst over he's ever bowled in Test match cricket. So, he had to do that.

GK: So, that wasn't any instruction to do that?

AK: I didn't give him any instructions. I just walked straight to third man. I think it was pretty evident that the whole team wanted me to pick up the 10 and we still had one more day. This was the 4th day. We still had another day so the time was with us. It was just a matter of one wicket, Waqar and Wasim were batting.

GK: Good friends also, you and Javagal Srinath, so he would have not heard the end of it if he had dismissed the 10th batsman with you having that opportunity.

AK: I'm sure. (Laughs)

GK: What was that over like though, the one Srinath bowled for you? Was it something that was going on in your mind that you were one the cusp of something that doesn't happen so often, it'd only happened once before?

AK: I think it was all a blur because I wasn't even thinking on those lines. I had this opportunity to pick up all 10 and the Delhi crowd, while I was at third man, you're pretty close to the fans, so everyone kept telling me "Ki app chinta mat kariye, aapko 10 milega" (Don't worry, you will get all 10). So, I think I had the blessings of the crowd, everybody was there and I just wanted the ball in my hand. Sri bowled an 8 or 9-ball over because 2 or 3 of them were wides. There was one opportunity when Sadagoppan Ramesh went really hard to take a catch for Waqar and it fell away from him. I was probably destined, this was just sheer destiny that I got 10.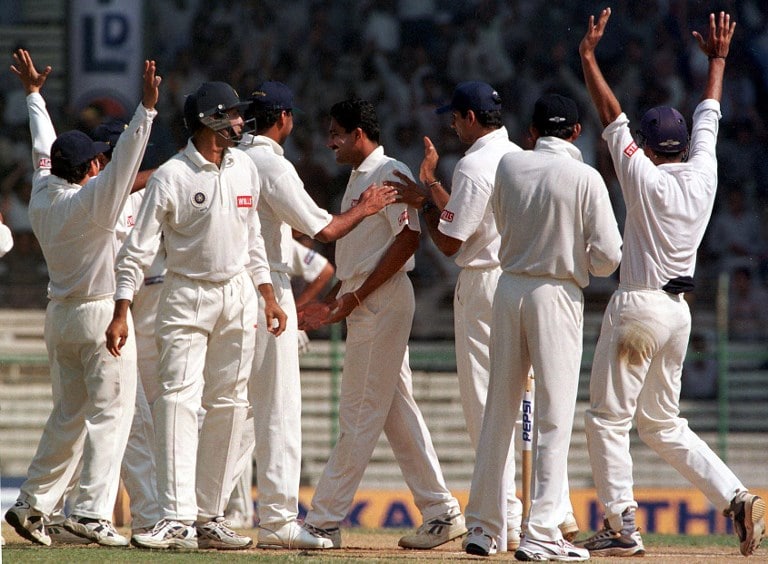 GK: I wonder what Ramesh would've copped from you and Sri had that happened. Now you've come on to bowl. Was there pressure like I have to get it done in this over because I can't have another over?

AK: Yes, obviously there was pressure because I felt if you look back at the 4 balls that I bowled, the first two balls, I was on a hat-trick. The first ball, I was on a hat-trick, I beat the bat and I appealed. I said maybe, it can't be 10 and a hat-trick, you're asking for too much. So Wasim was on strike and I felt push the long on back, give him a single and get Waqar on strike, then go for the 10. But I realised that Wasim wasn't going to give him the strike, he's just going to play all the 6 deliveries. So, after two balls I realized no, get everyone in. If it had to be 10 then it had to be Wasim. Otherwise, next over Sri has to do it again, so it'll be too embarrassing for me to stand there and look at him bowl those wides. So, it happened, he played the one which came in and spun, took the edge and a brilliant catch, considering the circumstances and the pressure which Laxman was under, more than me. I think a brilliant catch at short-leg.

GK: I know Anil that in cricket you experience many highs, you experience many moments, you know you have experienced some incredible things in the game, you have experienced some lows as well. But just what was that feeling like to say I have picked all 10 wickets in a Test match innings, this has happened only the second time in history?

AK: No I don't think at that point of time I ever thought about it, it was yes all 10, the moment was we have beaten Pakistan because that was the aim. We had lost the first Test narrowly, we had to win this Test match to level the series. You can't lose a series against Pakistan at home, so that was the first thought & then I think it slowly started sinking in, when the teammates came in & spoke about the importance & carried me off the field, I think that is when it started to sink in..Oh okay all ten has happened. Like I mentioned to you it was all a blur, you know the entire few overs right till the end.

GK: How do you remember that evening after that game? Was it extra special because you had beaten Pakistan?

AK: Yeah it was special, Laxman was my roommate, we had roomies at that time. So Laxman was the operator, picking up all the calls, & then...no mobiles so, passing on the phone, so he was acting secretary to me on that evening.

GK: How did it change your life?

AK: Yeah, I think it changed a lot, in terms of the expectations from people, in terms of the love & affection you know as cricketers what we get I realised the adulation that they get not just because of the 10 wickets. But I think after that moment, when I went back to Bengaluru having an intersection in Bengaluru named after me, something very special. That shows the love & warmth the people have for cricket & cricketers. So it was not just my recognition, I think it was recognition for cricket & the sport itself so that to me was an eye-opener & that's something very special. That probably happened because of this event otherwise I don't think it would have ever happened. So for me that certainly changed the way people looked at me as a cricketer & also cricketers in general, how people looked at cricketers. I think that day changed the way. For me at least.

GK: Is there a favorite wicket among those 10 that you took that day?

AK: I think all of them but I think Salim Malik was something special because on a slow wicket, to get the pace off the wicket like that, because I wanted to beat him with pace. He had a hamstring injury, I knew that he wouldn't have the swiftness in going back & pulling the ball, so it was a deliberate short ball that I bowled but I wanted it to skid & I wanted it to really go quick so that he doesn't have the time to look to hit me through mid-wicket. It worked really well, that probably is special & also probably Saeed Anwar because he was batting really well. I went from round the stumps to over the stumps & then got him out.

GK: Yeah it just goes to show how hard this is to accomplish in cricket, you think it can happen again?

AK: Oh yeah it can, it can happen tomorrow, it can never happen, so you can't really tell but again it's sheer destiny, luck because the other 3 or 4 bowlers you need to imagine that for you need 50 over or 60 overs at least of a match for you to pick up 10 wickets. So in that sense the others not getting a wicket I don't know.
---
---
Team Rankings
Rank
Team
Points
Rating
1
New Zealand
2764
126
2
India
2987
119
3
Australia
1844
108
4
England
3753
107
5
Pakistan
2481
92
FULL Ranking
Rank
Team
Points
Rating
1
New Zealand
2054
121
2
England
3793
119
3
Australia
3244
116
4
India
3624
113
5
South Africa
2267
103
FULL Ranking
Rank
Team
Points
Rating
1
England
7786
278
2
India
7093
273
3
New Zealand
6048
263
4
Pakistan
8883
261
5
South Africa
6640
246
FULL Ranking
Upcoming Matches