2017 Geneva Motor Show: Vanda Electrics Dendrobium Electric Hypercar Unveiled
The Dendrobium covers the 0-100 km/h dash in 2.7 seconds and a top speed that will easily grant it membership into the 200 mph club.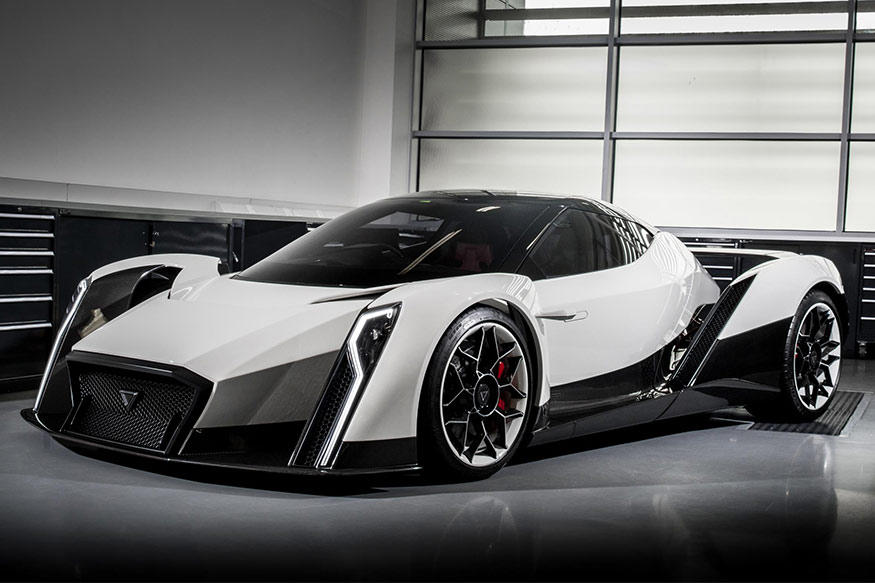 Vanda Electrics Dendrobium. (Photo: AFP Relaxnews)
After several weeks of hype, the Vanda Electrics Dendrobium has made its official world debut at the Geneva motor show, and, on first glance, it looks like the hype was justified. And that's because, simply in terms of its vital performance statistics, this is genuinely a hypercar.
The Dendrobium covers the 0-100 km/h dash in 2.7 seconds and a top speed that will easily grant it membership into the 200 mph club.
Then there's how one gets into and out of the car. No vehicle that truly wants to rub shoulders with a Ferrari LaFerrari, Lamborghini Aventador or a Koenigsegg can do so without at least elaborately hinged doors and even here the Dendrobium impresses. The doors are rear-hinged and open upwards and backwards simultaneously while the low-slung roof also lifts upwards and backwards. The concept was inspired by the way the petals of Dendrobium orchid (native to Singapore) open in bloom and it's how the car gets its name.
However, statistics and smart doors aren't enough to turn the heads of the super rich. Luckily, the company behind the car, Vanda Electronics, already has a reputation for developing electric vehicles – the Dendrobium's vital statistics are all down to batteries and electric motors rather than banks of cylinders. But most impressively, for this project, the company turned to the Williams Group (of Formula 1 fame) for help with aerodynamics, lightweight construction and eking performance from electrification.
"Dendrobium is the culmination of a dream. Our design team has had sketches of an electric hypercar on the drawing board since the mid-90s, but that vision was many years ahead of its time. As electric technology has advanced, we have been able to revisit this vision," said Larissa Tan, Vanda Electrics CEO.
There's just one catch. The carbon fibre and composite car, complete with flat aerodynamic floor, twin rear diffusers and F1-inspired exposed wishbone connections is still officially a concept and the Geneva reveal is the chance for potentially interested parties to pass judgment and hopefully get the car heading for a 2020 production date. "We are looking forward to seeing the world's reaction to Dendrobium. This electric hypercar may just be a concept for now, but we have every intention of putting it into production. It sits at the top of our range and the production version will be a fitting showcase for the best in design and e-technology," said Tan.
That e-technology will include inboard electric motors on each axle, a single speed gearbox managing output to the front and a multi-speed gearbox and differential at the rear and a car that even when packed full of lithium batteries will tip the scales at just 1,750kg.
Get the best of News18 delivered to your inbox - subscribe to News18 Daybreak. Follow News18.com on Twitter, Instagram, Facebook, Telegram, TikTok and on YouTube, and stay in the know with what's happening in the world around you – in real time.
| Edited by: Manav Sinha
Read full article