2017 Mercedes-Benz CLA Facelift Launched in India
The 2017 CLA has a new slimmer eight-inch infotainment system, which will have Apple CarPlay support too.
Mr Roland Folger, MD and CEO, Mercedes-Benz India at CLA facelift launch in Mumbai (Image: Mercedes Benz India)
Mercedes-Benz launched the CLA facelift 2017 compact executive sedan on 30 November 2016. The new edition was first showcased at the New York International Auto Show in March 2016. There have been some minor tweaks to the design, and the new CLA comes with several enhanced features.
Front bumper and air scoops have been restyled, and have a hint of black around them. The radiator grille too has been redesigned with a diamond pin design. The CLA facelift now has new LED headlights. There are minor changes to the rear bumper, LED taillights and chrome-tipped exhausts.
An intelligent new feature has been added to the boot, which has hands free access through a motion censor. A new shade of metallic blue and five-twin-spoke alloys on its wheels, similar to those on the CLA 45 AMG, give the facelift an edgier look.
It will be available in five colour options - white, red, silver, grey and dark blue. The 2017 CLA has a new slimmer eight-inch infotainment system, which will have Apple CarPlay and Android Auto support too. Also, the seat covers have been updated.
The new CLA has been priced at INR 31.40 lakh (ex-showroom) for the diesel variant, INR 34.68 lakh for the diesel sport and INR 33.68 lakh for petrol sport. Mercedes Benz will also offer a road and track package for the 2017 CLA.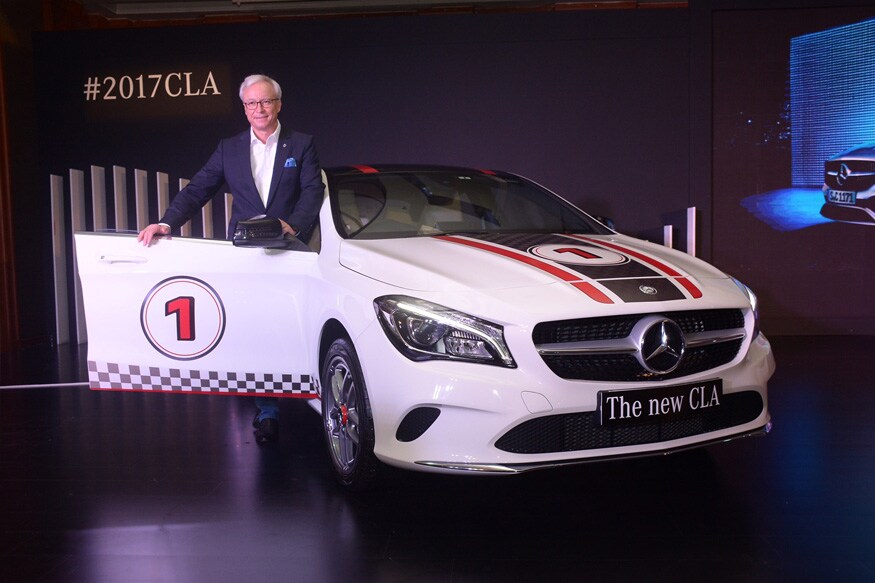 The Mercedes-Benz CLA will have the same 2.0-litre four-cylinder petrol engine tuned to deliver 181 bhp of power at 5, 500 rpm and 300 Nm of torque at 1,200-4,000 rpm. The diesel variant will have a 2.2-litre engine delivering 134 bhp at 3,200-4,000 rpm and 300 Nm of torque at 1,400-3,000 rpm. The seven-speed automatic transmission will also remain the same.
The Mercedes-Benz CLA has the lowest drag coefficient (0.25) on a production car in the world. It comes with four drive modes: Comfort, Sport, Eco and Individual.
In the international market, the CLA was launched with an option of 11 engines earlier this year. Just two diesel and a petrol engine will be available in India, however the three are capable of good performance.
Local production of the CLA commenced in India in September 2015 eight months after its launch. Also, India is the only country outside Europe to make the brand's celebrated model.
Star Ease Maintenance package for the CLA 200 starts at just Rs. 49,000 and for the CLA 200 d at Rs. 63,000 only. In addition to the 3 year warranty, customers can avail extended warranty for 4th year at a price of Rs. 38,000.
Also Watch
Read full article