2018 Range Rover SUV Unveiled with PHEV [Video]
Land Rover has updated its luxurious Range Rover SUV by adding more features, but the biggest change is the hybrid powertrain.
2018 Range Rover PHEV. (Image: Range Rover)
Land Rover has unveiled its new flagship SUV, which happens to be the company's most luxurious and technically advanced vehicle. But one of the biggest changes can be found under the hood where, for the first time ever there's the option of a hybrid powertrain.
The new plug-in hybrid model, which will be badged the P400e when it goes on sale at the beginning of 2018, offers 404hp and 640Nm of torque which can be channelled to the wheels depending on whether the car is on the straight or tackling some serious off-road terrain. It can be driven in electric-only mode for up to 31 miles and can go from 0-60mph in a less than sluggish 6.4 seconds.
And because the hybrid system powers an electric motor that offers instantaneous torque that can be sent to any wheel rather than simply one axle or the other, as well as improving fuel economy, it also boosts the car's already peerless all-terrain capabilities.
"The new [hybrid] powertrain isn't simply a no-compromise solution -- it builds on the traditions of our flagship SUV and delivers heightened refinement and comfort with impressive performance and efficiency," said Nick Collins, Vehicle Line Director, Jaguar Land Rover
But the hybrid powertrain is just the start. The new car's exterior has been given an evolutionary tweak with new grille, headlamp design, while the interior has been taken to another level entirely.
While other carmakers are looking to the Range Rover in order to position their luxury SUV offerings, Land Rover is clearly taking cues from the likes of Maybach and Rolls-Royce. Every seat is now bigger, softer and more supporting. The front seats have 24-way adjustment. There are 17 connection points from USB and domestic power plug sockets to HDMI inputs dotted throughout the cabin.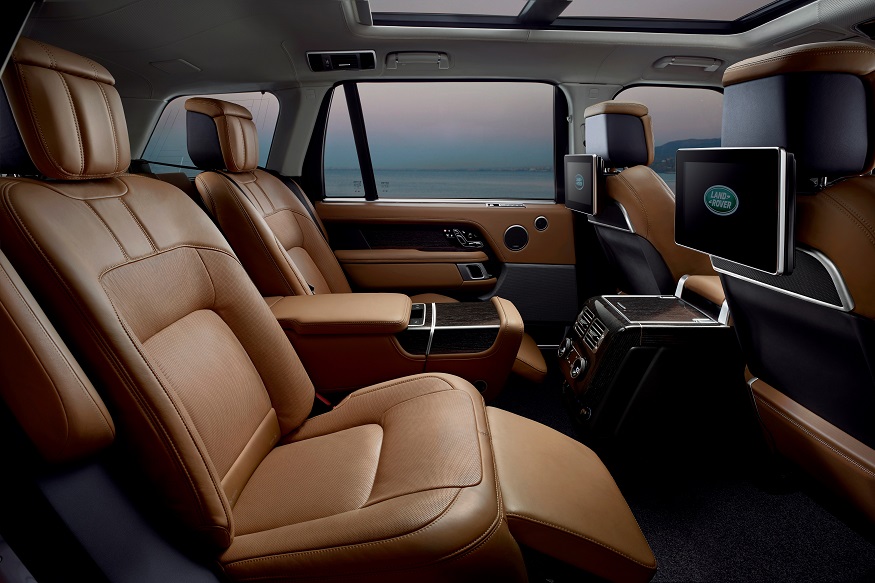 2018 Range Rover PHEV Cabin. (Image: Range Rover)
The 4G/LTE wi-fi hotspot supports eight individual connected devices, and the rear seats have 25 different massage settings. Plump for the new, even bigger, long wheelbase edition and those massaging seats also recline by 40° and offer integrated calf rests.
And if that long wheelbase model happens to be the flagship SVAutobiography Dynamic, then owners will also get an overhauled supercharged V8 up front which has been tuned to output 565hp (a 15hp increase on the current model) and that gives it a very impressive 0-60mph time of 5.1 seconds.
"Our customers are very clear about what they want from any new Range Rover. 'Don't change it, just make it better,' they tell us, so everything we've done has been about enhancing our flagship SUV," said Gerry McGovern, Chief Design Officer, Land Rover.
Also Watch:
Also Watch
Read full article