A Weekend Getaway From Delhi to Jaipur on Indian Scout Sixty – Travelogue
We took the competent Indian Scout Sixty cruiser on a weekend getaway from Delhi to Jaipur, on the NH8, to have a nice, laid-back riding experience.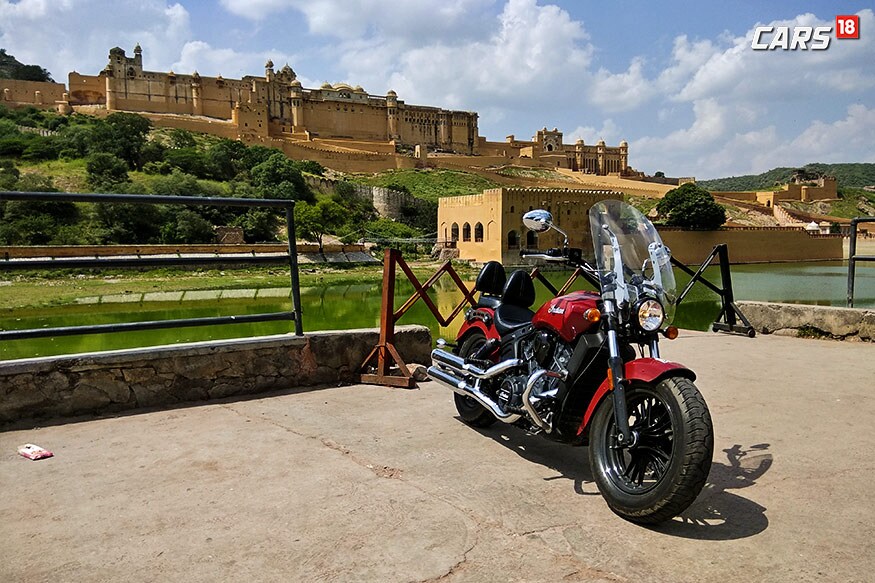 Indian Scout Sixty at the Amer Fort, Jaipur. (Image: Arjit Garg/News18.com)
There's a famous road in America called the Route 66, which is often touted as the 'Rider's Paradise' because of the obvious reasons. The 4000 km long road with neatly laid tarmac has some of the world's longest straight stretches, all teasing in your face to pick up your cruiser motorcycle and get going! No wonder companies like Indian and Harley Davidson originated from this very part of the world.
We decided to replicate something similar here in India and transcended on a journey from Delhi to Jaipur, on the beautifully made NH8. We know it's a far-fetched analogy when compared to the Route 66, but that's the best we can get for a weekend getaway near Delhi to experience a long laid-back ride on a cruiser.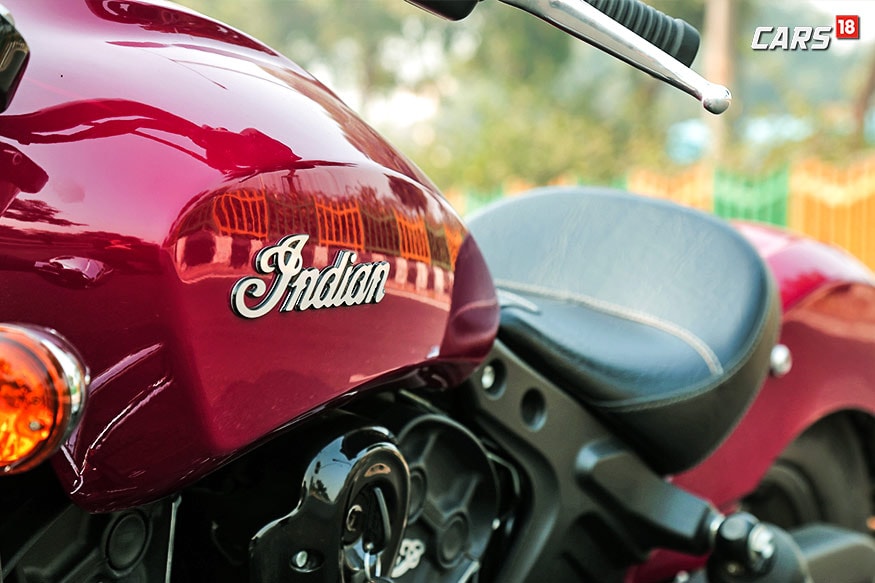 Indian Scout Sixty. (Image: Siddharth Safaya/News18.com)
A Cruiser motorcycle, by very definition, is a machine with comfortable seating, long handlebar and lowered center to gravity, to give a laid back riding experience and what better than the motorcycle as competent as the Indian Scout Sixty for a journey like this! Here's our travelogue from Delhi to Jaipur on the Indian Scout Sixty.
The Route
To find the perfect roads for a cruiser ride around Delhi, we decided to hit the National Highway 8, one of the India's busiest highways connecting the political capital of India, Delhi with the financial capital of India, Mumbai. Short on time, we had to cut-short our destination to Jaipur, which is approximately 250 kms from Delhi, a perfect distance for comfortable weekend ride/drive from the capital region.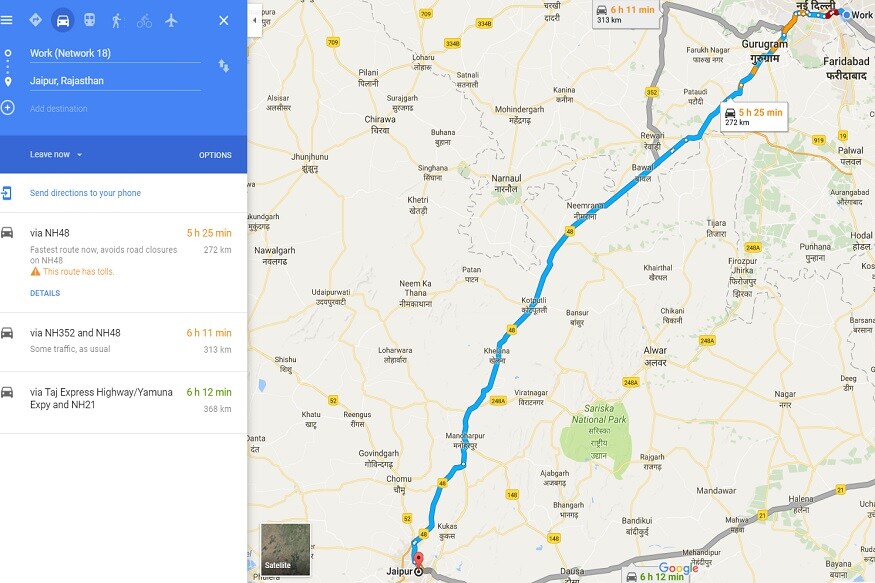 Delhi-Jaipur NH8. (Image: Google Maps)
Why do we call it comfortable is due to the very basic reason that this highway is made of neatly laid tarmac, with no potholes whatsoever. Its 6-lanes till Jaipur and has ample stoppage points for resting, eating and refueling. Also, there are very few toll taxes enroute, saving you a lot of money, as compared to the other highways.
The road passes through Gurgaon, followed by Manesar, Kotputli, Shahpura and finally Jaipur. The highway mostly consists of straight stretches, ideal for heavy cruiser motorcycles, as agility is not a major concern here. Another thing is the traffic, which is in check throughout the highway, barring the Delhi traffic, which can be a bit problematic, depending upon the time you are leaving for the ride.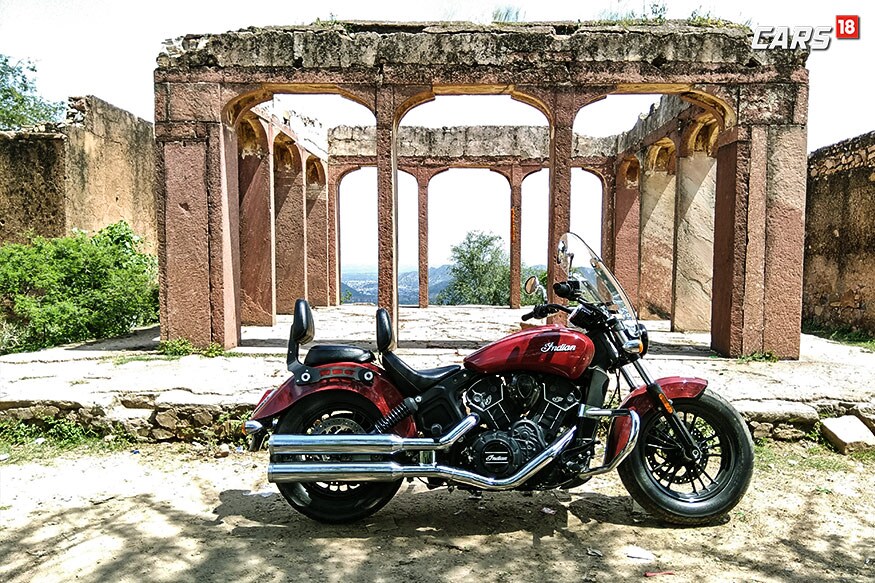 Indian Scout Sixty near Jaigarh fort, Jaipur. (Image: Arjit Garg/News18.com)
The Bike
Road-trips are incomplete without a competent machine, which is an essential part of any successful trip, be it a four-wheeler or a two-wheeler. As mentioned earlier, our objective was to take along a cruiser for a laid-back relaxed road-trip. And what better than the Indian Motorcycle's Scout Sixty as companion for the weekend ride.
The cruiser from the house of iconic American motorcycle manufacturer was first launched in a 1000cc avatar called the Indian Scout. Later, a more powerful Scout Sixty was launched for an ex-showroom price of Rs 12.19 Lakhs.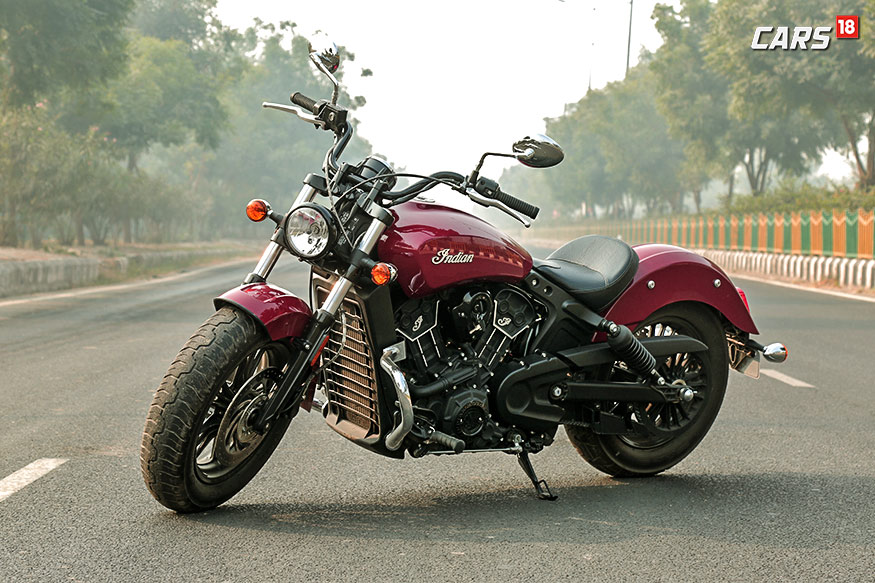 Indian Scout Sixty. (Image: Siddharth Safaya/News18.com)
Before we share our ride experience on the bike, here's a couple of tech specs to set the proceedings right-
Engine Type - Liquid-Cooled V-Twin
Displacement - 999 cc
Primary Drive - Gear Drive Wet Clutch
Horsepower - 77 hp (57 kW)
Peak Torque - 88 Nm
Peak Torque RPM - 5000 rpm
Ground Clearance - 135 mm
Weight (Empty Tank / Full of Fuel) - 244 kg / 254 kg
Fuel Capacity - 12.5 L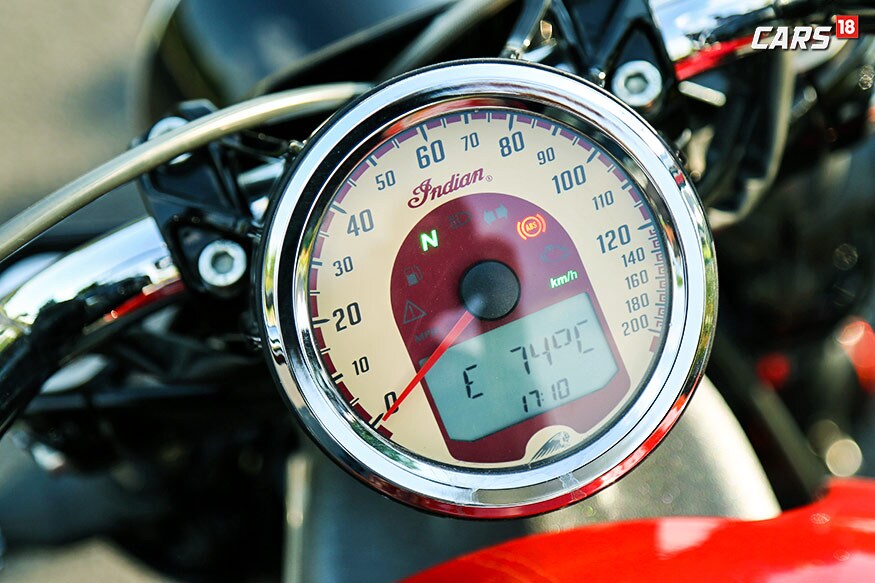 Indian Scout Sixty Instrument Panel.(Image: Siddharth Safaya/News18.com)
So, a 77 horses output meant we had enough power on the tap to push the heavy motorcycle on the highway like a breeze. The high gear ratios and ample torque meant that a relaxed, vibration free ride was waiting for us all-throughout the trip. And the Indian Scout Sixty did live up to its reputation.
The biggest advantage with the Indian Scout Sixty is that you can add essential touring accessories like a wind deflector screen and back rest to enjoy a long trip and we did take advantage of these accessories to have a trouble free riding experience. With a mileage of 20+kmp on highways and a fuel tank capacity of 12.5-litres, it was easier for us to reach Jaipur without getting our tank refilled. Yet, for safety purpose, we refueled our tank 50 km before reaching our destination.
One problem that we faced in our entire journey was that of heat dissipated from the engine. Yes, it is a liquid-cooled engine, but the engine heads are quite close to the low hung seat. Which means, in heavy traffic, our thighs were facing a lot of heat from the engine. It is advised to wear proper safety suit, including pants to withstand the heat. Unfortunately, we were traveling in a jeans (old habits die hard).
Indian Scout Sixty outside Jalmahal, Jaipur. (Image: Arjit Garg/News18.com)
Places to Visit
Jaipur is full of exotic places and makes for a great weekend ride. The only thing you have to keep in mind is the soaring temperature that can go as high as 45 degrees in summers. Here's a list of best places to visit when in the capital city of Rajasthan-
-Amer Fort
-Jaigarh Fort (Do check the world's largest cannon)
-Nahargarh Fort (The place where Rang De Basanti was shot). Also the 12km hairpin road is one of the best in India
-Jal Mahal
-Hawa Mahal
-City Palace
-Jantar Mantar
-Chokhi Dhani (For amazing food and cultural fest)
-Birla Temple
-Albert Hall.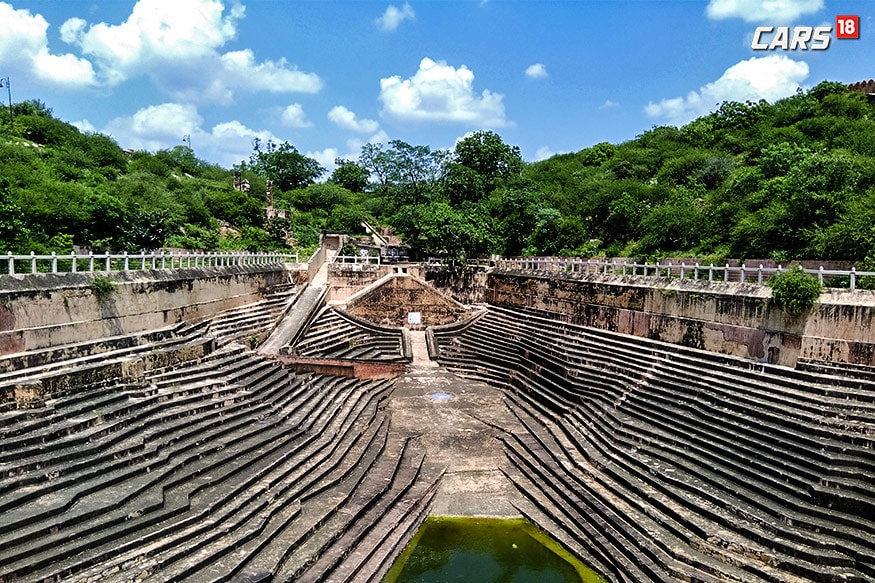 Nahargarh Fort, Jaipur, where Rang De Basanti movie was shot. (Image: Arjit Garg/News18.com)
Expenses
Another benefit of visiting Jaipur is the fact that it's not that expensive for fooding and lodging. Also, a distance of 250 km means you an easily sustain that fuel bill. Here's a list of probable expenses, similar to those we bore-
-Fuel Expense – Rs 2000 (For 30 litres @ Rs 66/litre)
-Food – Rs 1500 (For 7 meals in 2 days @ Rs 200/meal)
-Lodging – Rs 7000 (For a hotel with decent parking @ Rs 3500/night)
-Miscellaneous Expenses – Rs 1500 (including Toll, repairs)
It is advisable to carry a pillion, or travel with a second motorcycle to split the hotel bill. A traveling partner will also help in completing a smooth road-trip and making the journey memorable.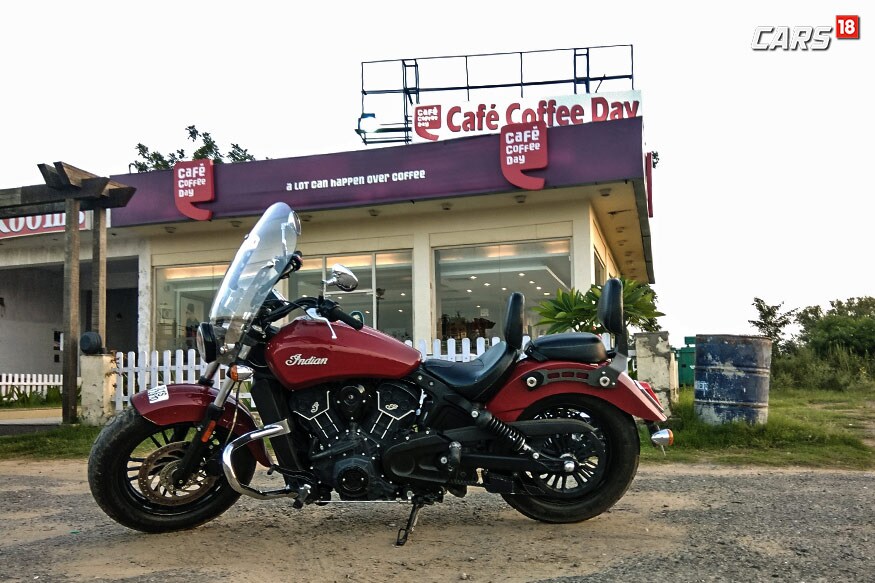 Indian Scout Sixty outside CCD on NH8. (Image: Arjit Garg/News18.com)
What Not to Do?
Everything said and done, it is always good to plan in advance and reduce any sort of contingency. Here's a list of precautions and tips to help make a memorable trip-
-Book your hotel in advance
-Book a hotel with good and safe parking
-Pay with Credit Card to save the cash for emergency
-Do not travel in peak summer with all the gear on. Opt for months between October – March for traveling
-Travel light with only bare essentials
-Do not eat a lot of food at least 2 hours before the journey starts
-Hydrate yourself
-Use Navigation for the correct route
-Avoid rush-hour traffic by leaving early in the morning.
Also Watch:
Get the best of News18 delivered to your inbox - subscribe to News18 Daybreak. Follow News18.com on Twitter, Instagram, Facebook, Telegram, TikTok and on YouTube, and stay in the know with what's happening in the world around you – in real time.
| Edited by: Arjit Garg
Read full article