A Weekend Getaway From Delhi to Jaipur on Nissan Terrano Compact SUV – Travelogue
We took the Nissan Terrano compact SUV on a weekend getaway from Delhi to Jaipur, on the NH8, to check the driving capabilities of the car.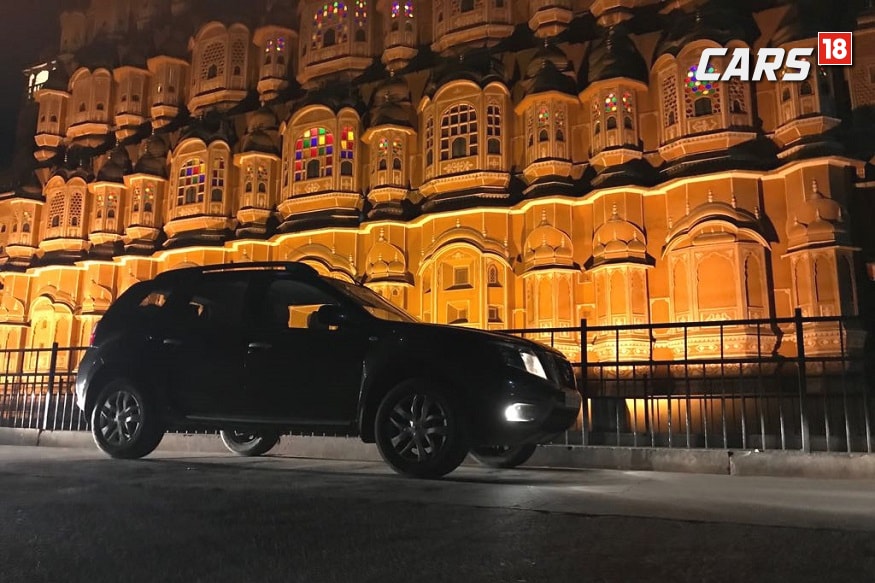 Nissan Terrano in front on Hawa Mahal, Jaipur. (Image: Ayushmann Chawla/News18.com)
Ask any Delhite about the best stress-buster activity and it's highly unlikely that their list will not include a drive or ride depending upon the number of wheels in a vehicle that catches their fancy. But there are very limited options available for the people of Delhi in a range of 200-250kms or 4 to 5 hours. We had the Nissan Terrano for a weekend and it didn't take us long to conclude that it is a great driver's car in city traffic and to know its capabilities we were keen to take it out on a highway and what could be better for a weekend road-trip to Jaipur. Here's our travelogue from Delhi to Jaipur on the Nissan Terrano compact SUV.
Nissan Terrano at NH8. (Image: Ayushmann Chawla/News18.com)
The Route
To find the perfect roads for a weekend getaway around Delhi, we decided to hit the National Highway 8, one of India's busiest highways connecting the political capital of India, Delhi with the financial capital of India, Mumbai. Short on time, we had to cut-short our destination to Jaipur, which is approximately 250 kms from Delhi, a perfect distance for comfortable weekend ride/drive from the capital region.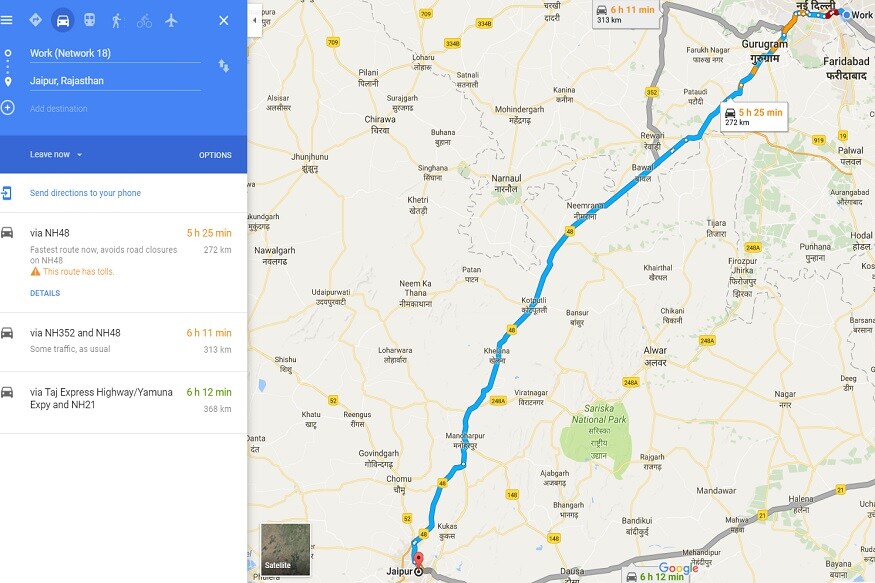 Delhi-Jaipur NH8. (Image: Google Maps)
Why do we call it comfortable is due to the very basic reason that this highway is made of neatly laid tarmac, with no potholes whatsoever. Its 6-lanes till Jaipur and has ample stoppage points for resting, eating and refueling. Also, there are very few toll taxes enroute, saving you a lot of money, as compared to the other highways.
The road passes through Gurgaon, followed by Manesar, Kotputli, Shahpura and finally Jaipur. The highway mostly consists of straight stretches, ideal for a SUV, as agility is not a major concern here. Another thing is the traffic, which is in check throughout the highway, barring the Delhi traffic, which can be a bit problematic, depending upon the time you are leaving for the drive.
The Car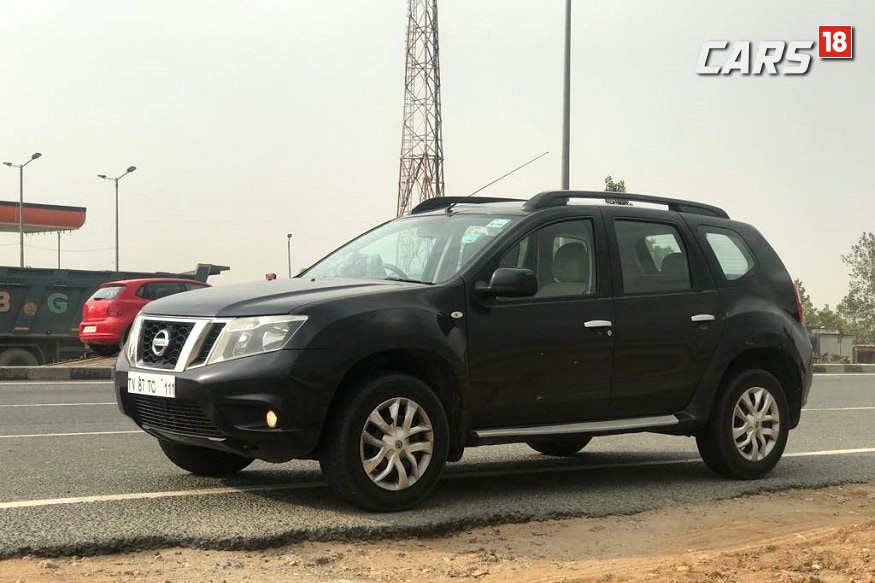 Nissan Terrano at NH8. (Image: Ayushmann Chawla/News18.com)
Road-trips are incomplete without a competent machine, which is an essential part of any successful trip, be it a four-wheeler or a two-wheeler. As mentioned earlier, our objective was to take along a SUV for a relaxed road-trip. And what better than the Nissan's Terrano as companion for the weekend drive.
The compact SUV from the house of iconic Japanese car manufacturer was first launched in 2013 to take on the likes of the Ford EcoSport and Renault Duster. Later, in 2017 Nissan updated the Terrano with new features, 22 to be exact per the company and it was launched for an ex-showroom price of Rs 9.99 Lakhs.
Before we share our drive experience on the SUV, here's a couple of tech specs to set the proceedings right-
Engine Type - 1.6L K4M petrol engine
Displacement - 1598 cc
Transmission – 5-Speed Manual
Peak Power – 102 bhp
Peak Torque - 145 Nm
Peak Torque RPM - 3750 rpm
Ground Clearance - 205 mm
Kerb Weight - 1160 kg
Fuel Capacity - 50 L
So, a 102 bhp output meant we had enough power on the tap to push the heavy SUV on the highway like a breeze. The high gear ratios and ample torque meant that a relaxed, smooth drive was waiting for us all-throughout the trip. And the Nissan Terrano did live up to its reputation.
Nissan Terrano. (Image: Ayushmann Chawla/News18.com)
The biggest advantage with the Nissan Terrano is that you get ample legroom and boot space which helps to travel in comfort. The airy cabin with its large windows ensures that you get a good picture of the scenery passing by. The air-con does a good job and despite the fresh design there is still no place to store litre-sized water bottles. But, then with a car with such a beautifully balanced chassis and suspension these small things are negligible. Overall, the car is well balanced and you'll love cruising in it. With a mileage of 11+kmp on highways and a fuel tank capacity of 50-litres, it was easier for us to reach Jaipur without getting our tank refilled.
The major disappointment for us was the infotainment system on the Terrano which looks like from the 90's. At first glance, it looks like a cassette player. The biggest miss for us was the dull looking steering wheel. Even entry-level hatchbacks offer steering mounted controls, but surprisingly Nissan did not wish to include it on the Terrano.
Places to Visit
Nissan Terrano. (Image: Ayushmann Chawla/News18.com)
Jaipur is full of exotic places and makes for a great weekend drive. The only thing you have to keep in mind is the soaring temperature that can go as high as 45 degrees in summers. Here's a list of best places to visit when in the capital city of Rajasthan-
-Amer Fort
-Jaigarh Fort (Do check the world's largest cannon)
-Nahargarh Fort (The place where Rang De Basanti was shot). Also the 12km hairpin road is one of the best in India
-Jal Mahal
-Hawa Mahal
-City Palace
-Jantar Mantar
-Chokhi Dhani (For amazing food and cultural fest)
-Birla Temple
-Albert Hall.
Expenses
Another benefit of visiting Jaipur is the fact that it's not that expensive for fooding and lodging. Also, a distance of 250 km means you an easily sustain that fuel bill. Here's a list of probable expenses, similar to those we bore-
-Fuel Expense – Rs 4500
-Food – Rs 1500 (For 7 meals in 2 days @ Rs 200/meal)
-Lodging – Rs 7000 (For a hotel with decent parking @ Rs 3500/night)
-Miscellaneous Expenses – Rs 1500 (including Toll, repairs)
It is advisable to carry someone who can drive, or travel in a group to split the hotel bill. A traveling partner will also help in completing a smooth road-trip and making the journey memorable.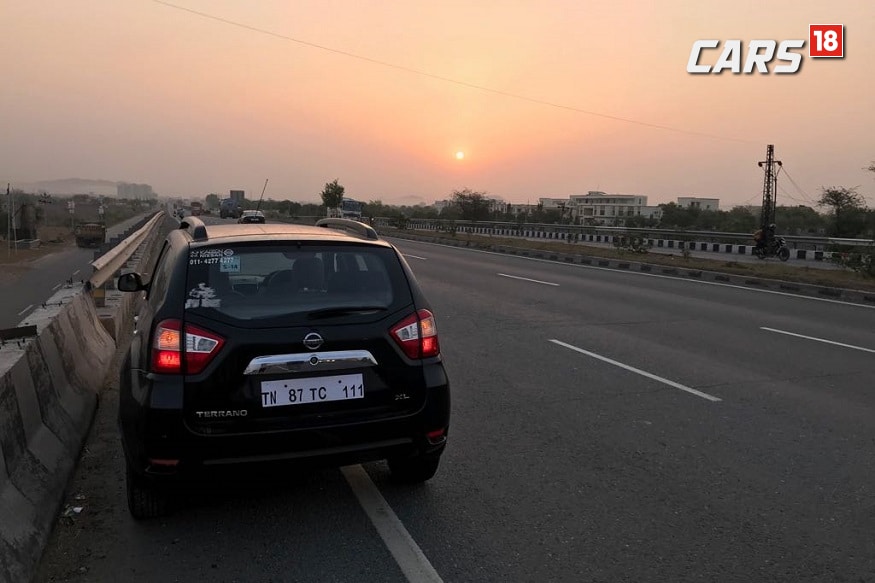 Nissan Terrano. (Image: Ayushmann Chawla/ News18.com)
What Not to Do?
Everything said and done, it is always good to plan in advance and reduce any sort of contingency. Here's a list of precautions and tips to help make a memorable trip-
-Book your hotel in advance
-Book a hotel with good and safe parking
-Pay with Credit Card to save the cash for emergency
-Do not travel in peak summer with all the gear on. Opt for months between October – March for traveling
-Travel light with only bare essentials
-Do not eat a lot of food at least 2 hours before the journey starts
-Hydrate yourself
-Use Navigation for the correct route
-Avoid rush-hour traffic by leaving early in the morning.
Also Watch: Ford EcoSport S EcoBoost Petrol First Drive Review | Cars18
| Edited by: Ayushmann Chawla
Read full article