The Bajaj Pulsar has always been favourite amongst enthusiasts and the NS200 is no different in that respect. Bajaj, who also has a presence in markets abroad, has been exporting the Pulsar around the world. Among these countries of export is Vietnam, where one owner has transformed his NS200 into a 350cc tribute to the Kawasaki Z1000. The modified NS200 has gone through many changes which have made it into a mini version of the Kawasaki Z1000. The engine has also gotten a boost with it now having a displacement of 350cc instead of the standard 200cc.
When it comes to design, the modified NS200 or Pulsar NS350 in effect, is inspired by Kawasaki's Z1000, with its LED headlights bearing similarity. Other changes on the modified bike is a small raised windshield, carbon fibre handlebar with new clip-ons and CRG-sourced clutch brake and levers.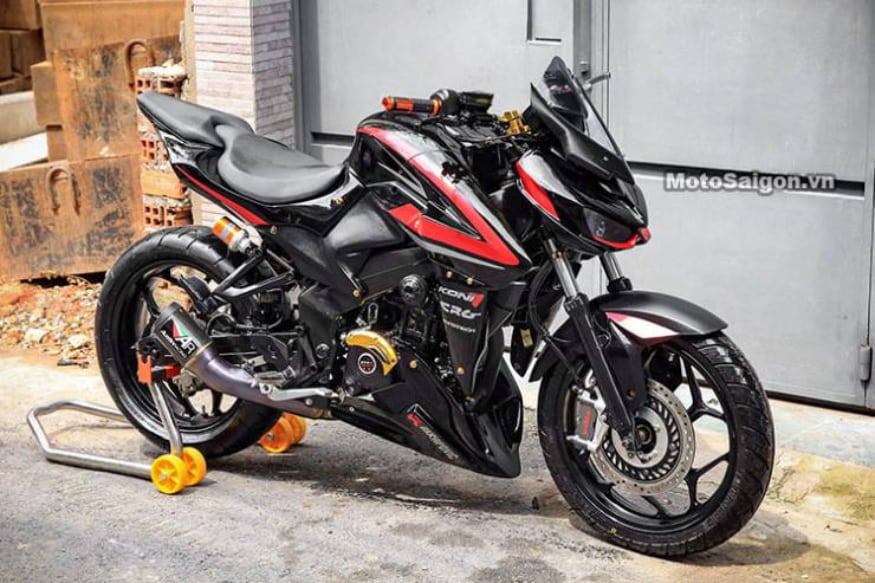 (Image: Source)
Furthermore, the modified Pulsar also gets other changes like a new side fairing on the fuel tank, all-digital console sourced from the Honda MSX125 along with aftermarket engine and crash guards as well. The modified Pulsar also bears a Maserati logo which sits between the headlight and windscreen. At the back, the Pulsar NS350 also gets a brand new seat and a completely new tail section with a taillight which was been redesigned and sports LED lighting.
(Image: Source)
Apart from the rebored engine, there are other mechanical changes like Brembo brake callipers, new rear suspension and a wider 180 section rear tyre which helps in tackling the extra power generated by the Pulsar NS350. In its standard form, the original NS200 produces 23.17 Bhp at 9,500rpm and a peak torque output of 18.3Nm at 8,000rpm which is mated to a 6-speed gearbox.
All said and done, the modified Bajaj Pulsar NS200 looks quite similar to the Kawasaki Z1000 and seems to pay to tribute to the Japanese motorcycle. The rebored engine and extra mechanical bits add to the appeal of the modified bike.