Bajaj V Launches 'Invincible Indians', a Platform to Celebrate Those Who Make a Difference
Five such 'Invincible Indians' were felicitated by Abhinav Bindra, India's first individual Olympic Gold Medalist.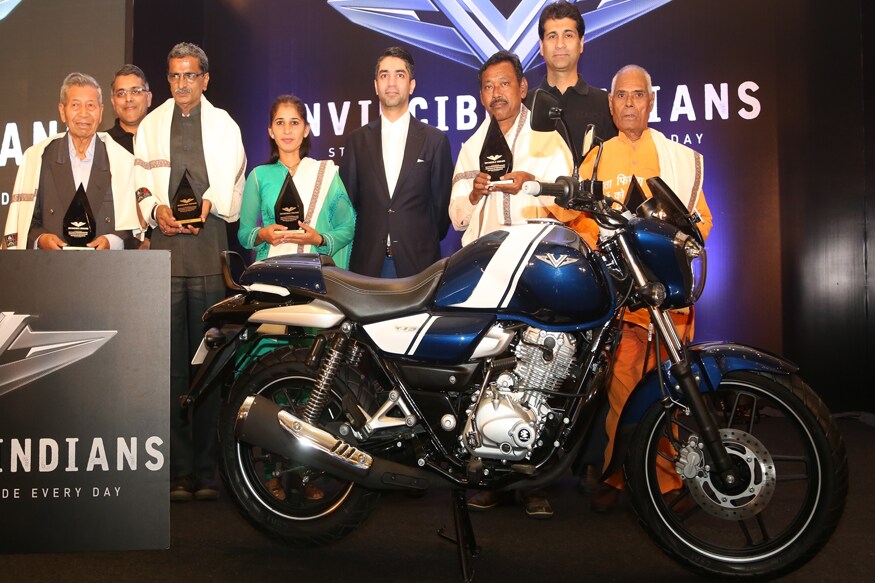 Abhinav Bindra with the awardees at the 'Invincible Indians' launch (Image: Bajaj)
Bajaj V, a motorcycle that contains metal from INS Vikrant, on November 30 launched an initiative called 'Invincible Indians' to recognise and celebrate common men and women who contribute to the society and bring about a change through social work.
'Invincible Indians: Stories that Invoke Pride Everyday' is an initiative to uncover stories of ordinary Indians who by dint of their resolve and determination perform extraordinary acts in the service of society. The initiative also calls upon the public to identify and recommend other such 'Invincible Indians'.
Five such Invincible Indians were felicitated by Abhinav Bindra, India's first individual Olympic Gold Medalist, in the presence Rajiv Bajaj, Managing Director of Bajaj Auto. Bajaj V also released five videos that capture the inspiring stories of the five awardees.
Speaking at the launch, Abhinav Bindra said, "I am extremely glad that Bajaj V has taken this noble step in recognising these individuals who have dedicated their lives in doing extraordinary social work. Many a time, such heroic acts go untold and these heroes fade away in the pages of history. I am truly proud to be associated with this endeavor and urge every Indian to come forward in supporting it."
The awardees are - Mr Chewang Norphel: Created 15 artificial glaciers in Ladakh to solve the perennial water crisis. Awarded a Padmashree in 2015.
Mr Bipin Ganatra: Helped rescue people from more than 100 fires in Kolkata. Recognized as a volunteer firefighter by the Kolkata Fire Department.

Mr Omkar Nath Sharma: Travels across NCR to collect medicines from people who no longer need them, and distributes it to clinics and hospitals who serve the poor.
Ms Vijaylaxmi Sharma: Leading a movement to eradicate child marriages in villages in Rajasthan.
Mr Karimul Haque: Converted his bike into an ambulance. Offers a 24X7 ambulance service free of cost.
Their video stories can be viewed on the Bajaj V youtube channel. Bajaj V has also launched a website to present many more such stories of 'Invincible Indians' to the country.
Also Watch
Read full article