BEML Limited, a public sector company under the Ministry of Defense and a premier manufacturer of Mining & Construction equipment, has launched an indigenously designed & developed nation's first 205T Electric Drive Rear Dump Truck (Model BH205-E), under the 'Make in India' initiative of the Hon'ble Prime Minister.
At a function held at Mysore, Deepak Kumar Hota, CMD, BEML and P. K. Sinha, CMD, Northern Coalfields Limited (NCL), flagged off the equipment, for its use in NCL Project. BH205E is an electric drive rear dump truck for large scale mining operations. Indigenously designed and developed BH205E Dump Truck is powered by Tier-II emission compliant Modular Common Rail Electronic Engine with 2300 HP.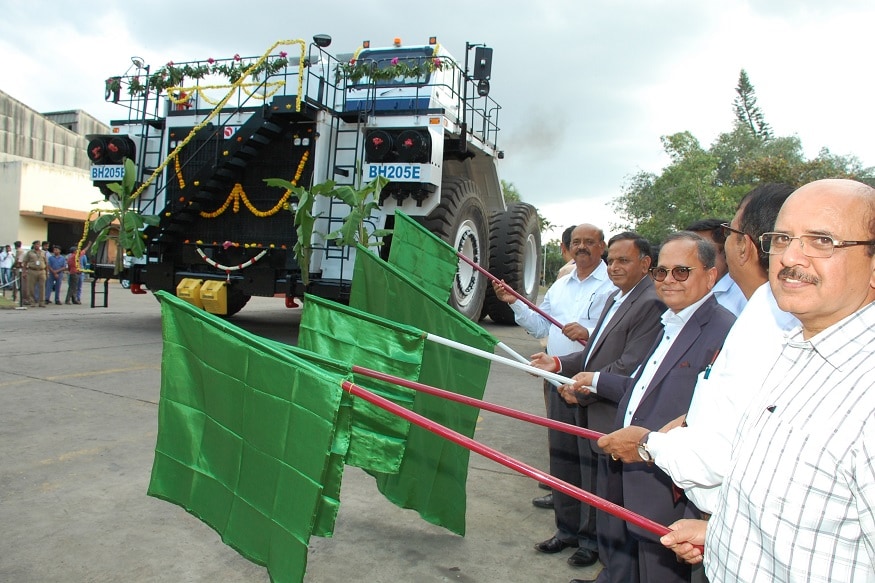 BEML Officials flagging off electric truck. (Image: BEML)
The AC drive system has been engineered to provide exceptional haul road performance with reduced maintenance. This Dump Truck is environmental friendly in relation to mechanical drive due to its superior efficiency. State of the art AC drive system has been engineered for best in class efficiency and reliability. Consumption of transmission oil, final drive and brake cooling oil are eliminated reducing the environmental impact over its life cycle.
The dump truck weighs 335 Tons when fully loaded but is easily maneuverable with power-steering and short turning radius. Emphasis has been accorded to operators comfort while designing the machine and it has an ergonomically designed dash board and tiltable telescopic steering wheel. Other salient features of the truck include good visibility in addition to safety features with provisions for emergency steering, breaking and proximity warning.
"With the introduction of this new generation Dump Truck, BEML has touched another milestone in its R&D efforts in achieving self-reliance, enhanced productivity in mining operations and increased production, apart from optimizing costs. BEML acknowledges the encouragement being provided by CIL & its subsidiary for Make In India policy of GoI" said Shri Hota, CMD, BEML.