Even at an event where automotive customization is taken to extremes, Mansory's latest carbon fibre refinement package and the car, it's being applied to – the Bentley Bentayga – is bound to turn heads at this year's SEMA show.
The 'standard' Bentayga (if such a thing exists, this is a built-to-order car after all) is no shrinking violet in terms of appearance or performance. Pretty much the most powerful and exclusive production SUV money can buy, the car is five meters long, nearly two meters wide and stands 1.7 meters tall. And thanks to a 6-liter W12 600 hp engine, it offers a 0-100 km/h time of just 4.0 seconds and a top speed of 187 mph.
However, Mansory sees these figures as nothing more than a starting point. It has tweaked the power plant to the tune of 700 hp, taking the car's top speed beyond 190 mph in the process. Torque is also up to a remarkable 1050Nm.
But the most remarkable thing about this car is its new carbon fibre outerwear. Mansory has reimagined the entire front end. The grille, front apron including bumper and chin spoiler and even the hood are custom made from bare carbon fibre. It's even thrown in additional LED running lights for good measure.
New side skirt and rear wheel arch extensions make the car look even wider, and around the back, the Bentayga gets not one, but two spoilers, one on the tailgate and one mounted to the roof that prevent rear axle lift when the car is travelling at high speeds or cornering hard.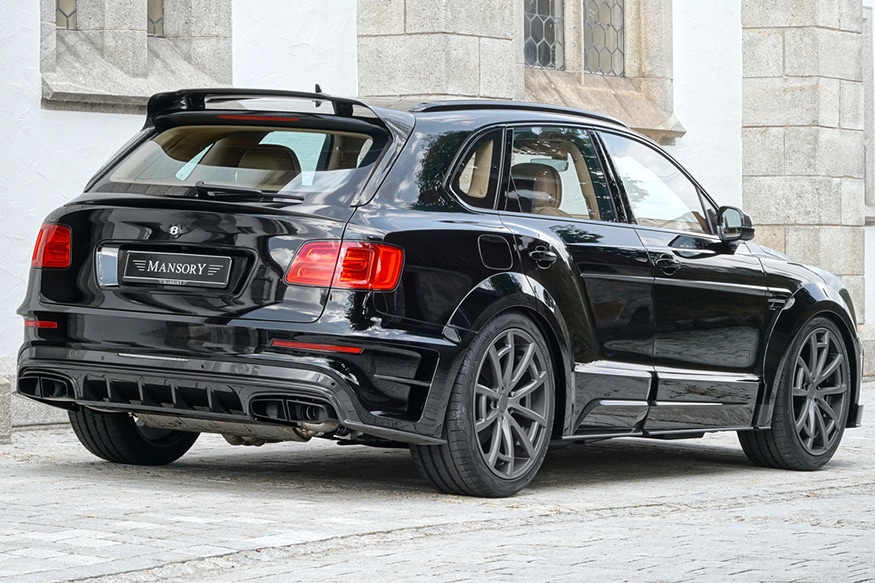 Mansory Bentayga from the back. (Photo: AFP Relaxnews)
Also helping in this regard is a new carbon fibre diffuser and rear bumper package that cover the custom exhaust system.
The car sits on newly created lightweight 22-inch wheels that have been diamond cut and designed to optimise brake cooling. And even on the inside where Bentley chairmanship is often without equal, Mansory has added a new wood and leather steering wheel and reupholstered and embroidered the seats.
If clients wish, the firm will also create individually designed and hand stitched floor mats and trim interior surfaces with a host of precious materials.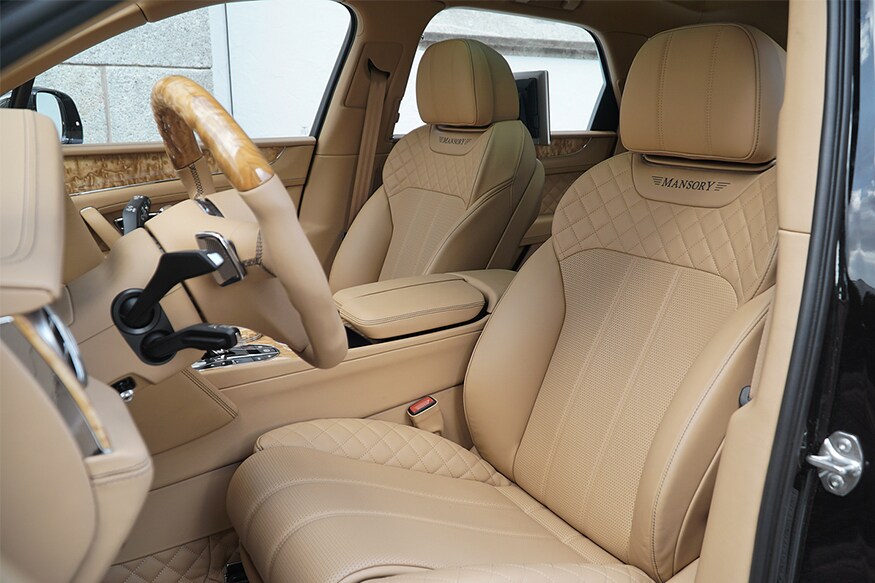 Mansory Bentayga interiors. (Photo: AFP Relaxnews)
Many purists may glance at the Mansory Bentayga and ask "why?" Mansory's response will be "Why not?" Even at the very highest end of the market, the SUV is becoming more and more popular and therefore the need to stand out and express one's individuality has never been greater.
This year's SEMA Show officially opens on November 1 in Las Vegas, Nevada.