Bentley Bentayga Now Has a Diesel-Powered Sibling
It's powered by a triple charged 429 bhp V8 which makes the car go from 0-100 km/h in 4.8 seconds.
Bentley Bentayga Diesel. (Photo: AFP Relaxnews)
Proving that a diesel engine can be an object of desire, Bentley on Wednesday unveiled its first ever production car without a gasoline engine. However, it's not any old production car, it's the epically exclusive Bentayga SUV and it's not any old diesel. It's a triple charged 429 bhp V8, and when the two come together the result is the world's fastest and most powerful luxury diesel SUV – 0-100 km/h in 4.8 seconds, a top speed of 270 km/h and a whopping 900 Nm of torque.
Bentley Bentayga Diesel from the back. (Photo: AFP Relaxnews)
"The Bentayga Diesel represents a moment of immense significance in Bentley's history, by giving the world its fastest luxury diesel SUV. Immense power, grand touring capabilities and superb refinement – this is a true Bentley," said Wolfgang Dürheimer, Bentley's chairman and chief executive.
To deliver these impressive figures plus a fuel economy of 7.9l/100km (uncharted territory for a Bentley) the engine uses the same technology found in the latest Audi Q7S sports SUV. The powerplant has two variable-geometry, twin-scroll turbochargers that function like standard turbos found on all cars, that is, via exhaust gases passed through an intercooler. But added to that is a third electronically powered supercharger that spins up within 30 microseconds regardless of exhaust gases to force more air into the block and cut out any turbo lag. As such it works like a very mild hybrid.
What's more with a diesel rather than gasoline engine under the hood, the car's range is significantly greater. Bentley says you can drive the Bentayga Diesel from London to Verbier or Bordeaux on a single tank.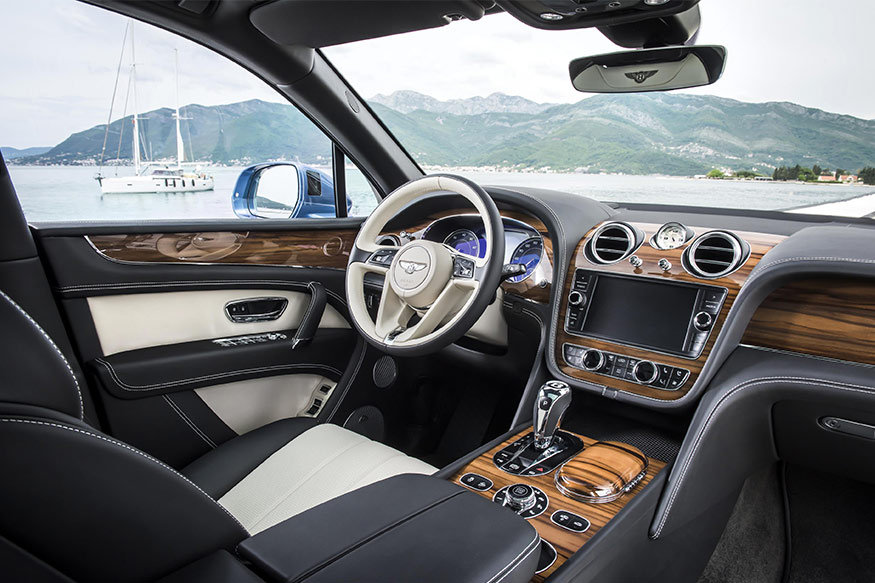 Bentley Bentayga Diesel's interiors. (Photo: AFP Relaxnews)
To mark out the new model from its W12 gas-powered sibling, this Bentayga gets a unique radiator grille treatment and tailpipe arrangement as standard while options exclusive to the diesel include new Mulliner-designed 21-inch alloy wheels.
However, the cabin is exactly as luxurious and open to bespoke treatment as any Bentley currently in production. For instance, it can be specified with a Mulliner Hamper set with an integrated refrigerator, a set of crystal glasses and Linley china crockery. And in terms of trim, a new Liquid Amber finished veneer has been developed to coincide with the new model's launch.
The order books open Wednesday and Bentley says that customer deliveries to European clients will start in early 2017.
Also Watch
Read full article