Bentley Owners Can Now Get Their Fuel Tank Full Through Their Smartphone
'Filld' will be able to locate the car without assistance and access the tank without the owner providing the keys, to fill the tank up.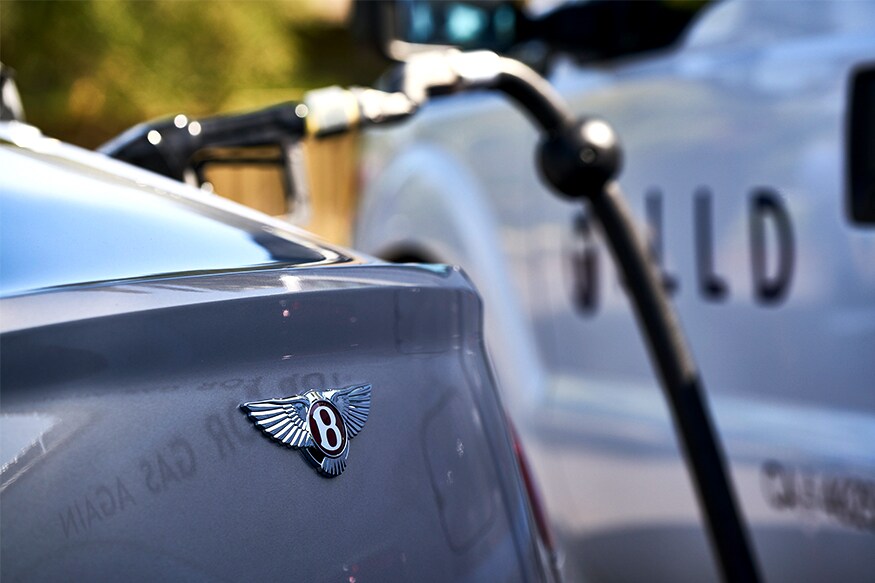 Bentley Motors will start trial of a concierge fuel service. (Photo: AFP Relaxnews)
While BMW and Mercedes are looking to connected car technology to deliver live traffic and congestion reports, luxury carmaker Bentley wants to use apps to remotely fill gas tanks.
Before the latest generation of electric cars rolls on to dealership forecourts, the term 'range anxiety' was one employed exclusively by owners of such automotive exotica as V12 Ferraris and Lamborghinis, the 2004-2006 Ford GT and of course Bentleys. The current generation Continental GT Speed returns just 11 mpg on the US combined cycle. But now Continental GT owners – and Mulsanne, Flying Spur and Bentayga drivers – will be able to rest easy knowing that whenever they get into their ferociously powerful luxury cars, the fuel needle will always be on full.
And that's because the brand is partnering with tech start-up Filld on an app-enabled fuel delivery service.
Launching as a trial in California this week, Bentley's clients will need to do little more than reach for their smartphones in order to top up their tanks. And because it is a connected car service, owners just have to pick a suitable time. Filld will be able to locate the car without assistance and access the tank without the owner providing the keys. As gimmicky as this new service may sound, it is entirely on trend.
As life becomes more hectic and connected, the definition of luxury is moving from one based in comfort to one focused on time. Free time is now the ultimate comfort and one that premium car companies are endeavouring to exploit.
"We are continuously investigating ways in which to offer our customers tailored, convenient, smart services that afford them the greatest luxury of all: more time," said Bentley's Director of Product and Marketing, Christophe Georges.
The new service also shows that the age of the connected car could usher in many novel ideas beyond simply up-to-the-minute traffic news or remotely shutting down the home thermostat. "Our Connected Car strategy will continue to expand and innovate in order to further enhance the Bentley lifestyle," said Georges. "Bentley ownership is about more than just the vehicle, it's the entire luxury experience."
Also Watch
Read full article