A car is the only asset that has a depreciating value and still has an emotional connect with an owner. One scratch on your car makes you feel bad, no matter how much the car is for? Now imagine the apathy of a luxury car owner like a Rolls-Royce worth Rs 7 Crore if their car gets a single scratch/dent? Something similar in nature happened in Mumbai when the owner of a brand new Rolls-Royce Ghost worth Rs 7 Crore banged his prized uber-luxury sedan on the very first morning drive in Mumbai.
As per a report, a brand new Rolls-Royce Ghost with a temporary registration number plate from Pondicherry was out on its first early morning drive and crashed in Juhu, Mumbai near the Citizen Hotel Juhu, which sits on the beach.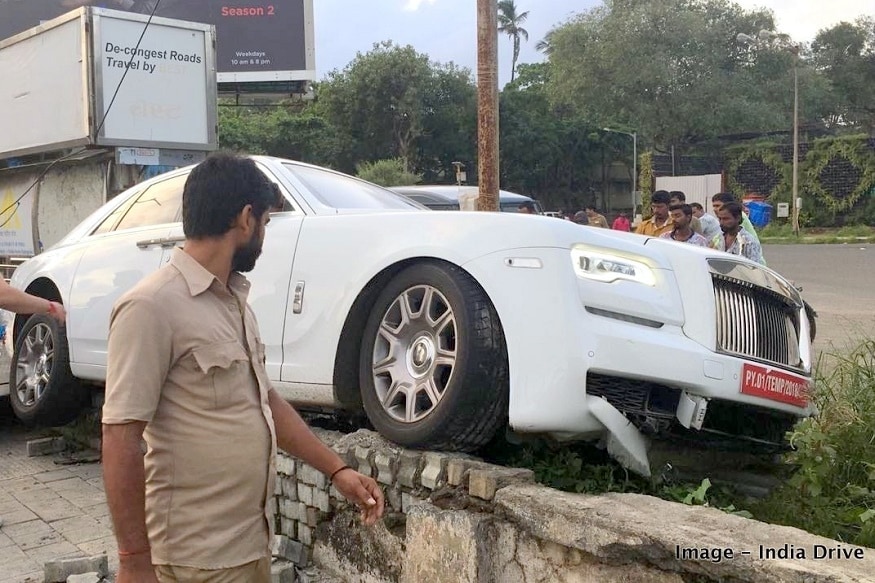 Crashed Rolls-Royce Ghost has a Pondicherry number plate. (Image: India-Drive)
The Ghost swayed over a footpath near a bus top and hit a low wall damaging the front bumper in the process. There might be some damage underneath the body too. A crowd of curious bystanders and police arrived in no time, all awaiting the tow vehicle.
As evident in the images, the tow truck tried hard to pull the Rolls-Royce using a winch and a lot of skill. The sedan was in such an angle that it became difficult to load the vehicle on the truck without damaging it even further. With the help of public and police, the vehicle was finally loaded on the truck.
Chances are the owner bought the Ghost from Navnit Motors, Mumbai, one of the only two Roll-Royce dealers in India and was way back home later in the day. There are no further details in this case and we will keep you updated as and when and development takes place.
Source