Buyer's Guide - How to Get Maximum Car Discount During Diwali and Navratri 2018?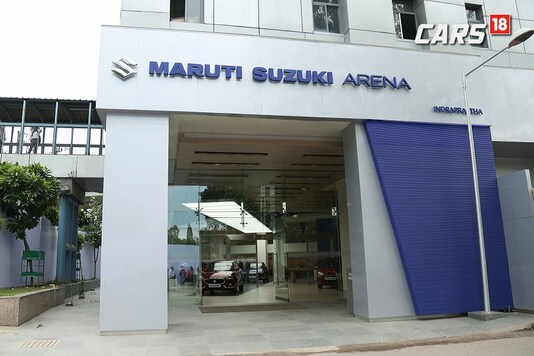 Maruti Suzuki Arena dealership. (Image: Arjit Garg/News18.com))
We have listed a variety of ways to maximize the discount while buying your new car during the Festive Season 2018.
Last Updated: October 5, 2018, 9:08 IST
Edited by: Arjit Garg
FOLLOW US ON:
The Festive Season in India that starts in Mid-October and lasts till November is considered to be an auspicious time by Indian families to buy something new. Among all the things one wants to buy during this duration, a vehicle (especially a 4-wheeler) holds a special importance. This is the reason many manufacturers aim to tap this festive season with new offerings and ample discounts. A lot of exciting products are lined up for festive Season launch in 2018 including the new Ford Aspire, Honda CR-V, All-New Hyundai Santro, Tata Tiago JTP, Mahindra XUV 700 and more. OEMs will offer special Navratri offers, Durga Puja offers, Dussehra schemes as well as Diwali offers on these cars as well as on existing cars in India. However the problem is, not all dealers are transparent and there are a lot of hidden offers that can be utilized if you have the right knowledge and negotiation skills. We have listed a variety of ways to maximize the discounts while buying your next big car during the Festive Season 2018–
Cash Discount - The basic of all discounts is actually cash discounts that a dealer offer on behest of the manufacturer. However, sometimes independent dealers also offer additional cash discounts to increase the sale. Negotiate hard as there is a plenty on offer and dealers hide the discounts to increase their profit margins.
Insurance - Insurance is one component that has a large value and probably the maximum weightage among all the discounts and benefits on offer. Dealers mostly offer free insurance for the first year on a new car. However, if the insurance is not free, don't buy it from the dealer (which they force you to do). Check out the Insurance Premium online, compare prices against the quoted price of dealer and you may save considerable amount against the dealer quoted premium.
Free Accessories – In order to lure customers to buy a car from their dealership, the salesman will offer free accessories like footmats, reverse parking sensors, body graphics, keyless entry and more. However, if you can, choose cash discounts over dealer accessories, as the prices of these accessories are on the higher side as compared to the market price. But if the dealer is not willing for the cash discount, do ask for more and more accessories, so that you don't have to go to market and get them fixed by paying additional money.
Corporate/ PSU Discount – As mentioned above, there are many hidden discount under various names that a buyer can avail. One such discount is for all the corporate employees (one who works in a private company) and for PSU employees (one who work in a government company). Avail them to add to your overall value.
Exchange Offer – Used car business is on a boom in India and a lot of people prefer buying used car over a new car. Watching this business boom, dealerships are offering exchange offers on your used vehicle, which you can replace at the dealership in lieu of a new car and it doesn't matter what make your old car is. However, it is quite obvious that buying a new car from a brand same as the old car will give you more benefits in the exchange offer.
Extended Warranty and RSA – Most of the cars in budget segment come with a 1 year warranty, that helps you save money in case of a mechanical/ electrical fault in the car. Post that period, you have to shell out money to get your car repaired. However, dealers are now offering extended warranty upto 3 or 5 years and also Road Side Assistance (free assistance in case of vehicle breakdown). Avail them to save money.
Lower Interest Rates – Most of the dealers or even car manufacturers have a tie-up with various banks to offer low EMI interest rates and also lower downpayment, as opposed to market rates. Even a 0.5% change in EMI can save you a lot of money when calculated for the complete loan period. Contact your dealer and ask for lower interest rates to save a lot of money in the long run.
Next Story