Camaro 'Exorcist' vs Dodge 'Demon': Will The Hennessey 1000-HP Upgrade Send The Demon Back to Hell?
Hennessey Performance is bringing an upgraded Chevrolet Camaro 'Exorcist' ZL1 that houses a 1,000 horse power engine.
Hennessey Performance launches Chevrolet Exorcist, an upgraded Camaro ZL1 to take on Dodge Demon. (Image: Hennessey Performance)
Just as Dodge was planning to steal the limelight with its upcoming drag-race special, Dodge Demon, Hennessey Performance has stepped up to tackle the impending danger.
Now, how can one possibly challenge a Demon evolved from a Dodge SRT Hellcat with increased horsepower and shredded weight?
You need a specialist for this of course, more specifically, an Exorcist.
Hennessey Performance is bringing just that in the form of an upgraded Chevrolet Camaro ZL1 named 'The Exorcist' that houses a 1,000 horse power engine.
Video: Hennessey Performance
The American Tuning house has added a $55,000 'Exorcist' upgrade to the already $63,435 street muscle, in the form of a larger supercharger, custom induction system and other upgrades to extract a 966 lb-ft of Torque from the car.
The upgrade will be available on both 6-speed manual transmission as well as the 10-speed automatic transmission, though the AT will cost an additional $9,950 to pump up the transmission to the level of Torque.
As per Hennessey, the car can clock 60 mph of speed within 3 seconds and touch quarter of a mile mark within 10.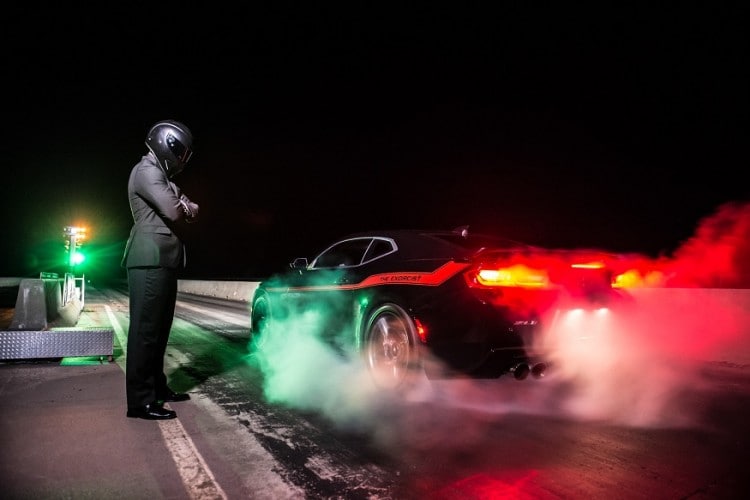 Image: Hennessey Performance
Will the Exorcist be able to send the Demon back to hell? We cannot comment as the Demon has not revealed its true colours as of now.
The Dodge demon is to be launched at the New York International Auto Show in April. Hennessey Performance has lined up a parallel launch for the Exorcist at the Houston Auto Show.
Let's see who takes the centre-stage in the battle of the two most hotly anticipated muscle cars of 2017.
Also read: Ford Mustang GT Review | India's Wait Is Over
Get the best of News18 delivered to your inbox - subscribe to News18 Daybreak. Follow News18.com on Twitter, Instagram, Facebook, Telegram, TikTok and on YouTube, and stay in the know with what's happening in the world around you – in real time.
| Edited by: Sarthak Dogra
Read full article