Can Hyundai's Genesis G80 Beat Mercedes, Audi and BMW at Their Own Game?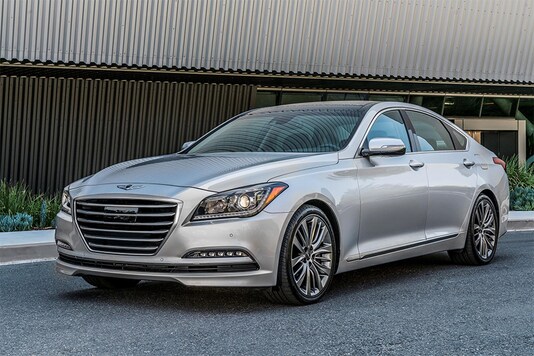 Genesis G80. (Photo: AFP Relaxnews)
Genesis G80 looks promising and worthy of challenging the Germans, at least on paper.
Last Updated: July 23, 2016, 17:35 IST
FOLLOW US ON:
The year 2017 has already started to look interesting. The luxury sedan segment, currently dominated by the three Germans – BMW, Audi and Mercedes-Benz, is set to have a very promising entry in the form of Hyundai's luxury vehicle division Genesis.
Established in November 2015 with the sole purpose of creating cars that can offer the luxury of the Germans and the power of cars made by the likes of Cadillac, at a very competitive price. The company's next offering – the G80 will be launched in 2017 and is claimed to have more passenger space than a Mercedes E-Class, more horsepower than a Cadillac CTS and with a raft of active safety systems as standard that even Volvo S90 drivers are offered as optional extras.
But will all of this be enough to make clients ditch their Audi A6, BMW 5 Series or Lexus in favour of a Genesis? On paper, and given what the Korean automaker is promising, the answer could be "yes".
Genesis G80 from the back. (Photo: AFP Relaxnews)
The G80 offers 107.7 cubic feet of passenger space – 10 cubic feet more than a Cadillac CTS and 9 cubic feet more than the new Mercedes E-Class. It also offers more luggage space than any competitor, including an Infiniti Q70 or BMW 5 Series.
In terms of performance, Hyundai claims the Genesis's body is stiffer than that of a BMW 5 Series for better handling. The car can be specified with rear-wheel or all-wheel drive and there's a choice of two engines – a 311 horsepower 3.8 litre V6 and a 420 horsepower 5 litre V8, both of which are mated to an eight-speed automatic transmission.
Then there's the safety technology. The G80 is the only car that comes with autonomous emergency braking with collision avoidance or mitigation, smart cruise control, blind spot detection, lane-keep assist and a rear-view camera as standard.
Genesis G80's interiors. (Photo: AFP Relaxnews)
There's even an in-cabin CO2 sensor which monitors air quality and as soon as CO2 levels pass 2,000 parts per million, fresh air is circulated around the cockpit to ensure the driver doesn't feel drowsy.
But luxury is about more than creature comforts. It is increasingly about the whole ownership experience. So Hyundai will give Genesis owners three years' complimentary maintenance and will send a valet to collect the car and leave a courtesy vehicle every time a tune-up is needed. It's connected services, including a concierge, are also bundled in free of charge for the first three years.
So, like we said, it looks all well on paper but what it will eventually come down to is the pricing. Yes, when you are looking at cars in this segment than pricing does not play as big a role, as say, in the entry-level hatchback segment. But in order to break through the trio of Germans, the pricing of the G80 is what can set the company apart. After all, the Germans have created an identity for themselves over decades and have managed to sustain themselves as the leaders for a reason, but bang-for-buck is just so tempting that it might actually work in favour of Genesis. And as the Genesis model range will also make its way to India in the following years, a well-priced product worthy of making your BMW 5-series owner neighbour jealous will definitely be a great deal.
(With inputs from AFP Relaxnews)
Also Read: What Will Kia's Entry Into the Indian Market Mean for Leaders Like Maruti Suzuki?
Next Story