Car Customization: Is There Room for Both Aftermarket Tuners and In-House Services?
According to its head of design Gerry McGovern, often does little more than stick a spoiler on a car he's designed and charges a lot of money for it.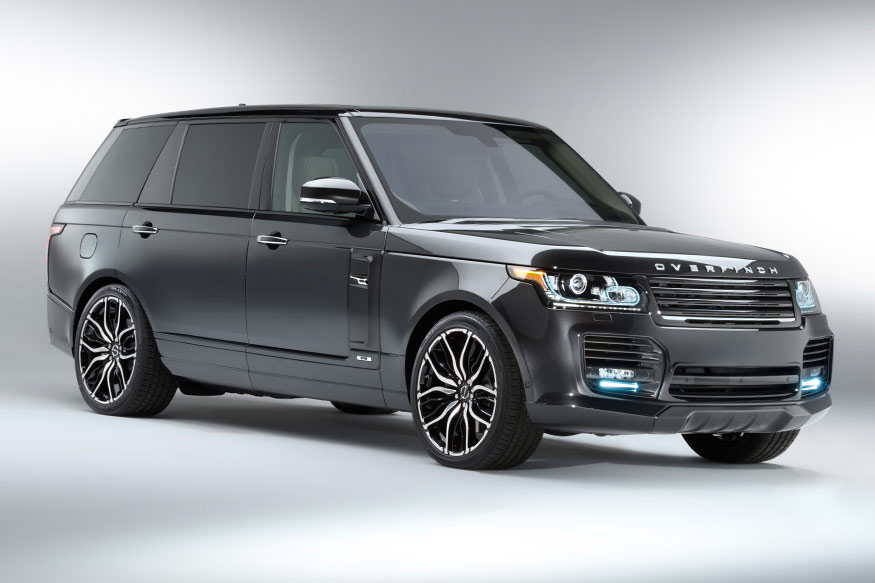 The Overfinch Range Rover Manhattan Edition. (Photo: AFP Relaxnews)
Land Rover has declared war on the aftermarket tuning industry which, according to its head of design Gerry McGovern, often does little more than stick a spoiler on a car he's designed and charges a lot of money for it. But, Kevin Sloane, chairman and CEO of one of the world's most respected and long-established Land Rover customization firms, Overfinch argues that companies like his have helped to establish the Range Rover at the pinnacle of the luxury market and are helping the marque ward off competition from the likes of Bentley.
When Jaguar Land Rover set up its Special Vehicle Operations (SVO) department in 2014, its managing director John Edwards said it was for "Enhancing and personalising the relationship our most discerning and enthusiastic customers have with our brands."
However, according to Land Rover's design director Gerry McGovern, SVO is also seen as a way of putting aftermarket tuning firms in their place. In September, during the Land Rover Discovery launch, he said "We've seen tuners taking 99% of our intellectual and creative property and changing a few things -- generally not very well -- eroding the guarantees and then charging a premium for it."
And as his latest design, the Range Rover Velar, gets ready to go into production, he has followed up the topic, telling Autocar that he'd like to see how they'd manage if they had to design a car themselves. "We see them taking our property and making a bit more profit," he said. "Well, we're going to put them out of business through SVO. The opportunities we're creating there, and the quality of our work, are much better."
That may well be true of some tuning outfits, but the growing demand for making cars individual, plus the often sterling work that some companies do, be it Brabus for Mercedes, Alpina for BMW or, for the last 40 years, Overfinch for Land Rover is also helping to make these cars special and desirable in an ever more crowded marketplace.
"Overfinch are Range Rover enthusiasts," says its chairman and CEO, Kevin Sloane. "We celebrate one of the most iconic cars of the automotive era."
This celebration can be something as simple as giving a Defender an enhanced cabin, or it can be giving the Range Rover Sport the extra power needed to go toe-to-toe with a Porsche Cayenne on the track. "We aim to sympathetically enhance the base car, honoring the design lines and cues," explains Sloane.
Indeed, many of these enhancements, based on real-world testing and real world high-net-worth individual client demand have started trickling down to more mass-market cars. "Many of the design features, ideas and changes made by SVO can be traced back to initiatives from Overfinch and the like," he points out. "In one very simple way, we've demonstrated what can be done and the price point that can be achieved in the luxury market for a Range Rover product. A £200k Range Rover was inconceivable to JLR not so long ago!"
Land Rover now, however, has several special edition Range Rovers in its line-up that come with that pricetag and at the end of 2016 reported its best sales figures in its history.
More surprising still is that since Land Rover rolled out its SVO-developed SVR line, more and more of the vehicles that Overfinch is working on start out as Land Rover-customized cars.
"Our customers are often 'money-no-object' buyers. They want the best -- and typically start with an Autobiography or SVR base car -- but they want to make it their own," explains Sloane. "Therefore, they want something not from the factory -- there is a badge and brand snobbery, as in most retail environments."
However, Sloane is equally quick to point out that Overfinch wouldn't be able to do what it does if Land Rover's vehicles weren't already as good as they are. "We're not looking to antagonize the 'hand that feeds us'. We know our place and we're proud to work with a remarkable model lineup as our starting point," he says. "We're not a threat or competition in any way. The competition is Bentley, Lamborghini, Porsche and soon Rolls Royce."
| Edited by: Manav Sinha
Read full article
Countdown To
Elections Results
To Assembly Elections 2018 Results