Chevrolet Colorado ZH2 SUV Looks Ready For War, Runs on Hydrogen Fuel Cell
The SUV is 7 feet long and almost as tall, has 37-inch tyres and runs on hydrogen fuel cell.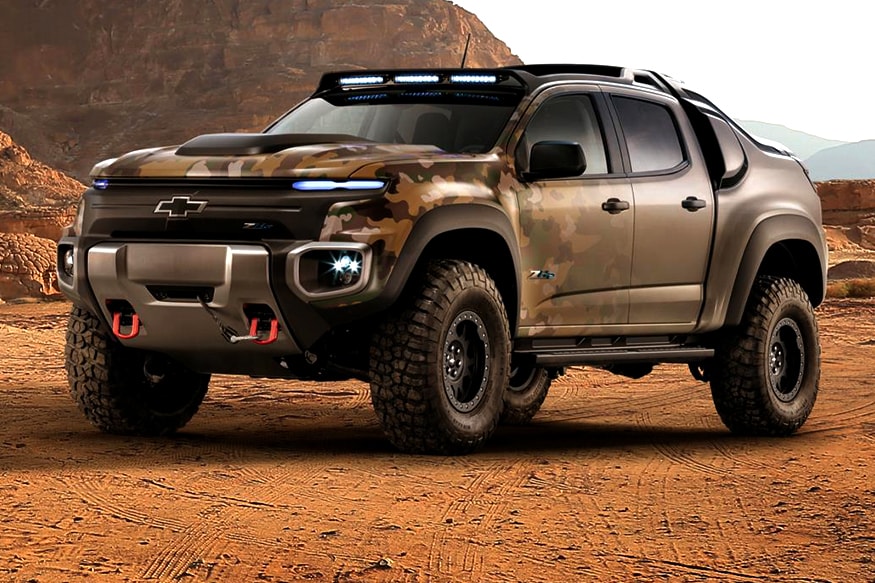 Chevrolet Colorado ZH2 fuel cell electric vehicle. (Photo: AFP Relaxnews)
The hydrogen fuel cell might not be ready for the mainstream, but as the new Chevrolet Colorado ZH2 suggests, it could be ready for war.
Developed in partnership with the US military, the new pickup actually started out life as a normal mid-size truck. However, the chassis has been extended in every direction – the vehicle is over seven feet wide and stands almost as tall – the entire vehicle has been reinforced and a special suspension system and 37-inch tires fitted so that it can conceivably tackle any hostile terrain.
Using a hydrogen fuel cell instead of a traditional internal combustion engine means that the ZH2 is quieter, more powerful and faster off the mark than a gasoline-powered truck. What's more, the only by-product of using hydrogen as a fuel is water vapour. Because this vehicle is designed to go potentially any location where the US army is needed, this waste gas could be a literal lifesaver. The army will be testing how easily the vapour can be harvested and used as drinking water.
Electric power means that the ZH2 has a stealth mode for moving into position without arousing attention and the drivetrain also reduces the truck's heat signature – all very useful for clandestine missions.
"The Colorado ZH2 is a terrific example of GM's engineering and design skill in creating an off-road vehicle relevant to a range of potential users," said Charlie Freese, executive director of GM Global Fuel Cell Activities. "Over the next year, we expect to learn from the Army the limits of what a fuel cell propulsion system can do when really put to the test."
As well as reducing the military's environmental footprint, hydrogen power offers the army the added bonus of a mobile electricity source. The ZH2 features an Exportable Power Take-Off unit (EPTO) that detaches from the truck and can serve as a mobile generator.
The ZH2 has taken less than a year to progress from initial idea to working concept and was developed in partnership with the US Army Tank Automotive Research, Development and Engineering Center (TARDEC). "Fuel cells have the potential to expand the capabilities of Army vehicles significantly through quiet operation, exportable power and solid torque performance, all advances that drove us to investigate this technology further," said Paul Rogers, director of TARDEC.
Also Watch
Read full article