Delhi-Kufri Road Trip in Ford Aspire: The Go-Kart Experience at 7500-Feet
Doing an 800-kilometre road trip in the Ford Aspire was the perfect way to knowing the car a bit better.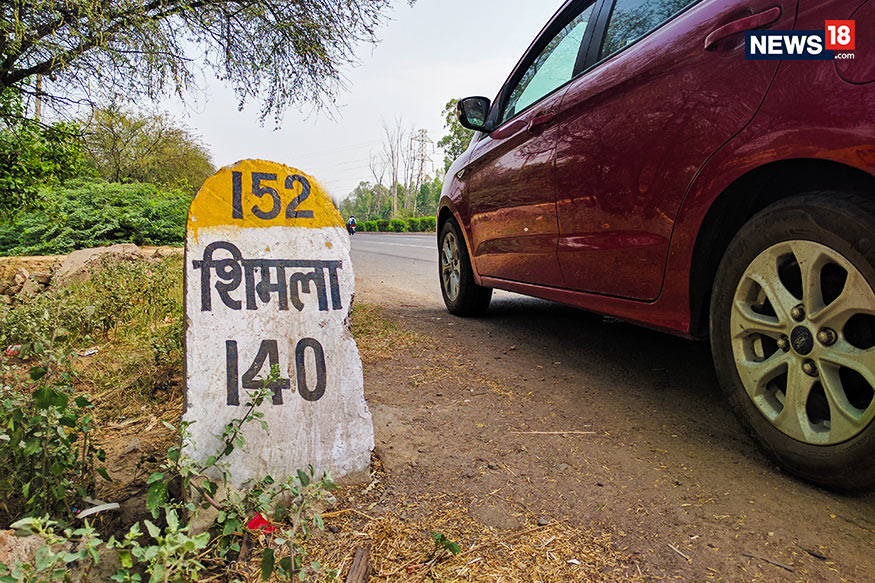 We take the Ford Aspire for a very interesting road trip. (Photo: Manav Sinha/News18.com)
Ask any petrol head about the best stress-buster and it's highly unlikely that their list will not include going for a drive or ride depending upon the number of wheels in a vehicle that catches their fancy. But, being a resident of Delhi, going out for a drive is cumbersome, tiring and often takes longer than one would like. We had the Ford Aspire with us for a long-term review wherein it didn't take us long to conclude that it is a great driver's car and hence, it deserved an opportunity to stretch its legs and open up on long wide highways and exciting twisty roads. Which also meant that it will be a good stress buster for us too.
Hence, we decided to fo for a weekend road-trip to Kufri which is almost 400 kilometres away from Delhi and takes around 9 hours to reach. But there was something more exciting waiting for us at the end of the destination – a Go-Kart track that's built right in the heart of the mountains at about a height of 7500-feet, or about 2,300 metres.
The trip started on a pleasant Friday morning at 4 in the morning. The idea was to skip as much Delhi traffic as possible and get on the open highway before the sun begins to crawl out into the horizon. But as most road trips go, it began later than expected – at around 5 AM.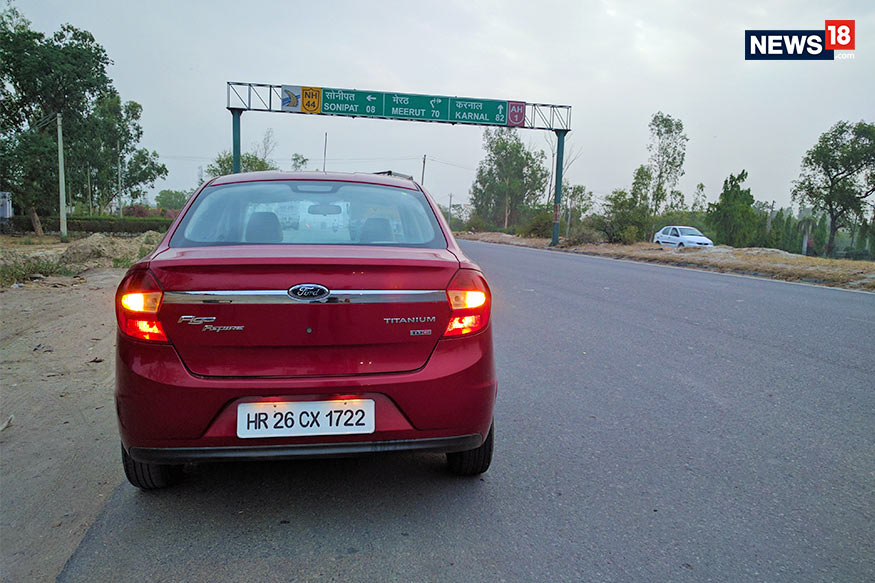 The road trip started at 5 in the morning. (Photo: Manav Sinha/News18.com)
Fortunately, though, we made it out of Delhi just in time and decided to tank up ourselves with some food at the famous Murthal Dhabas. After not a bit but a lot of food, all that we had to do was drive.
The Ford Aspire we were driving was the 'Titanium+' variant which was being powered by the 1498cc turbocharged diesel engine delivers a wonderful 100 horsepower and 215 Nm of torque and comes with a 5-speed manual transmission. All of this translated into a very engaging drive experience on the highways.
At highway speeds, the car felt confident and stable. There was always enough power available for those quick overtakes no matter which gear we drove it in. The electric power assist steering made sure that the amount of effort required for turning the vehicle at low speeds was less and the steering was well weighted at high speeds.
The route was pretty much a straight one with continuous highway driving on National Highway (NH) 44 until Ambala, from where we proceeded onto NH 152 up until Chandigarh followed by NH 5 from Panchkula - which would eventually lead us to Kufri.
The hill climb begins somewhere around Parwanoo, post which, you are greeted by the lovely hilly landscape all the way. But the Aspire felt a bit sluggish as soon as the steep hill climb began, something uncharacteristic of a Ford. Luckily, there is a Ford dealership even in the hills at Solan where we got the car checked and turns out that it was breathing through a choked air filter. The polite staff at the dealership cleaned the air filter and got the car ready in less than 10 minutes and we were back on track.
Post Parwanoo, the route is filled with breath taking views and engaging twisty roads. (Photo: Manav Sinha/News18.com)
From Parwanoo to Kufri is about 100 kilometres of hairpins, twisties, inclines and declines – the typical hilly road that you know of and the Aspire would deliver no matter how hard you pushed it. The chassis on it is just so good that despite having a slight hint of body roll, you always have the car under control. The feedback from the steering wheel lets you know when the tyres are reaching the end of their grip and the transmission works wonderfully well with the engine. The gear shifts are slick and the gear ratios are tall enough to let you squeeze the most out of every gear.
Kufri is around 13 kilometres away from Shimla and you can completely skip the crowded Shimla to reach there through the Shimla bypass.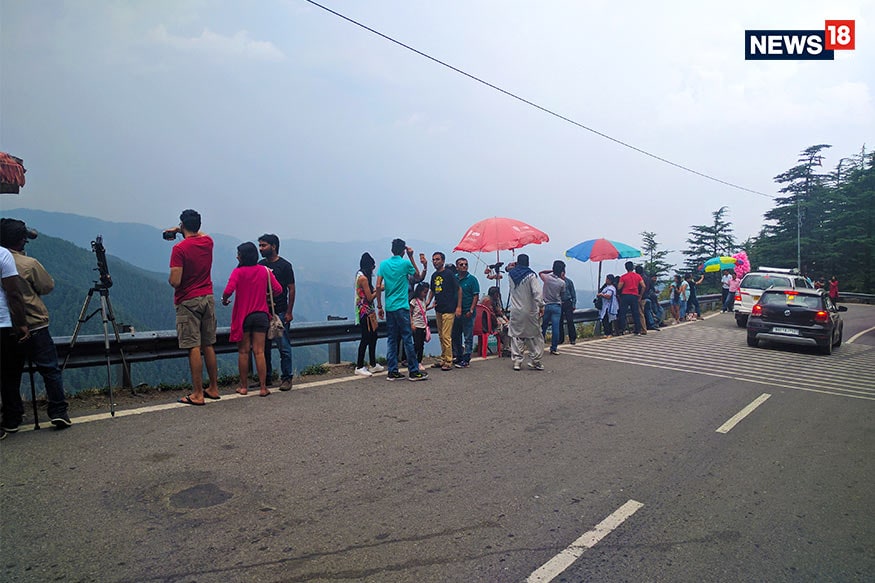 Kufri is filled with tourist spots that are known to offer great view of the hills. (Photo: Manav Sinha/News18.com)
Finally, after about 10 hours of driving, we reached Kufri.
The name of the town is said to be derived from the word 'kufr' which means "lake" in the local language and is also known as a skiing destination during the winters. We, though, had arrived when the tourist season was about to start so there weren't many tourists and since most of the people visit Kufri while staying in Shimla, post evening, it was a crowd-free paradise.
The serene scenery was just so calming that the silence would give goosebumps to those who are used to living in the hustle and bustle of a city like Delhi.
This is the kind of view you are greeted to once you reach Kufri. (Photo: Manav Sinha/News18.com)
We were also greeted in Kufri by a hail storm which brought the temperature down to about 5-degrees at night.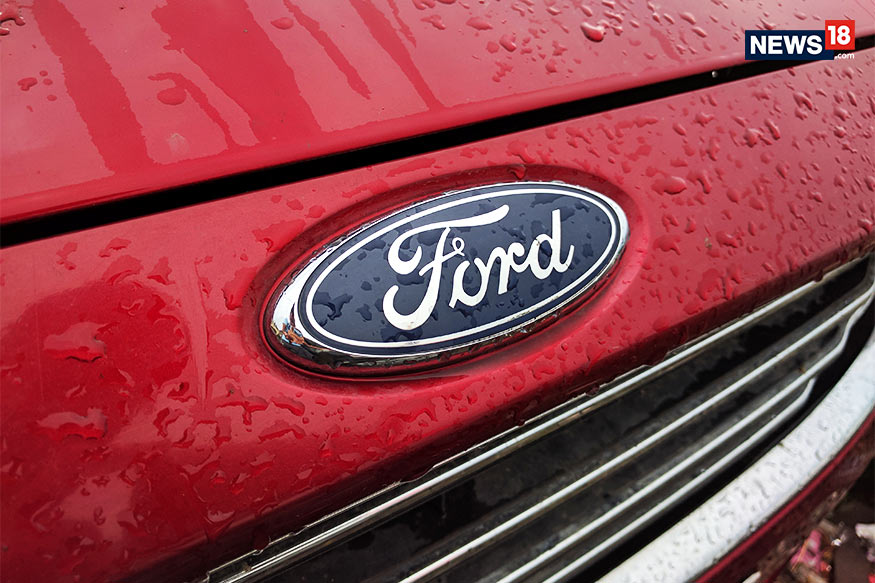 Kufri decided to welcome us with a hail storm. (Photo: Manav Sinha/News18.com)
This brings us to the next day, which began with a flat tyre.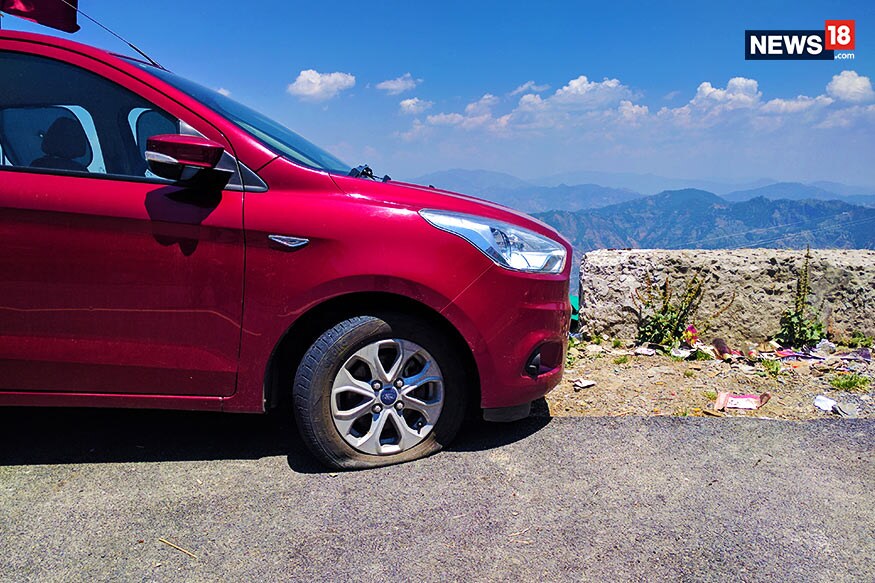 Starting the day with a flat tyre wasn't exactly on our list. (Photo: Manav Sinha/News18.com)
Fixing a flat tyre at such a height drained us of all the energy. Which meant, it was time for food (yay!).
Being in the hills, there's just something about having a hot and spicy bowl of noodles and coffee and that is exactly what we did.
There's just something about having noodles in the hills. (Photo: Manav Sinha/News18.com)
Finally, after an unanticipated delay, we left for Kufri Fun World which is an amusement park and of the rides over there is India's highest go-kart track. And yes, let's not forget catching a glimpse of Yaks on our way.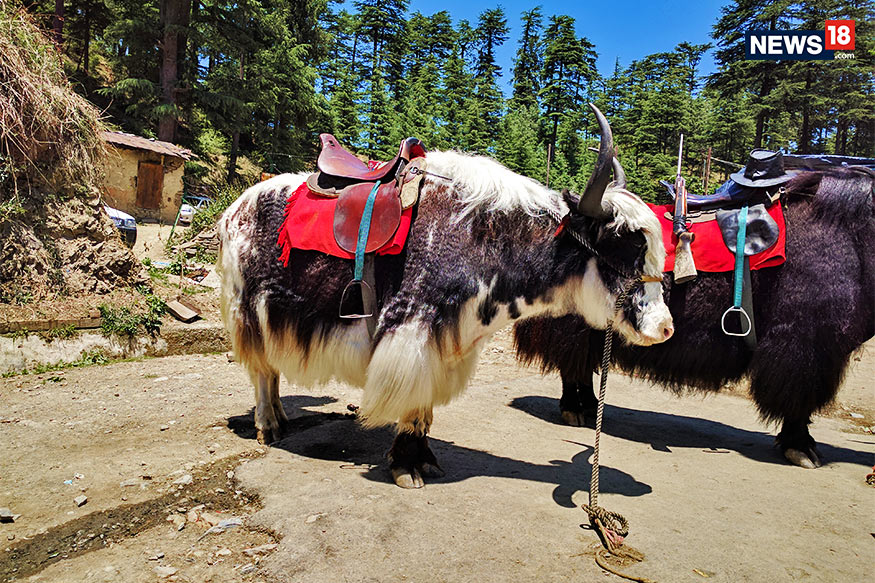 We also encountered some Yaks in Kufri. (Photo: Manav Sinha/News18.com)
While go-karting is extremely fun no matter where you do it, doing it with the hills at 7500-feet with clear skies and vast stretches of greenery is pure automotive bliss. We had read about, seen the pictures on the internet and visualised it in our minds too, but the reality was beyond all of these.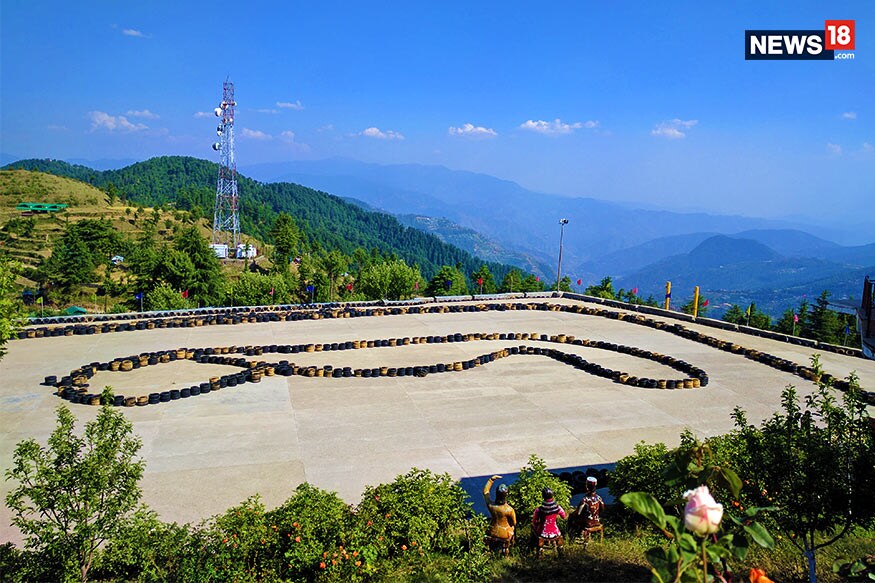 The go-kart track in Kufri is situated at a height of about 7500-feet. (Photo: Manav Sinha/News18.com)
The track layout was very simple and basic so pushing our karting skills didn't make sense. Also, not to other petrol heads, the organisers don't expect you to ask the horsepower output of their karts. If you really want the most out of all this then all you have to do is drive – the best stress buster, as we mentioned at the beginning.
The amusement park is set at quite a height in order to get that fantastic view and getting there can be a bit tricky. The roads are wide enough for only one car and hence, the organisers provide cars with proper off-roading capabilities to take you there. We went there in the Aspire and the car took us up and down the route with ease.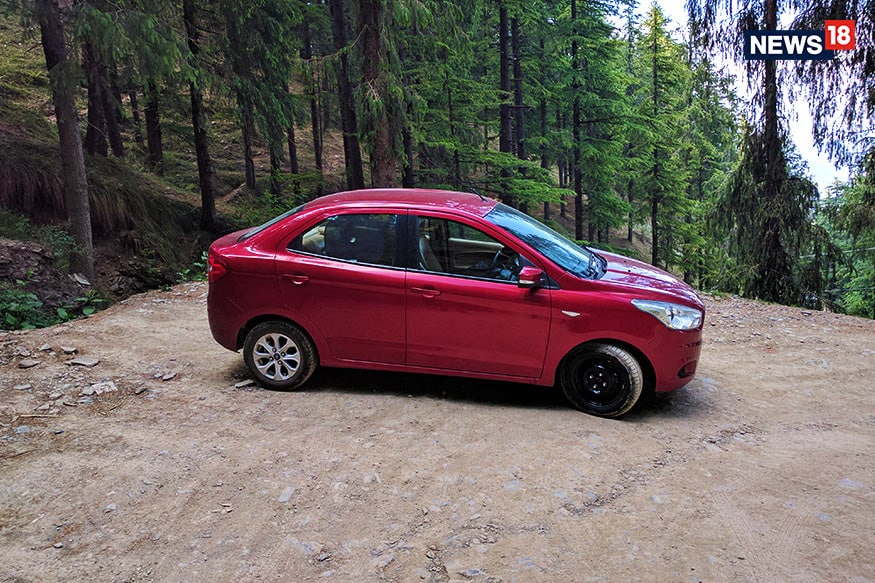 The Ford Aspire is capable of taking bad roads too, even with the spare tyre on. (Photo: Manav Sinha/News18.com)
After all of this, we still had a couple of hours of daylight left and to make the most of it, we decided to go trekking in the heart of the jungle. It wasn't anything extreme but it did make for a memorable experience and some breathtaking views that people hardly get to see.
This brought our second day to end and we left Kufri at 8 in the morning next day towards Delhi.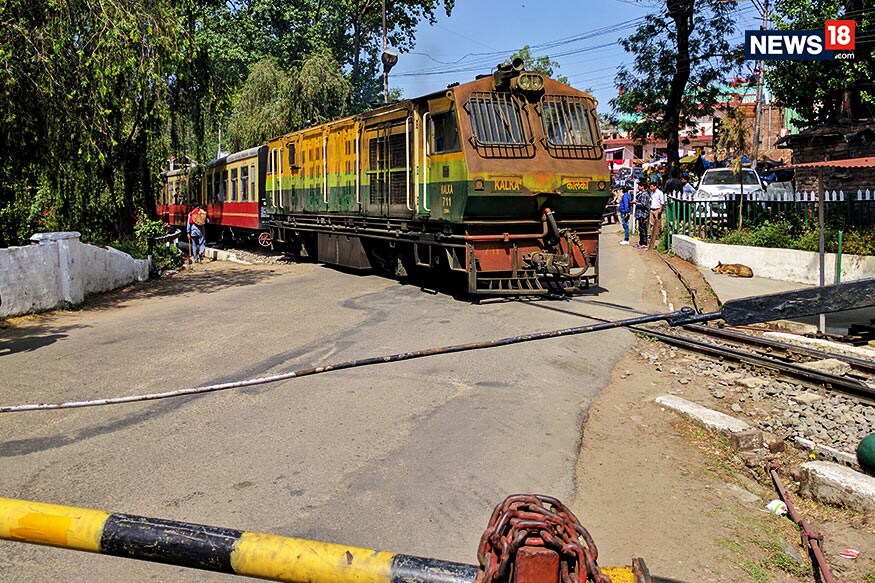 While leaving for Delhi, the hills had one last surprise left for us. (Photo: Manav Sinha/News18.com)
During the familiar route back home, we realised that so much had happened during the past 48 hours and it was all made better because of the car we had with us. It took us through highways, hills, all sorts of roads and even through areas where there were no roads and not trouble us in any way. Add to that the thought at the back of our minds that there will be a Ford dealership somewhere close when we need it was just the kind of reassurance one needs during such road trips.
Also Read: Delhi-Pushkar Road Trip: Desert, Lake & A Land Rover Discovery Sport
And the best part about the whole 800-kilometre road trip was that the Ford Aspire only used a single completely fuelled-up fuel tank and returned a mileage of over 20 km/l which is commendable for a 1.5-litre engine powered compact sedan.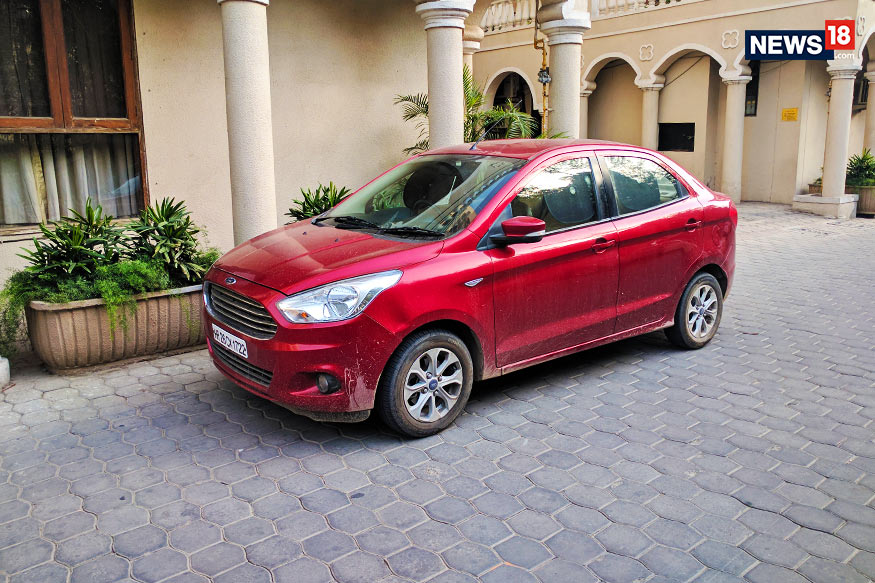 After a memorable road trip, the Ford Aspire managed to deliver a mileage of over 18 km/l. (Photo: Manav Sinha/News18.com)
To sum it up, it was an experience that every automobile lover needs to have and we can't wait to take the Ford Aspire to another similarly beautiful road-trip soon.
Don't Miss:
Get the best of News18 delivered to your inbox - subscribe to News18 Daybreak. Follow News18.com on Twitter, Instagram, Facebook, Telegram, TikTok and on YouTube, and stay in the know with what's happening in the world around you – in real time.
Read full article