Demystified: Maruti Suzuki Celerio's Automated Manual Transmission
In the Celerio's AMT, the conventional manual gearbox remains unchanged and an electro hydraulic mechanism automate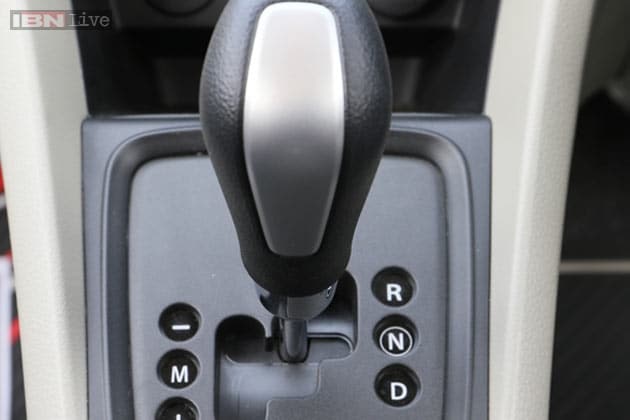 In the Celerio's AMT, the conventional manual gearbox remains unchanged and an electro hydraulic mechanism automate
The Maruti Suzuki Celerio is arguably the biggest launch of the Auto Expo 2014 and the show stopper is the the Automated Manual Transmission (AMT) variant.
Essentially, the AMT is nothing like your conventional auto boxes. In fact it is a conventional manual gearbox which remains unchanged, which has an electro hydraulic mechanism for automating gear shifts.
The AMT operates on the manual transmission of a car just like a driver would. It opens and closes the clutch, and engages and disengages the gears - both these control movements are executed by hydraulic actuators which in turn are controlled by the Transmission Control Unit or the TCU - replacing the hands and the brains of a driver. This entire unit is delivered to a manufacturer as a sealed unit which the manufacturer then incorporates within the conventional gearbox assembly.
But AMT is not a new system it has been employed in Europe for some time now but not very successfully. The reason is that manufacturers haven't been able to make the gear shifts seamless or jerk less like automatic gearboxes. In Europe, your average gear shifts per kilometre are much fewer than countries like India, and neither are Europeans obsessed with fuel efficiency as much. So in effect, either they made do with manual gearboxes or paid a bit extra for conventional auto boxes.
In India though, there's a sudden lightbulb moment for manufacturers. AMT sound like a perfect technology for India. Not only does it give the driver peace of mind of clutch less shifts, something metropolitan dwellers are direly craving for, it is also as fuel efficient as a regular manual gearbox. And it's a cheap technology which doesn't increase the cost of your car too much. Case in point: Maruti was able to launch the Celerio with AMT at a spectacular price point of Rs. 4.3 Lakhs ex-showroom.
Not only is Maruti the first to launch an AMT equipped car, it uses the 4th generation of the Magneti Marelli system, where as industry sources tell that both Tata and Mahindra intend to use the 3rd generation.
For more on the Celerio AMT, visit Overdrive.in
Get the best of News18 delivered to your inbox - subscribe to News18 Daybreak. Follow News18.com on Twitter, Instagram, Facebook, Telegram, TikTok and on YouTube, and stay in the know with what's happening in the world around you – in real time.
Read full article