Detroit Auto Show 2017: Lexus LS Combines Luxury and Tech
Conceived to be a flagship sedan, it will be going toe-to-toe with the best that the most storied German marques can currently offer.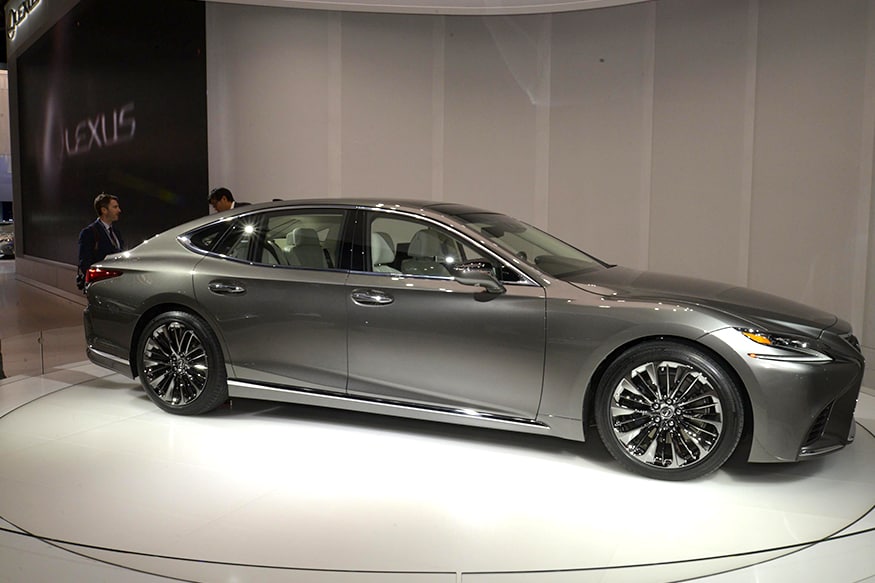 The 2017 Lexus 500 LS . (Photo: AFP Relaxnews)
After much teasing and not a little hype, the 2017 Lexus LS has made its global debut at the North American International Auto Show in Detroit. Conceived from the ground up to be a flagship sedan for the 21st century, it will be going toe-to-toe with the best that the most storied German marques can currently offer. But should Mercedes be worried?
Historically, the Mercedes-Benz S-Class is the benchmark against which all full-sized luxury production sedans are judged on all criteria from the quality of leather trim to the suite of next generation technology on offer.
In terms of the latter, Lexus is touting the new car as the first that's capable of detecting and steering around a pedestrian if a collision is imminent, rather than simply performing an emergency stop. Called Pedestrian Detection with Active Steering within the lane, this piece of tech also enables the car to make autonomous micro-adjustments to its position within a lane on the freeway.
But tech alone is not enough and Lexus is fully aware of what the LS has to deliver. "The customers who are going to want to own a Lexus flagship are already surrounded by luxury on a daily basis," said Toshio Asahi, the car's chief engineer. So the new car is longer and wider than the outgoing LS but because the designers have gone for a coupé-esque look, complete with sloping roof, the vehicle looks compact and planted.
The external increases mean a much roomier interior and seats with 28-way electronic adjustment, heating, cooling and even a shiatsu massage function. But the selling point is that the cabin is about predicting as much as offering comfort. "I suggest that you simply open the door and experience that immediate, intuitive sense that you're looking at an interior that is unlike any luxury car before," said chief designer, Koichi Suga.
For example, because it's the first Lexus to ride on air suspension, when the car's unlocked, the car rises to make ingress easier. The sporty, figure-hugging front seats open out (by releasing their bolsters), taking this a step further. Once sitting comfortably, everything tenses up again. Think of it like an open hand tightening around an object. Even with these comforts, the LS is the most driver-focused flagship in Lexus history. Aware that it is going to be competing with the likes of the Porsche Panamera, Lexus has gone to incredible lengths to offer a car that is sporty to drive but without any of the unforgiving stiffness and hard riding associated with bigger performance cars.
It has independent front and rear steering, a new V6 with twin turbos offering 0-100 km/h in 4.5 seconds and 415hp. But it's so quiet that you'll have to open the window to hear if it's running. It's also mated to a 10-speed automatic transmission to eke out every last ounce of power or efficiency depending on the situation.
"We set previously unheard of targets and resolutely pushed ahead towards these ambitious goals," said Asahi about the car's journey to production reality. "[The LS is for] people who have a sharp eye for authenticity, to begin with. We wouldn't turn their heads with a conventional premium product."
| Edited by: Manav Sinha
Read full article
Countdown To
Elections Results
To Assembly Elections 2018 Results