Ducati is known for making some of the fastest motorcycles on the planet and at the same time, it has some of the most iconic nameplates under its belt. But what happens it gets down to making an adventure tourer? The result is the Multistrada series of bikes. Out of which, the Multistrada 1200 Enduro promises to be the most capable offering.
At a massive price tag of Rs 17.44 lakh (ex-showroom, Delhi), the Multistrada Enduro needs to be absolutely mind-blowing in every aspect in order to justify that cost. Is it worth the hype and more importantly, is it a Ducati in the truest sense? Let's find out.
The Looks
Being a Ducati, it's only natural for one to assume that the bike would be drop-dead gorgeous and posters of it would make their way to every kid's bedroom wall right away. The Panigale, Diavel and even the Scrambler series have been nothing short of being drool worthy.
The Multistrada Enduro is a good-looking motorcycle and it certainly stands out but not in a Ducati sort of way. There's a reason for it, though, as the Italian maker has opted for practicality over appearance.
The biggest attraction has to be the front LED-headlamps which just cannot be ignored and will turn heads wherever you.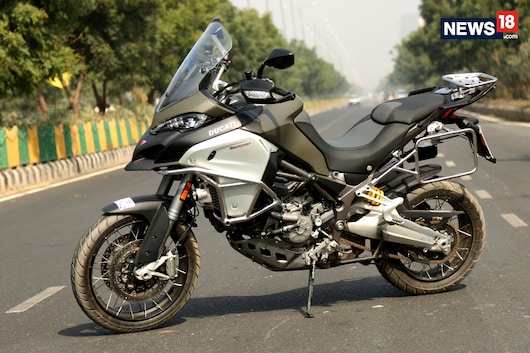 The Ducati Multistrada 1200 Enduro has a bold presence on road. (Photo: Siddharth Safaya/News18.com)
They say that when you are on road then size is might and when you actually prepare yourself to get seated on the Enduro, you will realise just how huge this motorcycle is. If you are a car person then we will put it this way, it's like the Hummer H2 among the cars.
What's Cool?
There is so much to love about this motorcycle, but the biggest strength has to be the 1198cc engine that delivers 136 Nm of torque and jaw-dropping 160 horsepower. The engine feels alive no matter what gear or RPM you are at, largely because the meat of the power starts coming in from as low as 3500 RPM, where the engine dishes out 100 Nm of torque. It comes mated to a slick 6-speed transmission that allows for quick gearshifts and barring a few false neutrals, it never gave us a chance to complain.
When it comes to stopping, the brakes provide excellent feedback and the Pirelli Scorpion Trail II tyres are more than enough for easy-riding and soft off-roading.
The Ducati Multistrada 1200 Enduro comes with on-off road Pirelli Scorpion Trail II tyres. (Photo: Siddharth Safaya/News18.com)
The high handlebar and footpeg position makes for easy riding for hours no matter how the terrain is.
An adventure tourer, as the name suggest, should be a tourer which can take a bit of adventure too. And Ducati has loaded it to the brim with features to take care of both the scenarios.
If we focus on the touring aspect of the motorcycle then it comes with features like cruise control, cornering lights and heated grips to keep your hands warm. The Enduro also has an Inertial Measurement Unit (IMU) and which means that the sensors on board know what kind of a lean the bike is attaining. This effectively makes way for electronic rider aids like – traction control, cornering ABS and wheelie control (yes you need it in an ADV when you have so much power).
That's not it, though, as the bike also has ride-by-wire which makes way for four riding modes – Sport which is meant for maximum performance, Touring for a relatively mild throttle response during lost distance riding, Enduro for off-roading and Urban for city riding. In Urban and Enduro modes, the power output is decreased to 100 horsepower whereas Sport and Touring modes deliver 160 horsepower to the rear wheel. Fortunately, Enduro mode switches off the ABS for the rear wheel so that you have better control in terrains like mud and slush.
The party piece has to be the Ducati Skyhook Suspension (DSS) as it can be electronically adjusted for rebound and compression at the touch of a button. What this means, is that you can have the ride quality as per your requirement whether you are riding solo, have a passenger, have baggage mounted on the bike or are riding with a passenger and baggage at the same time.
The Ducati Multistrada 1200 Enduro has a high handlebar position. (Photo: Siddharth Safaya/News18.com)
If you ever manage to jump the bike, then the computers on board will do the calculations and adjust the suspension in such a way that you have a soft landing. All of this is done while you are in the air, how cool is that?
Now, this is a lot of technology that has been cleverly integrated into the bike but all of it is surprisingly easy to adjust thanks to the 5-inch colour TFT display which is easy to operate. And if you are thinking that a motorcycle cannot have any more features than this, then well, the Ducati Multistrada 1200 Enduro also has Bluetooth connectivity. It pairs to your phone via the 'Multistrada Link' app, which is available on both Android and iOS, wherein you can monitor everything about the bike and your riding style. Since it is connected to your phone, the screen will display calls and texts your phone receives while being connected and you can listen to songs as well.
Alternatively, you can pair it with a Bluetooth helmet that you and the passenger are wearing, making it easy to communicate while riding.
The addition of keyless ignition and height adjustable wind deflector is like the cherry on top.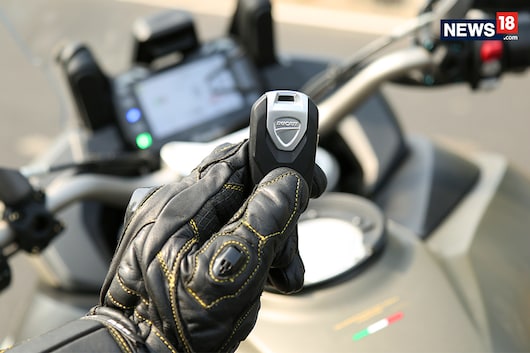 The Ducati Multistrada 1200 Enduro has keyless ignition. (Photo: Siddharth Safaya/News18.com)
What's Not So Cool?
The Enduro comes with a minimum seat height of 850 mm and can be increased to 870 or 890 mm as well. A high seat gives a commanding position while going off-road but then, it might be a bit too high for riders that are shorter than 5 foot 8 inches.
The Ducati Multistrada 1200 Enduro's seat might be too high for short riders. (Photo: Siddharth Safaya/News18.com)
The bike weighs at around 225 kilos (dry) which is heavy for any motorcycle. Yes, it has a big engine and a lot of bells and whistles, but bikes which are taken for off-roading do tend to fall someday. Fortunately, the build quality is great so the chances of breaking something are really low but you will need a couple of people to lift it back up. Although, it is interesting to note that it is this very weight that helps in making the Enduro feel planted in tricky terrains.
Competitors
Adventure tourers have seen a rise in popularity only recently throughout the world and just like a typical Ducati offering, the Multistrada Enduro is one of the most powerful ADV motorcycles on sale right now. It is at the top of the hill in its segment and the only real competition that it has is the BMW GS 1300 Adventure.
The Ducati Multistrada 1200 Enduro's brakes provide excellent feedback. (Photo: Siddharth Safaya/News18.com)
There's also the Triumph Tiger series in India but it misses out on a lot of things when put against the Enduro but then it's pricing makes it more accessible.
Verdict
The Ducati Multistrada Enduro 1200 has a massive price tag and no, it is not a perfect motorcycle at that price. But then, there are seldom such motorcycles made that make you question yourself that whether you need any other motorcycle in your garage.
It manages to hit a sweet spot between a tech-loaded, powerful sports bike and a true-blue adventure tourer. There is a lot to talk about it, from the way it looks and the list of goodies it packs, but all of it comes together in a very special way which can be felt only once you start riding it.
What it has, is a character.
And all of this makes it a winner in our books.
Also Read: Ducati Monster 821 Review: The Refined Raw Power That Packs a Punch