Over 7 years ago when the when the prototype of one particular motorcycle was wheeled out in front of Ducati engineers and technicians, someone saw the silhouette and exclaimed in Bolognese dialect "Ignurant comm' al diavel!" which meant "Evil, like the devil!"
That motorcycle went on to be launched as the 'Diavel'. Fast forward a few years and Ducati made the XDiavel which, albeit a different motorcycle, shares the name and when we got our hands on the XDiavel's 'S' variant a huge amount of time was spent drooling over it.
In India, you will have to shell out Rs 19.48 lakh (ex-showroom, Delhi) to have one of these.
Being available at a hefty price tag like this and being named after the devil himself, there's a lot for the XDiavel S to live up to. So once the drooling was over, we gave it a shakedown and here's what we found.
The Looks
Ducati XDiavel S. (Photo: Siddharth Safaya/News18.com)
The XDiavel S has Italian written all over it. Flair, Zing, Drama and a touch of madness – it has it all and then a bit more. The motorcycle is a head turner wherever it goes and it simply can't be ignored.
There are just so many elements to look at that you'll be finding new things to admire all week. The stance of the XDiavel S is low, muscular and aggressive almost as if the bike is squatting to race a marathon. And break all records.
If we look at it from the front, then the sharp LED headlamps with Daytime Running Lights (DRLs) set it apart and give it a bit of a street-naked appearance. When you look at the side profile, though, you will be greeted with a number of elements that have their own unique touches and yet, they all manage to come together well. The detailing on the engine, in particular, looks great and the minimalistic floating rear-end section with the pillion seat is typical Ducati.
Ducati XDiavel S has a beautiful wheel design. (Photo: Siddharth Safaya/News18.com)
From the back, the biggest attraction is the huge Pirelli Diablo Rosso II tyre which, along with the superb-looking 17-inch wheel's design, will make you think that you are looking at a concept motorcycle or a customised one but given that Ducati made the bold move to offer them as factory-fitted is commendable.
Look carefully and you will notice that the rear wheel is powered by a belt and not a chain making the XDiavel S the first belt-driven motorcycle in the history of Ducati. The advantage of being belt-driven over chain-driven is that it is a bit easier to maintain and will last longer too. The rear LED taillights look classy and do not compromise on visibility for those travelling behind the bike.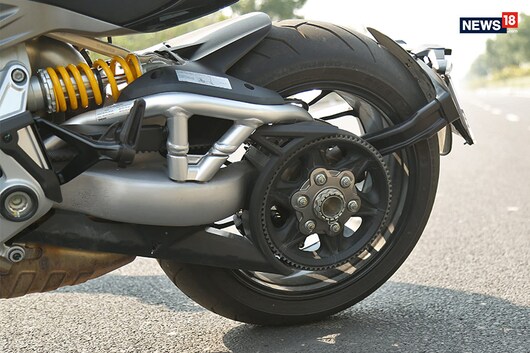 Ducati XDiavel S comes with a belt drive. (Photo: Siddharth Safaya/News18.com)
What's Cool?
Once you hop on the bike, the riding position seems a bit unconventional at first and takes some time getting used to. The foot pegs are front-set and you have to reach out to the handlebar giving the rider a commanding position to be in.
Interestingly, riding position will never be a problem for riders of any height as – the foot pegs are adjustable to three positions, there's a choice of two handlebars other than the standard one as accessory to alter how much do you have to reach out to it and 4 seat options than the standard (755 mm) for riders of different height.
The Ducati XDiavel S comes with several features on board, including Bluetooth connectivity. (Photo: Siddharth Safaya/News18.com)
Add to that front and rear adjustable suspension and you have the liberty to tinker around and find the best set up for the road conditions around you. There's also the large steel tank which can store up to 18 litres of fuel which gives you a decent range for longer journeys as well.
At the heart of the XDiavel S is an all-new 1262cc Testastretta DVT L-Twin engine that delivers a monstrous 156 horsepower and 128.9 Nm of torque which is delivered at as low as 5000 RPM. It comes mated to a slick 6-speed transmission which, frankly, is one of the smoothest transmission setups we have experience on a Ducati till now. Gear shifts are crisp and there are no false neutrals.
There's plenty of rider aids available like cornering ABS and traction control which can be adjustable too. Since the XDiavel S gets ride-by-wire, there are three riding modes to choose from – 'Sport' for maximum performance, 'Touring' for smoother throttle response with all power on offer and 'Urban' which cuts the power delivery to 100 horsepower for easier city riding and will be helpful on wet roads too.
Ducati XDiavel S comes with powerful Brembo M50 brakes. (Photo: Siddharth Safaya/News18.com)
Other features include Bluetooth connectivity, hands-free ignition and there's also cruise control for comfortable long distance highway riding.
The huge tyre at the back may give the impression that it's purely for cosmetic purposes and could intervene while cornering the bike but that's not the case because, as Ducati claims, you can attain a 40-degree lean angle on this allowing you to enjoy the bike at its full potential. Add to that the huge Brembo M50 brakes which, simply put, is as good as it gets.
The Party Piece
The XDiavel S has a small button on the right switch cluster of the handlebar which reads 'DPL' and it will break all hell loose on the one that's competing with you in a drag race. Pun only slightly intended.
Ducati XDiavel S comes with DPL. (Photo: Siddharth Safaya/News18.com)
What DPL stands for is Ducati Power Launch and the use of these three words in a single sentence means exactly what you think. What it does is it takes all the electronic gadgetry on board and tunes them in such a way that you go from the start like a missile. The acceleration is so intense that it can give the mightiest of superbikes a run for their money.
There's clever engineering involved in here too as in order to protect the clutch, the system uses an algorithm which enables only a limited number of consecutive starts, three at max. The launches are recalculated one by one and in order to have the drivetrain cooled down, you have to ride it for a particular duration (normally) or let the bike cool down by itself.
DPL is adjustbale to three leves. (Photo: Siddharth Safaya/News18.com)
The good part is that the DPL can be adjusted to three levels depending on how badly you want to dent the confidence of your competitor.
What's Not So Cool?
The motorcycle may come with a lot of great features but there a few things that we wished were better.
The radiator grille feels a bit too exposed especially for typical Indian roads which are filled with gravel and dust on the road which is also a cause of concern for the belt drive of the XDiavel S as it can damage it and could be an expensive fix. The right thing to do here is to keep in mind the road conditions of where you plan to take the bike along with proper maintenance of the drivetrain and you won't have a problem.
The Ducati XDiavel S could have used better protection for the radiator grille. (Photo: Siddharth Safaya/News18.com)
The bike has immense levels of acceleration on offer but the seat lacks proper contouring and support and you will find yourself holding on to the handlebar a bit too tight especially when you are using the DPL.
Competitors
The Ducati XDiavel S provides a combination of characteristics, unlike any other motorcycle. You can pit it against other motorcycles in terms of the price tag but when it comes to the riding experience, there is no direct competitor. Something that the Diavel offered as well.
Also Read: Ducati Monster 821 Review: The Refined Raw Power That Packs a Punch
Verdict
If you're wondering that the Rs 19.48 lakh (ex-showroom, Delhi) price tag is a bit too steep for a two-wheeled machine then yes, you are right but the XDiavel S is worth it.
And if you're wondering why it is worth so much money then consider this. What Ducati have done with the XDiavelS is that they have cracked the code that bike makers have been trying to ace for all these years. They have managed to make cruiser motorcycles fun and exciting unlike ever before and they have managed to make a sports bike comfortable for long trips.
Don't get us wrong, there are great cruisers and there are great superbikes out there but this is all of that packed into one in a very good-looking package.
And that's why it has what it takes to make even the devil smile for a change.
Don't Miss: Ducati Multistrada 1200 Enduro Review: All the Motorcycle You Will Ever Need