Fiat 124 Spider Completes 50 Years, A Look at What Made It so Popular
It was designed by the legendary Pininfarina and was the soft top that caught everyone's attention.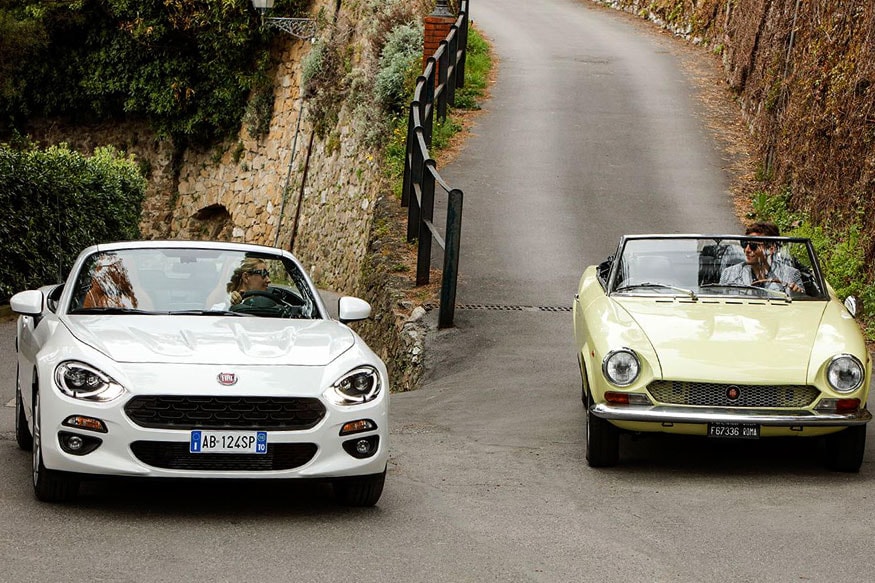 New Fiat 124 Spider and classic Fiat 124 Spider. (Photo: AFP Relaxnews)
The little soft top that found a soft spot with US drivers may be celebrating its half-century this month but thanks to that Pininfarina design, it still looks as youthful as ever.
The Fiat 124 Spider is an aesthetic embodiment of the optimism and sense of freedom that gripped Italy in the late 1960s. It was unveiled at the Turin motor show in the same year that the equally exciting Fiat Dino (which had a Ferrari Dino V6 engine), the Lamborghini Miura, the Ferrari 330 GTS, the Maserati Ghibli and the Alfa Romeo Duetto Spider all broke cover.
However, unlike its compatriots, the 124 Spider was a concerted aim to bring sports car looks and driving excitement to the masses in the same way that the original Fiat 500 had bought personal mobility to people who otherwise couldn't afford a vehicle bigger than a Vespa scooter.
Yet despite having one eye on costs, the car boasted radial tires, a five-speed gearbox, a double-barrel carburettor, and a plush interior with wooden trim and even elements like a fuel gauge and tachometer (earlier Fiats had no fuel gauges, just a light that came on when the tank was almost drained)
A clean, understated Pininfarina creation, the body boasted perfect sportscar proportions despite its diminutive 3.97m length. And because it was light, a 1.4-liter 90hp engine was initially enough to make it a blast to drive (top speed 170km/h). Pininfarina claims that the exterior design and ride setup were based on hours of research in developing a car that 'sat up' at motorway speeds but would still negotiate narrow Italian backroads without coming unstuck.
Unsurprisingly, the car started to get a lot of attention from American drivers, particularly on the West coast, and so in 1969 the car was overhauled with an 110hp 1.6-liter engine (top speed 180km/h), given a reversing light and more options and crossed the Atlantic. US demand remained steady right up until 1982 -- so much so that while the car was discontinued in Europe, Pininfarina continued making it and updating it for Fiat between 1974 and 83 almost exclusively for the American market.
Therefore it's little wonder that Fiat hopes the reborn 124 Spider, launched exactly 12 months ago at the LA Auto Show, and sharing its underpinnings with the superlative Mazda MX-5 Miata (the 2016 World Car of the Year) will pick up where the original left off. But no matter how good the new car promises to be on paper, the original 124 Spider will be a tough act to follow.
Also Watch
Read full article