All-electric taxis might be pretty thin on the ground at the moment, but it might not be too long until they become commonplace. And this week was a landmark day for the electric taxi cause as the very first example of the all-new electric TX taxi from the London EV Company (LEVC) was handed over to a very eager and excited driver. The driver in question was 49 year-old David Harris from Chingford in north East London, and he's been a driver of the UK capital's iconic black cabs for 21 years. Harris was one of the first of his ilk to be forward-thinking enough to put down a deposit for one of the new electric taxis when the order books were originally opened back in the summer of last year.
Before embarking on a career as a black cab driver, Harris was actually a professional tennis player who would spend something like 40 weeks of the year traveling around the world. Now he spends his working hours touring the streets of London, but in the new TX he will be doing so in pretty unrivaled comfort. Of course, it will also be the same for passengers as the new TX boasts the likes of class-leading wheelchair accessibility, on-board Wi-Fi, phone/laptop charging, a very spacious six-seat cabin, wide opening rear hinged doors, contactless card machines, and even a panoramic roof.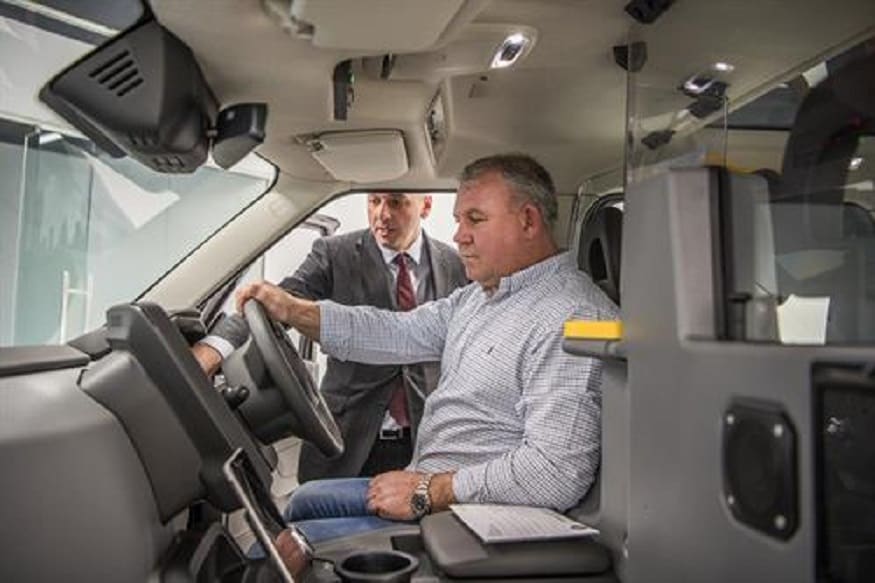 David Harris getting to grips with his new LEVC TX electric taxi. (Image: AFP Relaxnews)
The TX is currently the world's cleanest and most advanced taxi ever, and claims to offer zero emissions operation thanks to eCity technology. eCity technology is comprised of an advanced battery electric powertrain with a small range-extending petrol generator as a back-up, which then offers a total range of up to 400 miles, including as much as 80 miles of pure electric driving.
Harris said of his new workplace, "I'm absolutely delighted to get the keys to my new TX electric taxi, and there are two reasons I bought the cab. First, I can't wait to see the response from passengers. I know that they're going to love it. And second, I'm going to see some a significant saving on running the electric taxi. Even though I can't charge the vehicle at home, I should be able to charge the cab once a day at Heathrow. Combined with lower servicing and overall running costs, this means I should end up £500-£600 a month better off before I even go out to work."
Also Watch: 2018 Maruti Suzuki Swift Review (First Drive) | Cars18