First Kawasaki Ninja 400 in India Arrives in Pune – See Pics
The Ninja 400 features a trellis frame similar in design to that of the Ninja H2 and is priced at Rs 4.69 lakh (ex-showroom, Delhi).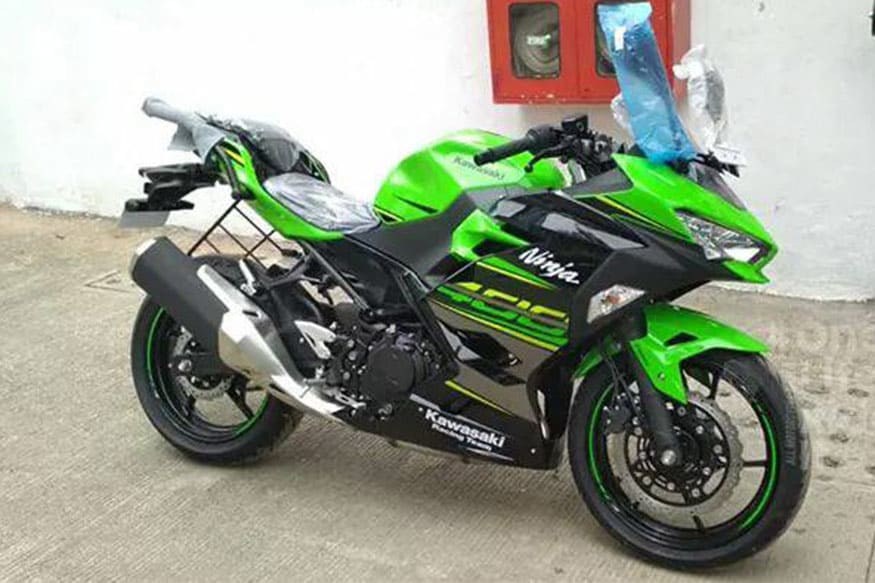 First Kawasaki Ninja 400. (Photo Courtesy: Facebook/Northeast biking community)
Kawasaki Ninja 400 created all sorts of buzz when it was launched in India at a price tag of Rs 4.69 lakh (ex-showroom, Delhi). It was priced higher than expected and price aside, it promises to be one of the sportiest sub-500cc motorcycles on sale in India right now. Amongst all the interest surrounding the motorcycle, the first unit in India has arrived in Pune. The pictures of which were posted on a Facebook page by the name of Northeast biking community.
On the technical front, the Ninja 400's all-new 399 cm3 delivers higher performance and controllability. The higher performance can largely be credited to the new downdraft intake, which is accompanied by a larger airbox offering increased intake efficiency. The smooth response and abundant low-end torque facilitate throttle control for new and experienced riders alike. The Ninja 400 also has a potential to compete with models having relatively higher power and engine capacity.
The Ninja 400 features a trellis frame similar in design to that of the Ninja H2. Kawasaki's advanced dynamic rigidity analysis was used to ensure optimum rigidity with light weight. Apart from this like the Ninja H2, the new Ninja 400 features a Swingarm Mounting Plate. Allowing the swingarm to be affixed to the rear of the engine contributes to stability.
Few noteworthy elements like largest brake disc in class, more rigid front fork and sporty riding position which can accommodate a wide range of rider sizes and riding situations make Ninja 400 very unique. Besides a cover for the radiator fan directs engine heat away from the rider, contributing to rider comfort.
Also Watch:
The new Ninja 400 boasts futuristic new Ninja styling inspired by the mighty Ninja H2. Chin spoilers at the bottom of the front cowl were inspired by the Ninja H2 and Ninja ZX-10R. LED taillight design inspired by the 2016 Ninja ZX- 10R contributes to the rear's sharp impression. The Ninja 400 is equipped with the same instrument cluster as the Ninja 650, contributing to the high-grade feel of the tidy cockpit. In a nutshell, Ninja 400 has got many features inspired by its elder brothers.
| Edited by: Manav Sinha
Read full article