First Made in India e-Buzz K6 Electric Bus Launched by Union Minister Ananth Geete
First, five of these 'eBuzz K6' buses shall be exported to Nepal before being introduced in India.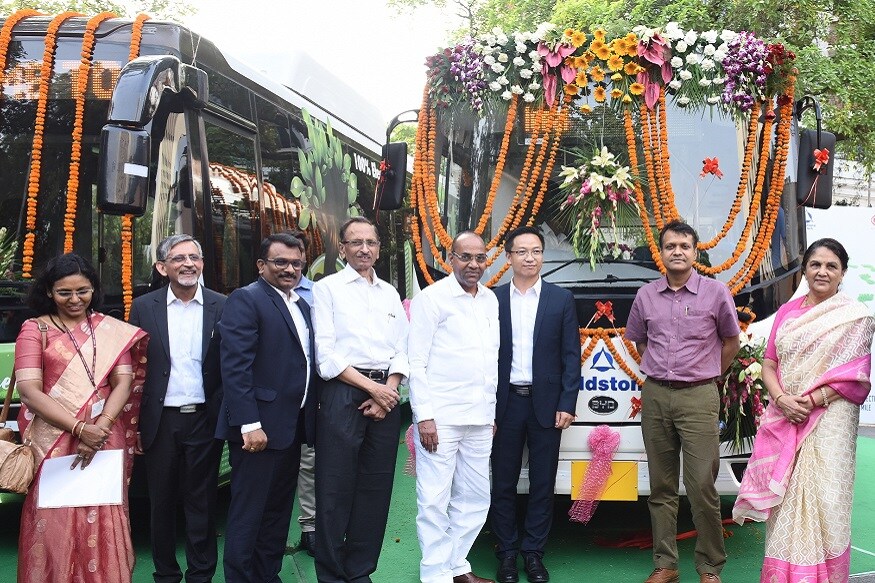 • Minister for Heavy Industries and Public Enterprises Mr. Anant Geete, launches India's first indigenously manufactured electric bus-'eBuzz K6' which will be exported to Nepal.
In a major boost to the electric vehicle adoption in the country on World Environment Day Goldstone-BYD, announced the launch as well as export of its full Electric Feeder Bus 'eBuzz K6', the 1st bus in this category to be manufactured in India. The Zero Emission electric bus was unveiled by Shri Ananth Geete, Union Minister of Heavy Industries & Public Enterprises, Government of India. the 18 seater Goldstone-BYD eBuzz K6 zero-emission electric vehicles are manufactured in India by Goldstone Infratech Ltd in a strategic tie-up with BYD Auto Industry Co. Ltd.
First, five of these 'eBuzz K6' buses shall be exported to Nepal before being introduced in India and later will be exported to other neighboring countries. These electric buses will serve Lumbini tourism lines.
Also Read: 2018 Maruti Suzuki Vitara Brezza Vs Hyundai Creta Facelift Compact SUV Spec Comparison - Price, Mileage and More
Mr. Naga Satyam, Executive Director – Goldstone Infratech Ltd said, "Our focus has not only been to 'Make in India' but also 'Made for India' to meet the requirements of our diversity in the landscapes and terrains of the country. We have covered significant ground in meeting the requirements of several states in the country and being the supplier of choice for Mumbai, Himachal Pradesh, Bangalore, Hyderabad, amongst other states. Our proven ability to build customized, robust, yet sophisticated electric buses with utmost passenger comfort will enable us to meet the requirements of markets abroad too."
Mr.Zhang Jie , Executive Director, BYD India., said, " we are greatly encouraged by the quality of electric buses that are being manufactured in India by Goldstone and these manufacturing facilities in India will be used for export to SAARC Countries. 'eBuzz K6' to be supplied to Nepal is a step in that direction. We are committed to making vehicles that are not only environment friendly but also help in greatly reducing the carbon footprint"
The 7-meter Air-Conditioned bus with a monocoque chassis offers power up to 180 KW and 1500 Nm torque equipped with smart air suspension system and air disc brakes which ensures smooth ride even at higher altitudes and bumpy roads. eBuzz K6 which can consistently run at 80 KM Per Hour is equipped with an advanced Li-ion Phosphate Battery ensuring longer lifetime. The bus can be driven up to 200 kms in a single charge and the battery can be quickly charged within 3-4 hours through 3 Phase AC Charging.
On Safety front, the battery in eBuzz K6 is safe due to Chemical and thermal stability. It provides protection from Short circuit, over-temperature and lightning as well. The body of the bus also meets the AIS 052 specification.
Also Read: Ferrari 250 GTO Sold for Whopping Rs 537 Crore, Becomes World's Most Expensive Car [Video]
Goldstone Infratech Ltd has supplied 25 electric buses to HRTC and 6 electric buses to BEST. Recently, Goldstone-BYD emerged as the winner for the bids to supply Electric Buses to Bengaluru, Mumbai and Hyderabad cities for tendered quantity of 290 electric buses which is the largest number for any Electric Bus manufacturer in the country.
Goldstone-BYD buses have completed over 200,000 Kms on Indian roads and have saved 4.5 million INR worth of fuel. Goldstone-BYD electric buses have reduced CO2 emissions up to 18,000 Kgs per year which would have required 5000 trees instead.
| Edited by: Ayushmann Chawla
Read full article