The 88th Geneva International Motor Show saw the world debut of the Aston Martin Valkyrie AMR Pro – the track-only evolution of the marque's hypercar. A car claimed to have the performance capabilities of a current Le Mans LMP1 prototype or Formula One car.
The key to the car's unprecedented track performance is its lightweight construction and high-downforce aerodynamics – a combination that will result in a car that weighs 1000kg, yet is capable of generating more than its own weight in downforce.
The most obvious changes to the Aston Martin Valkyrie AMR Pro are wider bodywork and much larger front and rear wing elements, which together with revised active aerodynamic control strategies tailored to the demands of track driving. In order to save weight, this bodywork uses a lighter construction of carbon fibre. Likewise the removal of items such as the heater/de-mister blower and infotainment screens fitted to the road car, and through the fitment of new ultra-lightweight track-specific components such as a polycarbonate windscreen (with heater elements) and side windows, carbon fibre suspension wishbones, moulded race seats and a lighter exhaust system ensure the AMR Pro hits its 1000kg weight target.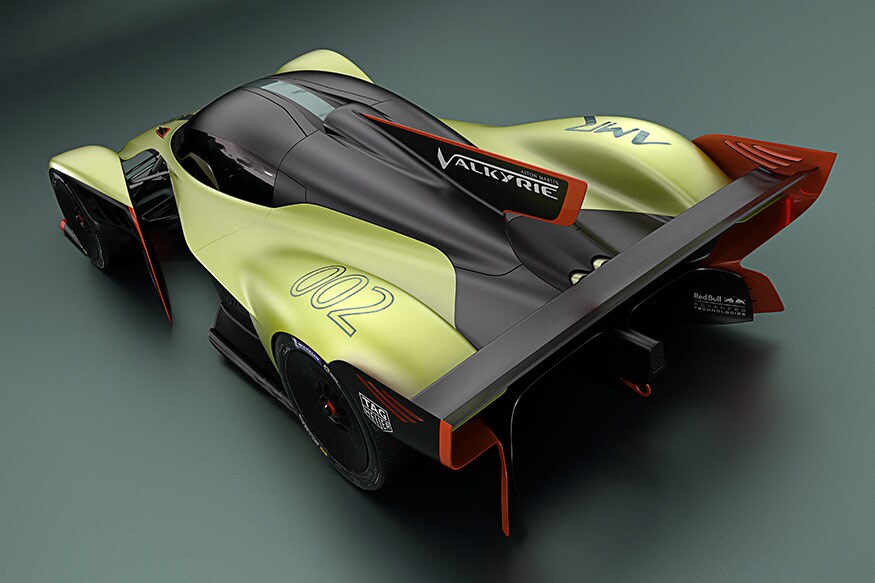 Aston Martin Valkyrie AMR Pro generates more downforce than its ownweight. (Photo: Aston Martin)
Calibration changes to the 6.5-litre naturally-aspirated V12 engine's emission control systems and re-programming of the Energy Recovery System control software will result in a combined power output of more than 1100bhp – more than the Valkyrie road car and a figure that comfortably exceeds the magic 1:1 power-to-weight ratio. That's to say more than 1bhp to propel every kilogram of mass. The top speed of the car is claimed to be 225 mph, which is equivalent to 362 km/h. Of far greater benefit to lap time is the track-only Valkyrie's ability to achieve lateral acceleration in excess of 3G – a figure far beyond that of any other car derived from a fully homologated road car.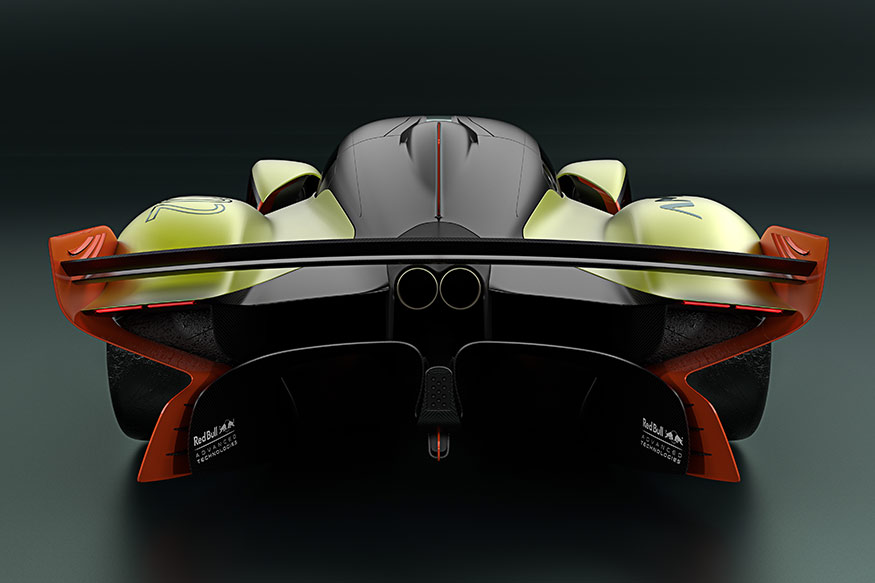 Aston Martin Valkyrie AMR Pro from the back. (Photo: Aston Martin)
Just 25 Aston Martin Valkyrie AMR Pros will be built. Deliveries are expected to commence in 2020. And as per Aston Martin, all cars are already sold out.
Also Watch