Big American pickup manufacturers like Ram and Chevrolet regularly go down the stealthy blacked-out route with their special editions, and now the evocative Italian manufacturer Maserati is treading a similar path with its Nerissimo Edition versions of its Ghibli, Quattroporte and Levante models at this year's Geneva Motor Show.
Nerissimo Editions envelope each car in what's being called "total black", and the Ghibli, Quattroporte and Levante can all be had in this form, but only in their GranSport trims. The exteriors of these three models really do make a statement in their striking, seductive, deep black body paint. To complement the bodywork there's some contrasting Black Chrome trim for the upper part of the grille frame and the Trident, the side air vents, the boot, and the iconic Maserati badging that features on the C-pillars and at the rear of each car. Unsurprisingly, the grille bars, door handles, exhaust tips and even the window trims are also in an exclusive black finish, so when Maserati says "total black" it isn't exaggerating.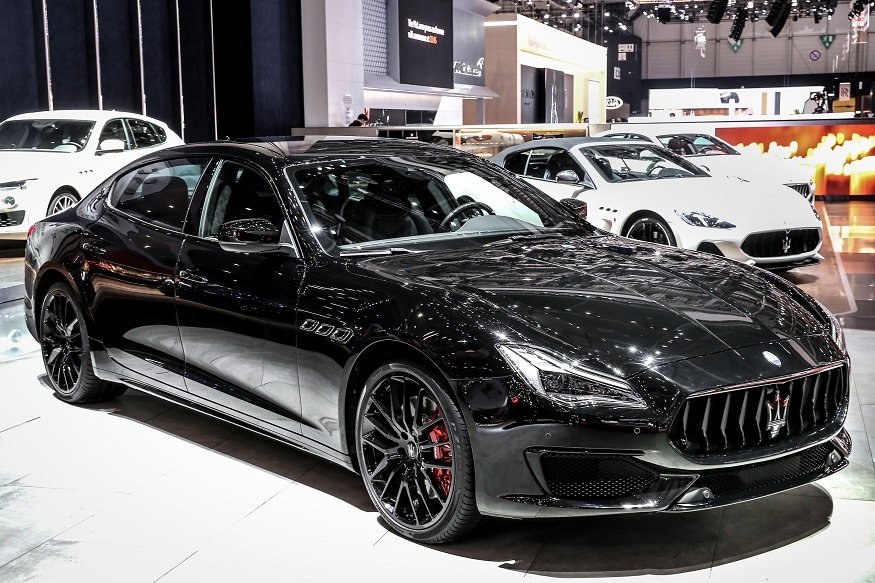 Maserati Quattroporte Nerissimo Edition 2018. (Image: Maserati)
There are some differences between some of the models. For example, the Ghibli and Quattroporte get a dark finish on the LED headlights and a choice of either 20-inch Urano or 21-inch Titano alloy wheels in glossy black. Meanwhile, the Levante offers additional features including front and rear underbody protection and black fog light rings. The Levante Nerissimo Edition comes with a choice of 20-inch Nereo, 20-inch Efesto or 21-inch Anteo alloy wheels, which are predictably all in dark finishes too.
The interiors of these fabulous cars are not left out either. The Ghibli sports sedan gets heated front and rear sport seats, a heated sport steering wheel and Dark Mirror interior finishing, but Black Piano and Carbon fiber trims are also available if buyers prefer. Flagship Quattroporte executive sedans come finished in either Black Piano or Carbon fibre trim, while the Levante SUV includes heated front and rear Sport seats, quad-zone automatic climate control, power foot pedals and the Easy Entry system.
Also Watch: 2018 Hyundai Elite i20 Review (Test Drive) | Exclusive | Cars18