Assembly Elections 2019
Exit Poll Results
GST: Mercedes-Benz and Audi Express Disappointment Over Cess Hike on SUVs and Luxury Cars
Under the new GST regime, cars attract the top tax rate of 28%. On top of this, a cess of 1-15% is levied on them to create a corpus to compensate states for loss of revenue from GST implementation.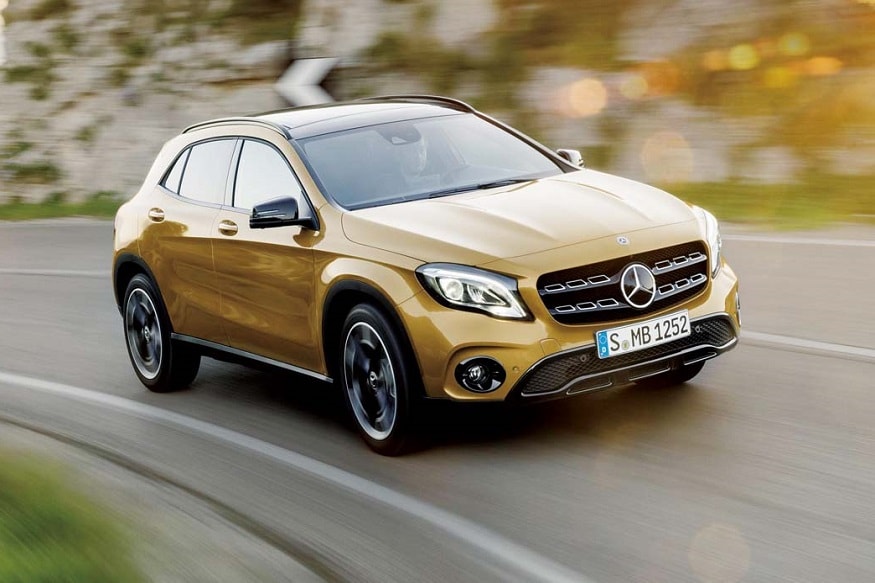 Mercedes-Benz GLA 2017 facelift. (Image: Mercedes-Benz)
Yesterday GST council approved the proposal to hike cess on SUVs, mid-sized, large and luxury cars to 25%, from 15%. Also, hybrid vehicles with engine capacity of more than 1500 cc and mid segment hybrid cars of less than 1500 cc fall in the category. Earlier all these vehicles became quite cheaper after the GST rollout on July 1. Under the new GST regime, these cars attract the top tax rate of 28%. On top of this, a cess of 1-15% is levied on them to create a corpus to compensate states for loss of revenue from GST implementation. After the implementation of GST foreign luxury car makers were making their way into the Indian market but this sudden hike in taxes may force them think again. Here is what Roland Folger, MD and CEO, Mercedes-Benz Indian has to say on the new amendment in the GST law.
"We are highly disappointed with the decision. We believe this will be a strong deterrent to the growth of luxury cars in this country. As a leading luxury car maker, this will also affect our future plans of expansion under 'Make in India' initiative, which aims at making and selling world-class products in India, with the latest technology for end consumers. We feel deprived as the leading manufacturer of luxury cars in India, who has been championing 'Make in India'. This decision will also reverse the positive momentum that the industry wanted to achieve with the introduction of GST. With this hike in cess, we expect the volumes of the luxury industry to decelerate, thus offsetting any growth in the potential revenue generation that could have come with the estimated volume growth."
"This decision once again reiterates the need for a long-term roadmap for the luxury car industry, which has been at the receiving end of arbitrary policies. The constant shift in policy makes our long-term planning for the market highly risky, and we think this would only have an adverse impact on the country's financial ratings. By making better technology more expensive, the Government is causing more damage to the environment and slowing down the overall growth pace of the country's economic growth, which it is striving to achieve."
Mr. Folger further added, "One of the original benefits expected out of GST was rationalization of tax rates. Luxury cars and SUVs are one of the segments that long required tax rationalization, as this segment remains highly taxed. Further, in the pre-GST regime, the taxes to the final customer were varying widely from state to state depending on the VAT applicable in respective states. Also, one month is too short a period to consider an upward revision in rates. The market performance should have been watched for at least 6 months, before it was relooked. The current proposal of increase in Cess clubbed with the increased road tax rates, will take the effective consumer price much above the pre GST scenario level."
Prices of most SUVs were cut between Rs 1.1 lakh and Rs 3 lakh following implementation of GST, which subsumed over a dozen central and state levies like excise duty, service tax and VAT, from July 1. While all cars attract a peak GST rate of 28%, large motor vehicles, SUVs, mid-segment, large, hybrid cars and hybrid motor vehicles attract a cess of 15% on top of it.
Expressing disappointment on the same Rahil Ansari, Head, Audi India said "Luxury car industry in India, while small in volumes, still contributes over 10 percent in value. The taxes on this industry were already very high and we expected the unfulfilled potential of this segment to increase after the implementation of GST and rationalization of taxes. However, the proposal of further increasing the Cess on the luxury car industry will dampen the spirits of not only the companies, dealers and customers but also workers and employees working in this industry. This proposed increase in Cess will most definitely adversely impact the sales. We will be forced to re-evaluate our business plans in light of this development. This move unfortunately is against the spirit of liberal market dynamics and we can only request to reconsider this proposal."
Also Watch:
Renault Lodgy Stepway Test Drive Review
| Edited by: Ayushmann Chawla
Read full article
Countdown To
Elections Results
To Assembly Elections 2018 Results