Hennessey VelociRaptor 6x6 Is Here to Challenge the Mercedes-AMG G63 6x6
What's better than a 4x4? A 6x6!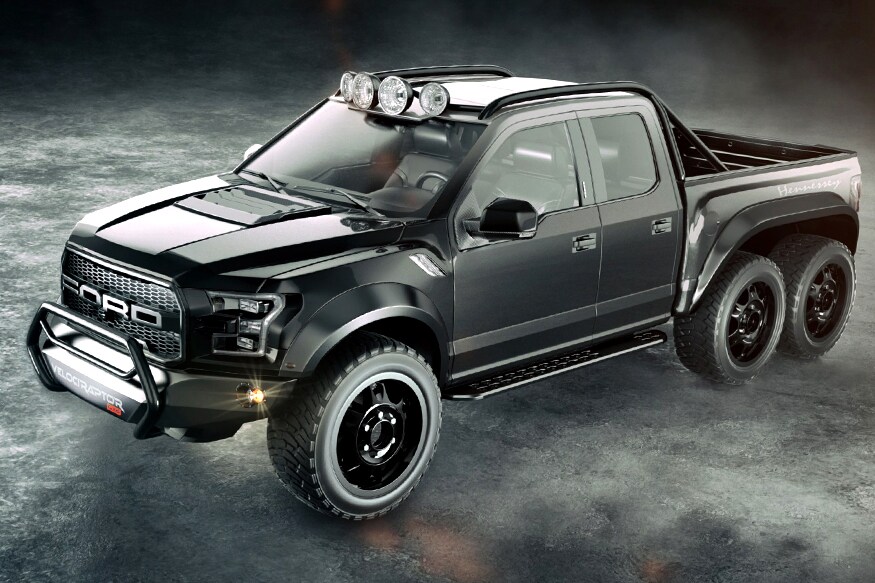 Henessey VelociRaptor 6x6. (Photo: AFP Relaxnews)
Watch out Mercedes, your G 63 AMG 6x6 has some serious American competition in the form of the latest Hennessey Performance creation – the VelociRaptor 6X6.
With its permanent six-wheel drive, massive twin-turbocharged V8 engine and an interior dressed with lashings of leather, Mercedes describes its G-Class flagship as an "automotive declaration of independence" and as the "most spectacular cross-country vehicle of all time." But the Hennessy Performance VelociRaptor 6x6 is looking to grab some of that attention.
Based on the latest 4-door Raptor version of the Ford F-150 pickup truck, Hennessey Performance has rebuilt the bed so that it can accommodate four, rather than two rear wheels with locking axles. The suspension has been overhauled courtesy of Fox parts and, as standard, the truck comes with special 20-inch wheels wrapped in off-road tires.
Other unique features include special front and rear bumpers and underbody protection, plus a new rollbar. And, of course, it wouldn't be worthy of the Hennessey badge unless there was some serious under-the-hood modification to match the external upgrades. In this regard, fans will be happy to learn the company has reworked the stock V6 to ensure a minimum of 600 hp on tap, a feat achieved by upgrading the engine's twin turbochargers, its intercooler, fitting a stainless steel exhaust and reprogramming the engine management system.
"Our VelociRaptor 6X6 is pure aggression on wheels – all six of them", said John Hennessey. "The new 2017 Raptor is going to be one of the best all-around trucks ever built. We are excited to help take it to the next level both in terms of performance and exclusivity."
Prices for this exclusivity will start at $295,000 but owners can add LED lighting upgrades, a necessity for real off-roading, specify interior trim levels, or add some heavy-duty Brembo brakes. And last but by no means least, Hennessey is also offering an armoured version.
Also Watch
Read full article