Hennessey Venom V5 to Make European Debut at Geneva Motor Show 2018
The Hennessey Venom V5 has a twin turbo V8 engine which delivers over 1600 bhp.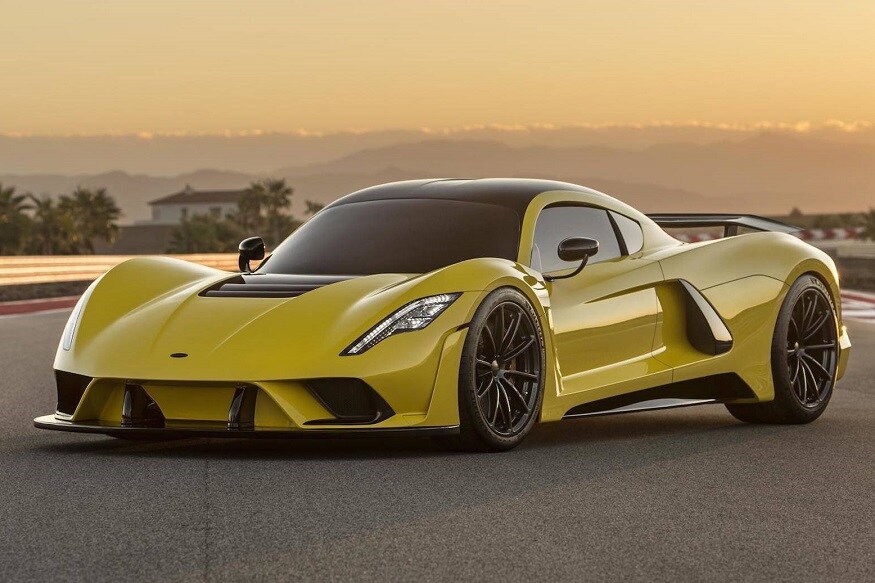 Hennessey Venom F5 Hypercar with 480 kmph top speed. (Image: Hennessey)
Hennessey Special Vehicles unveiled the all-new Venom F5 hypercar at the 2017 SEMA Show in Las Vegas, NV and the car is all set to make its European debut at Geneva Motor Show next month. The hypercar is designed and built from the ground up with one goal in mind: To be the absolute fastest road car on earth.
Hennessey and team have developed a completely new design, chassis and carbon fiber body focused on aerodynamics to achieve the lowest possible drag. The new F5 design features active aero that will yield a coefficient of drag of just 0.33.
The Hennessey Venom V5 has a twin turbo V8 engine which delivers over 1600 bhp. The Hennessey engine is mated to a 7-speed single clutch paddle shift transmission and delivering power down to the rear tyres.
Acceleration from 0 to 186 mph (300 km/h) is less than 10 seconds making the new Venom quicker than current Formula 1 race cars. Zero to 249 mph (400 km/h) and back to rest is under 30 seconds. The top speed of the Venom F5 is projected to exceed 300 mph.
The base price for the Venom F5 is $1.6 million US dollars.
Also Watch: Interview - Vikram Pawah, President, BMW Group India at Auto Expo 2018 | Cars18
Get the best of News18 delivered to your inbox - subscribe to News18 Daybreak. Follow News18.com on Twitter, Instagram, Facebook, Telegram, TikTok and on YouTube, and stay in the know with what's happening in the world around you – in real time.
| Edited by: Ayushmann Chawla
Read full article