Here's the List of Winners of 2016 Raid De Himalaya
The 18th edition of Maruti Suzuki Raid De Himalaya recently concluded in Manali.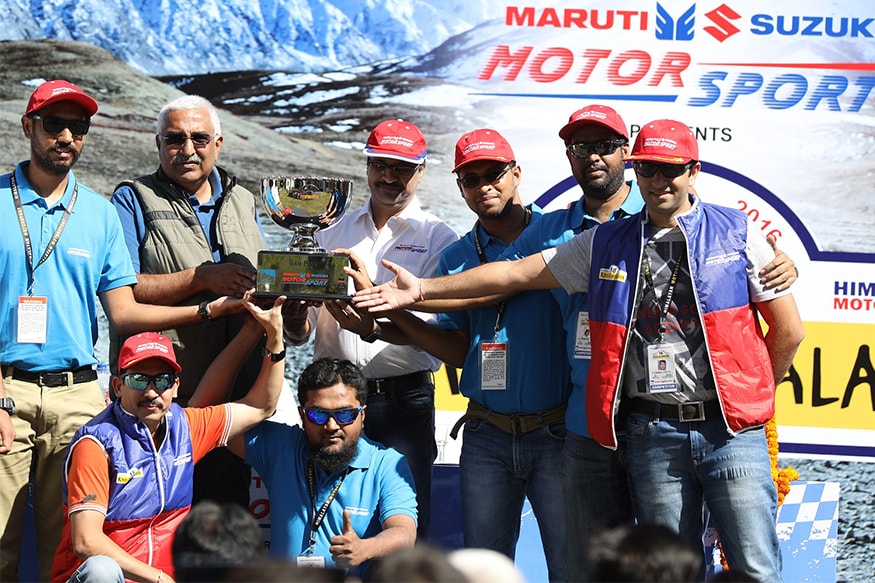 The winners of the 2016 Raid De Himalaya. (Photo: Maruti Suzuki Motorsports)
The 18th Maruti Suzuki Raid de Himalaya concluded in Manali, with Suresh Rana and his co-driver Ashwin Naik, clinching their 10th Maruti Suzuki Raid de Himalaya winner title. Suresh Rana was driving Maruti Suzuki Grand Vitara and clocked a total of 03:42:02 Hrs. Chasing the lead at the second position were Tsering Lhakpa and Venu Ramesh Kumar in Polaris RZR 1000, clocking 03:49:15 Hrs, third position was bagged by Sandeep Sharma and Karan Arya at 03:51:11 Hrs in Maruti Suzuki Gypsy.
The gruelling Xtreme route traversed approximately 800 Kms through some of the toughest terrains like Kaza, Spiti, Jispa and Sarchu.
In the adventure category, Jagmeet Gill and Chandan Sen took the lead driving Maruti Suzuki Swift. This is the fourth consecutive win for Jagmeet and Chandan. Maruti Suzuki Swift is the first car to win the adventure category. Ajgar Ali & Mohd Mustafa in Maruti Suzuki Vitara Brezza and Sunder Singh & Zaman Daoud Khan in Vitara Brezza stood at second and third position respectively. The adventure category of the rally followed the scenic route of Manali, Solang Valley, Tabo and through the sub-zero temperature of Sarchu valley.
Tanveer Abdul Wahid in his TVS RTR450 won the Motoquad Xtreme followed by R Natraj in TVS RTR450 at second position and Umang Saxena at the third position driving KTM Duke 390.
Vinay Pant, Assistant Vice President, Marketing, Maruti Suzuki said, "I congratulate the indomitable spirit of all the rallyists who participated and completed the 18th edition of Raid de Himalaya. We are constantly encouraged to see the increasing enthusiasm in participation every year. We should also take a moment to remember and salute the incredible life of Late Subhomoy Paul, ace rallyist from Kolkata. His memory shall forever live in our hearts and guide us in succeeding against all odds. "
Cherishing his much coveted 10th raid de Himalaya trophy, Manali Man Suresh Rana said, "It feels good to hold my 10th Raid trophy. It is even special since I have brought the trophy home in my own city. Like always, Raid is all about incredible Comradery and sportsmanship. We are all winners in our own rights."
Also Watch
Read full article