Steve McQueen is undoubtedly one of the most iconic Hollywood stars from the 1960's and 1970's. One of the reasons for his cult-like status was his company of radical motorcycles and stunning cars. Apart from his movies action-packed movies like Bullitt, The Great Escape, The Magnificent Seven, Papillion and more, McQueen was known to be proper petrolhead. From his collection of automobiles, a red 1970 Husqvarna 400 Cross will be going up for auction. Some of the other automobiles Steve McQueen has been seen with is the 1961 Triumph TR6 Trophy in The Great Escape and the epic 1968 Ford Mustang 390 GT 2+2 Fastback in Bullitt. Being a speed junkie, McQueen did most of driving/riding in the aforementioned movies.
A documentary on the love of motorcycling racing called "On Any Sunday", produced by Bruce Bowen and McQueen himself, set out to explain the different types of rides and skills involved to compete in different motorsport divisions. The movie garnered success and went onto to win an Oscar in 1972 for Best documentary feature. It is now considered to be one of the greatest and most important motorcycle documentaries in history. The 'King of Cool' also appears in the documentary riding the red 1970 Husqvarna 400 Cross with a yellow number plate. Come October 6th, 2018, McQueen's Husqvarna will be available at Barber Motorsports Museum in Birmingham, Alabama during an auction organized by the Bonhams Auctioneers.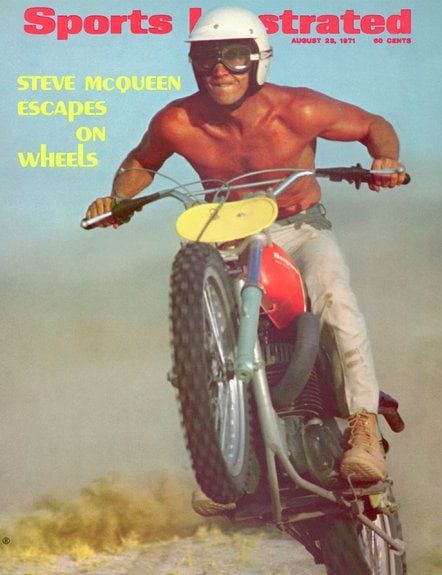 (Image: Source)
The motorcycle will also come with ownership documentation from the California Department of Motor Vehicles under Solar Productions (McQueen's production company) along with his entry form for the 1970 Saddleback 500 Senior Race. Furthermore, it even has a lucky coin, a 1960 uncirculated 1 cent penny, found within the frame of the bike. The iconic motorcycle is expected to fetch a record-breaking amount and will share the stage with another legendary bike, the 1949 Vincent Black Lightning.