How to Take Care of Your Car in Rains This Monsoon – Tips and Tricks
We have listed down a number of essentials, not only on how to save your car from Monsoon rains, but also how to keep yourself ready in case you get stuck in long traffic jams, or worse, in an emergency.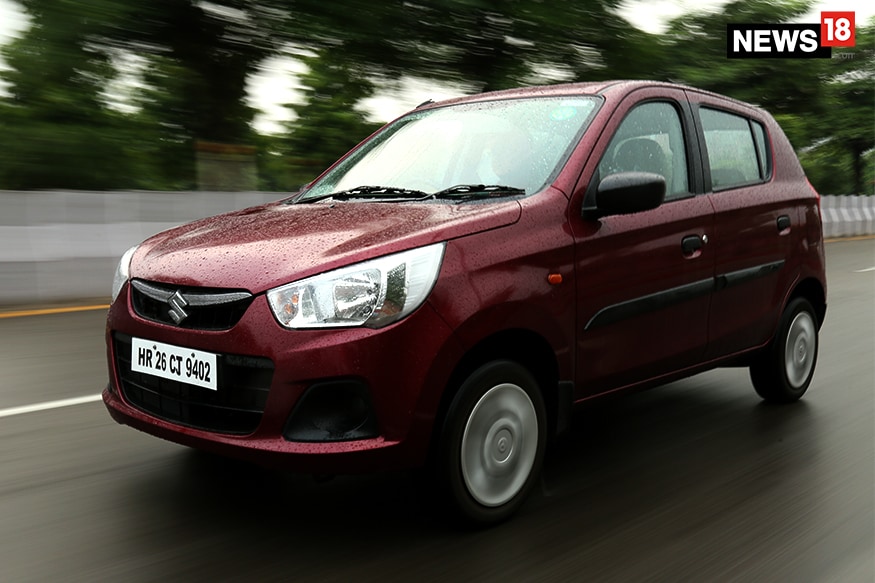 Maruti Suzuki Alto K10. (Photo: Siddharth Safaya/News18.com)
Monsoons are just around the corner and a number of regions around India are witnessing the pre-monsoon showers. While we all rains, for they bring down the temperature and make weather pretty, they bring a havoc for motorists. Reason Being, Indian roads are never made to tackle rainy weather.
But if you prepare well in advance, it's easy to tackle rainy weather, at least to some extent. We have listed down a number of essentials, not only on how to save your car from Monsoon rains, but also how to keep yourself ready, in case you get stuck in long traffic jams, or worse, in an emergency.
Here's some tips and tricks on how to take care of your car and yourself in rains this monsoon!
Top 5 fuel efficient cars in India!
Body Coating
While your car body is tested enough to stand almost all the adversities, including rains, there are times when an additional body coating will help wonders for a car. These coatings include an underbody, anti-rust coating, or a paint protective coating for the body itself. You can get the coating done from the authorized showroom itself, while purchasing a car or later, if required. One can also get the coating done from recognized dealers like 3M.
Cover the car
Remember your dad covering the car, even when parked inside the garage? Call them old-fashioned but, covering the car will save the body from unwanted elements during heavy downpour. Also, in case of any leakage in the car, the cover will stop the water from dripping inside the car, and spoiling the seats and other important stuff.
Don't start engine in water
As confusing as it may sound, but if you are stuck in water, deep enough to enter the tail-pipe, don't start the vehicle. If you do so, chances are that the water will enter the engine through the tail-pipe, causing a malfunction in the system. Instead, push the car out of water manually. Or, if you see water ahead while driving, don't slow down the car in the water.
 Also Watch:
Keep an umbrella
This goes without saying, there should always be an umbrella in your car, no matter what. While the umbrella comes in handy while getting out of the car, it serves a larger purpose too. People who are soaked in rain will leave moisture on the seats, which will absorb the water. These moisture soaked seats will soon start to smell bad. An umbrella will keep occupants dry during ingress/egress. You can use a plastic bag to store the wet umbrella in.
Clean windscreen
The importance of wipers is understood when its raining. The windshield of the car is bound to get dirty in rainy season and wipers come in handy to clean it. But think twice before cleaning a windshield with dirt on it. A moving wiper with dirt on it will leave scratches on the screen. Use a newspaper or cloth to wipe it clean. Use the wipers only to clear up the glass later.
Tow rope
Keep a tow rope handy in the car as it can be used to pull out the car stuck in deep mud. Even in case the car is not starting, a tow rope can be used to pull your car using another car. Most of us don't feel like putting such important accessories in the car, but they can prove a big relief during any hazardous situation.
Medical kit
Again an essential component for any car, a medical kit can be of great help in case of emergency. You can include medicine for bruises, like band-aid, headache, nausea, stomach problem and fever. More medicines can be added after discussing with a registered practitioner.
BMW 7-Series Test Drive Review!
Phone charger
We can't even imagine our lives without mobile phones these days. But apart from the usual chat apps and music, a mobile phone can be used in case of emergency to call for help or your loved ones. But, only if your phone is enough charged to make the necessary calls. Every car comes with a  12V socket, that can be used for charging phones. So always keep an extra charger, or car charger which you would never need to take out of the car.
Newspaper and flashlight
As reiterated before, newspapers can be used to clean the windows and windshield, to prevent it from scratching. Apart from the windows, newspaper can also be used to soak the wet shoes by keeping it over the foot mats. A flashlight, on the other hand, can be used to search something in dark, or even help in changing tyres etc. during night.
Water and Food
Last is the most crucial items to keep in the car in case of emergency. Long jams are deemed to happen during rains and nobody knows how long they can be? Keep some packets of biscuits or power bars, combined with water bottles to quench your thirst and hunger.
| Edited by: Arjit Garg
Read full article