How Will the Electrified and Autonomous Car of the Future Look Like?
When that motor technology is combined with autonomous vehicle advances, the car not only no longer needs the hood but also what the industry calls crash zones.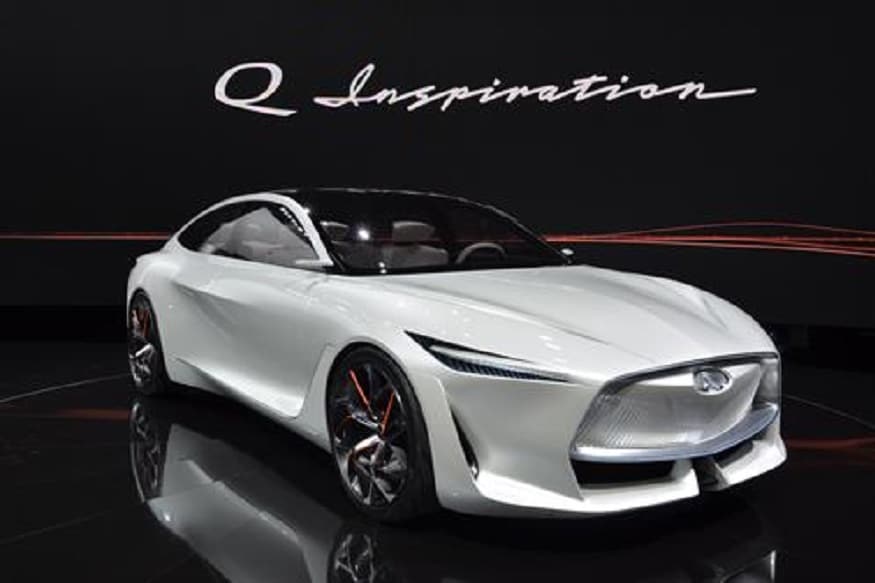 Infiniti Q Inspiration concept. (Image: AFP Relaxnews)
An autonomous driving electric vehicle may not take to the sky any time soon but could one day start to look a bit like The Jetsons' flying car - a glass bubble without the long hood that is a signature feature of today's gasoline-fuelled cars. The key game-changing technology behind that prospect is the electric motor - a relatively simple and compact propulsion system which allows automakers to eliminate the hood and the ample room underneath needed for a bulky internal combustion engine, an engine cooling apparatus, and complex transmission gears.
When that motor technology is combined with autonomous vehicle advances, the car not only no longer needs the hood but also what the industry calls crash zones. The upshot: the EV shift might usher in the age of a bubble- or pod-shaped car like those popularised by the 1960s futuristic animated comedy series, The Jetsons.
Infiniti, Nissan Motor's premium brand, Executive Design Director Karim Habib poses for a photo in front of the Infiniti logo at its Global Design Center in Atsugi, Japan. (Image: Reuters)
"That is the next logical step," Karim Habib, the design chief for Nissan's premium brand Infiniti, said in an interview. "It is definitely the next step, particularly if you image a world of zero accidents with autonomous drive technology fully working. If cars will never crash, the ultimate most efficient (shape) of a personal mobility could be a glass cube."
TIMES ARE CHANGING
Going back to the 1920s, automobiles - especially luxury cars - have tended to have long hoods, as the Tesla Model S does now. But that's about to change. At the Detroit auto show in January, Infiniti showed a concept car whose styling points towards a not-so-distant future when most cars are going to be electrified.
Also Read: New 2018 Suzuki Ertiga MPV Production Begins!
The Q Inspiration Concept car, which is also going to be shown at the Beijing auto show that opens this week, has a shortened hood, an arcing, coupe-like roofline and SUV-like interior room despite being a sedan. Daimler AG's Mercedes-Benz brand has also shown a concept car called the F015 that its wheels set close to the bumpers, and a large interior space under a dramatic roof line that arcs like a rainbow.
LOW SPEC LIFESTYLE
Some industry players such as Chinese-funded smart electric car startup Byton think everyday cars, used for commuting and errands, will be much simplified if they are electrified and enabled by autonomous drive technology.
The Byton car will use facial recognition to unlock and adapt to the driver and offer a range of other ways to interact including voice control with Amazon Alexa, touch and gesture. (Image: AFP Relaxnews)
That's because cars today are all "over spec'ed," Byton's co-founder and CEO Carsten Breitfeld said in an interview. Most have seats for four to seven people even though 70 percent of the time those cars have just one or two people in them. Some have top speeds of 250 km per hour (155 miles per hour), even though no one drives that fast.
Daimler believes the new generation of electric vehicles will have "a much longer wheelbase" to accommodate the batteries required for long range operation, Johannes Reifenrath, head of product and powertrain strategy for the Mercedes-Benz brand, said in an interview.
Also Read: Prince William Spends Some Time With Royal Enfield Interceptor 650 at Heads of Commonwealth Meeting 2018!
Meanwhile, designer and managers at Infiniti, a second-tier premium auto brand which has had trouble establishing a clear, differentiated positioning, believe the technology shift to electrification and autonomous drive offers an opportunity to reset the brand.
"Infiniti needs to find its own style," said Christian Meunier, Infiniti's division vice president for global sales and marketing. He believes electrification technology offers Infiniti a chance to inject more elegance and simplicity into automotive design.
Also Watch:

| Edited by: Arjit Garg
Read full article