Hyundai Motor India Ltd. (HMIL), has launched India's first and unique auto show for kids called Brilliant Kids Motor Show. The Brilliant Kids Motor Show is first-of-its kind initiative in India and is on display at the Ambience Mall, Gurugram from 14th November – 04th December 2018. Hyundai has also displayed the upcoming Kona EV at the Auto Show.
The six-month long campaign started in July 2018 and witnessed tremendous response from kids across different parts of the country. Out of the 5000 entries, 50 entries were shortlisted by Hyundai based on their design, innovative concept and practicality.
Out of these 50 entries, 16 were shortlisted by external jury and 8 kids were chosen as winners after the mentoring session. The top 8 design concepts adapted into full-scale working models are based on the ideas of sustainability, positive impact on the environment and clean energy resources.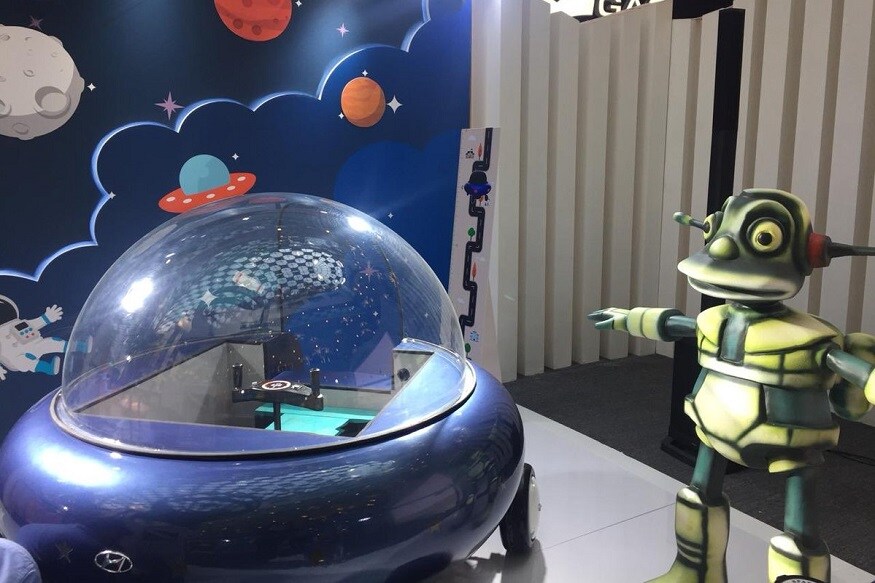 One of the 8 winning designs on display at Brilliant Motorshow. (Image: Ayushmann Chawla/ News18.com)
These ideas ranges from a car that can Clean Oceans, an electric vehicle that uses both solar and wind energy, eco-friendly car that will run on plastic and absorbs Co2 and a car that can clean the roads and use the litter to fuel themselves.
Commenting on this unique initiative, Mr. S J Ha, Director, Sales and Marketing, HMIL said, "We are very proud to launch India's first and most Unique Brilliant Kids Motor Show. Being India's Most Loved & Trusted brand, Hyundai strongly believes in inspiring the next generation of Innovators, Pioneers and Creators of India. We are overwhelmed by the level of innovation and curiosity shown by the children in designing their dream car. We are confident that these 'Young Drivers of Tomorrow' will revolutionize the elements of design
and technology in mobility that India needs at this age and time."