Hyundai Motor India Rolls Out 7 Millionth Car, Aims For 10 Million by 2021
The brand plans to touch 10 million within the first half of 2021.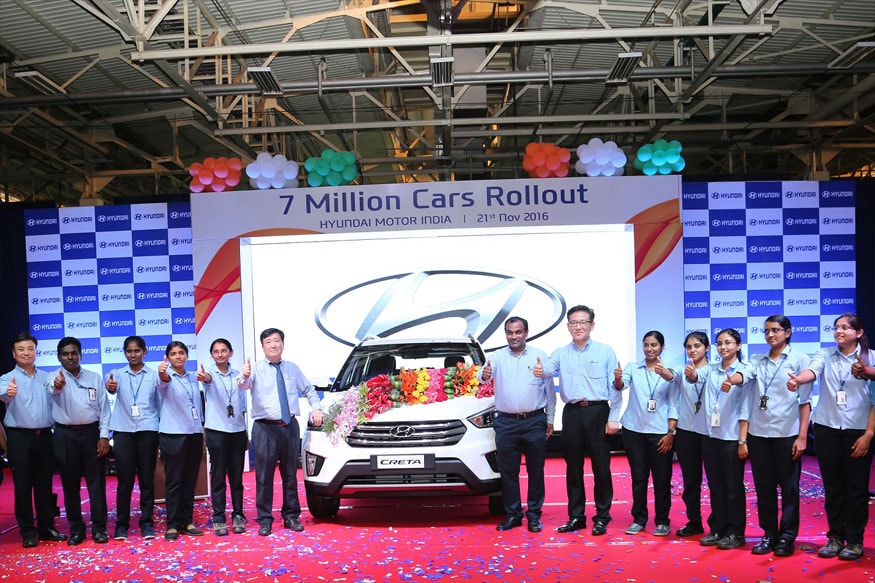 Y K Koo, MD & CEO, Hyundai Motor India and employees mark the 7 millionth car roll out (Image: Hyundai Motor)
Hyundai Creta AT in white has been quite a seller for the company, a fact backed by recent figures. Hyundai on November 21 rolled out their seven millionth car off the production line with MD, Mr Y K Koo and VP production, Mr Ganesh Mani S in the driver's seat at Hyundai Motor India's facility in Sriperumpudur near Chennai.
Hyundai India are now placed second amongst their overseas peers, only after China, and the company is now the first auto manufacturer in India to achieve such a figure within 18 years of commercial operation. At this pace, Hyundai India crossed 1 million mark every 18 months at an average.
HMIL rolled out its first millionth car, Santro, in 2006 eight years after commencement of commercial production in 1998. Thereafter, production picked up momentum, with the next million milestone being achieved within an average of 18 -19 months. The 5 millionth car was flagged off in October 2013 by Hyundai's brand ambassador Shahrukh Khan.
Mr Y K Koo, MD and CEO, Hyundai Motor India Limited congratulated employees on this very significant achievement for the company. He went on to express gratitude to the government of Tamil Nadu for the contribution in the company's success.
Hyundai have also played a role in the economic development of Sriperumbudur region by contributing to the exchequer and also by generating employment opportunities, both directly & indirectly.
Also Watch

News18 Reel Movie Awards: Ratna Pathak Shah Bags Best Actor (Female) Award
Read full article