In Conversation with Alex Chacon, the Creator of 'The Modern Motorcycle Diaries' YouTube Series
Alex Chacon is credited for taking the "Most Epic Selfie of 2014" and was Google's 11th most search word and trend of 2014.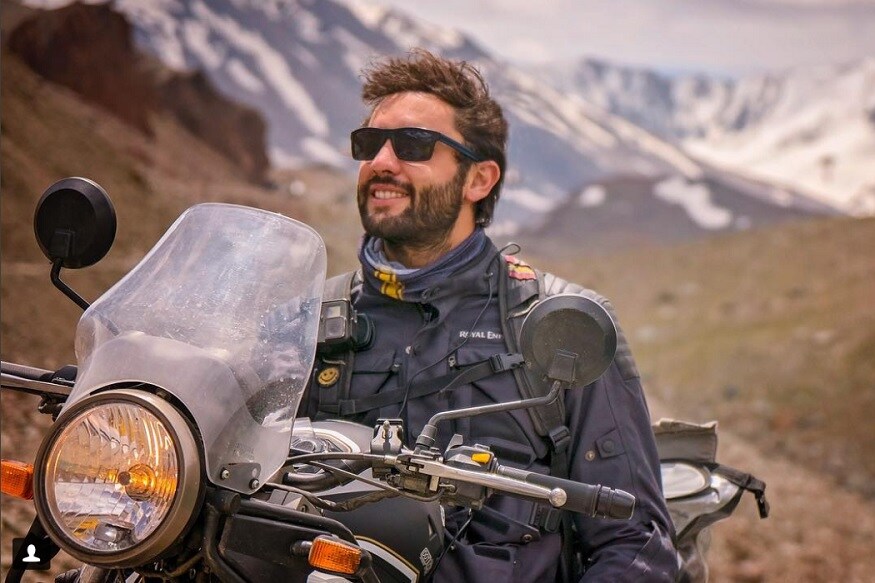 Alex Chacon. (Image: Alex Chacon/ Instagram)
On a wet typical Mumbai Monsoon afternoon and as bad as the rain could have created a havoc, we somehow managed to reach Zostel. All this fuss to meet Alex Chacon, a selfie video freak who has travelled more than 50 countries on motorcycles, and is the creator of the famous 'The Modern Motorcycle Diaries' YouTube Series. Few of his subscribers & followers were already waiting outside braving the heavy downpour supported by the hope to have a glimpse and chit chat with Alex during his subscriber meet. And among all this, we got a chance to catch up with Alex Chacón during his recent visit to the country to understand what fuels his passion for travelling on motorcycles around the world and why India pulls him so often than any other country. Here's an excerpt from our conversation–
Argho: Tell us about yourself in brief
Alex: My name Alex Chacón, I'm a University of Texas Graduate and medical student who sold all his belongings after graduating college to travel around the world on a motorcycle across 200,000+ km, 50+ countries, 80+ borders and 5 continents to work directly with and raise awareness for charitable causes.
I have been ranked as the number 1 and the most followed Motorcycle Adventure Rider on all Social Media combined, credited as having taken the "Most Epic Selfie of 2014" and was Google's 11th most search word and trend of 2014.
Argho: What was that moment of realisation which pushed you out of your comfort zone and made you to do this?
Alex: At the age of 17 I did a small motorcycle trip around US & Mexico during which it was quite clear that I want to see the world on a motorcycle & after completing my medical graduation I decided to take a year off & did a trip in which I made this "Selfie Video". Now back in 2012, selfie technique was not known to anyone and within some days of travelling I realised this is the way to go ahead & then after two years my epic selfie video was out & it went viral all across the internet.
Argho: How do manage your personal life, family life & adventure motorcycling?
Alex: It gets little difficult at times, but quite manageable till now. I have to sacrifice a little bit of my family & friend's time because what I have chosen to do & that is to 'See The World', but since I am not married (I get this question a lot in India), till now I am able to manage it.
Argho: Any one incident when you felt like I am in deep trouble and probably this is the end?
Alex: So, in 2013, I was riding in the interiors of Patagonia in Argentina when my motorcycle broke down & for the next three days it was just me & the motorcycle with no food & just water. On the fourth day I started working & then within 2-3 hours of walking I was rescued. Frankly that was when I was like damn, I am going to die but someone up there had some other plans it seems.
Argho: You prefer Royal Enfield in India and area adjoining India. What is it about this special bonding with RE?
Alex: The way I like to travel is to get involved with the culture & people. Royal Enfield has a huge fan following in India & when people see you are riding one they will come to you, talk to you and they feel proud that I am riding a bike which is Made in India & that in India creates a lot of bonding and connect. Having said that, it is not the best motorcycle neither it's fast but it looks great in pictures, people has a connect and the brand is doing a great job.
Argho: You have ridden thousands of kilometers in India, share your experience about India's traffic?
Alex: My friends always ask me what with India's traffic, but I call it as an organized chaos. It's dangerous, it's challenging, it's difficult but definitely it is the adventure I look forward every time I am in India. I have never honked so much maybe the amount I have to do here but it's fun to get out of it in a zig-zag manner like the locals. You can that is also a part of my culture experience here.
Argho: Which is that one country you would go back again?
Alex: You might find it funny, but the obvious answer is India. This is my 5th visit here & do I need to say anything more. I have tried Indian food but remember I have Latin & Mexican roots & we love spicy food, so I connect very well with the food here.
Argho: This will be a rapid-fire round, or you may say some quick shots fired at you.
1. Favorite Bike?
Alex: I feel that every bike is special & it has been my experience till date.
2. Triumph Tiger or BMW GS 1200?
Alex: Depends on which part of the world I am riding in, If India then Royal Enfield, If North America then maybe a Triumph or a BMW but the best one is the one which you can afford.
3. MotoGP or Dakar Rally
Alex: Definitely Dakar
4. Messi or Ronaldo
Alex: Will be unfair to both if I take sides.
Argho: What is your message for the budding Vloggers?
Alex: If somebody wants to make a living out of social media then remember one thing, lot of people will do it, but this is not for everybody. Doing this everyday means it is a full-time job, transferring data, shooting everything what I do it is not as glamourous & amazing as it looks. Anybody can create videos & trash, so have a purpose and have a goal it is very important to make a difference or an impact.
(The author is a Communication Professional and Automobile Writer from Mumbai. Views are personal.)
| Edited by: Arjit Garg
Read full article