In Conversation With Pallavi Fauzdar - Adventure Biker
Pallavi Fauzdar is the 1st person in the world to reach the top 3 highest passes in the world, including UmLing-La pass at 19,932 ft in Ladakh region.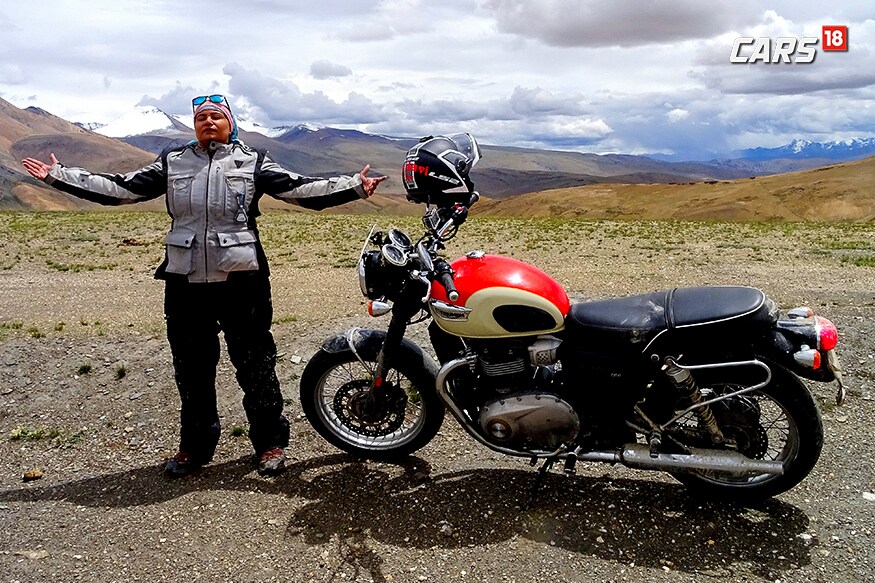 Pallavi Fauzdar with her Triumph Bonneville. (Image: Pallavi Fauzdar)
Pallavi Fauzdar is the first person in the world to conquer all the three highest mountain passes in India – UmLingLa pass, Sathatola and Mana pass. Recently, she took a Triumph Bonneville T100 to her latest Ladakh adventures and named a newly discovered pass after the bike – Bonnie La. For her accomplishments, she has been awarded by President and other top ranking officials from the government. We had a chat with her on the journey, naming of Bonnie La pass and safety advice for bikers. Here's what Pallavi Fauzdar has to say!
News18 – How and when did you start biking?
Pallavi Fauzdar - I was a young kid when I used to travel with my father on his motorcycle. Generally I used to sit on the tank and was excited to see the whole family seating behind me and I am the only one riding the bike. That's where my love for biking started and with the growing age, it converted to my passion. Whatever I am doing today is due to my passion for motorcycling.
News18 – Tell us about the passes you have covered on motorcycle?
Pallavi Fauzdar - I have travelled to 15 high-altitude passes which are above 5000-metres, a record in itself. The latest discovery for me is the Um-Ling-La pass, which is situated at 19332 ft. I went to Ladakh in 2015 in which I covered 16 passes in a single ride, 8 of those were above 5000 metres, which was a world record. I discovered Satha-Tola pass in the Ladakh region at a height of 5602 metres. In 2015 I tried for Mana Pass and I managed to reach till the Zero point. The height of that point was 18,774 ft, which was another world record.
News18 – tell us the story about naming Bonnie La
I also discovered a new pass and named it Bonnie-La because I was riding the Triumph Bonneville. I felt connected to the bike and felt the need to name a pass on my companion.
News18.com Presents Tech and Auto Awards 2017 | Two-Wheeler of The Year: Bajaj Dominar or KTM RS 390? Vote And Win
News18 – Tell us about the highest 3 passes?
The highest pass is Um-Ling-La, followed by Mana Pass and Satha-Tola. I am the only rider in the world to reach all these passes.
News18 – Tell us about the various awards and recognitions you have been bestowed with?
I was awarded the Outstanding Global Woman of U.P award in 2015 and in 2016 I was given Naari Shakti Award for my adventure biking.
News18 – Any safety tip for bikers?
Helmet is must, safety guards are must. Whenever you are speeding on a public road, where common traffic is also there, it is not only your safety that matters, but the safety of pedestrians and other riders also matter.
Also Watch:
| Edited by: Arjit Garg
Read full article
Countdown To
Elections Results
To Assembly Elections 2018 Results