Hyundai is planning to revive one of its most selling car the Santro and it is expected that the car will be launched in Indian market soon as the car has been spotted several times on the Indian roads now and recently the car was also spotted undergoing winter testing in Europe. Internally known as the Hyundai AH2, the car was earlier spotted by a Twitter user during the pre-testing phase. The car appears to have a roomy cabin. Reportedly, the new car will be placed between the Eon and Grand i10 and will compete against the giants of Maruti Suzuki Celerio, Maruti Suzuki Wagon R and Tata Tiago.
Riding on skinny tires, the prototypes were likely hiding a more modern design compared to the old Santro Xing which was discontinued in 2015 after being on sale for an impressive 16 years.
Also Read: Lexus LS 500h Hybrid Sedan Launched in India for Rs 1.77 Crore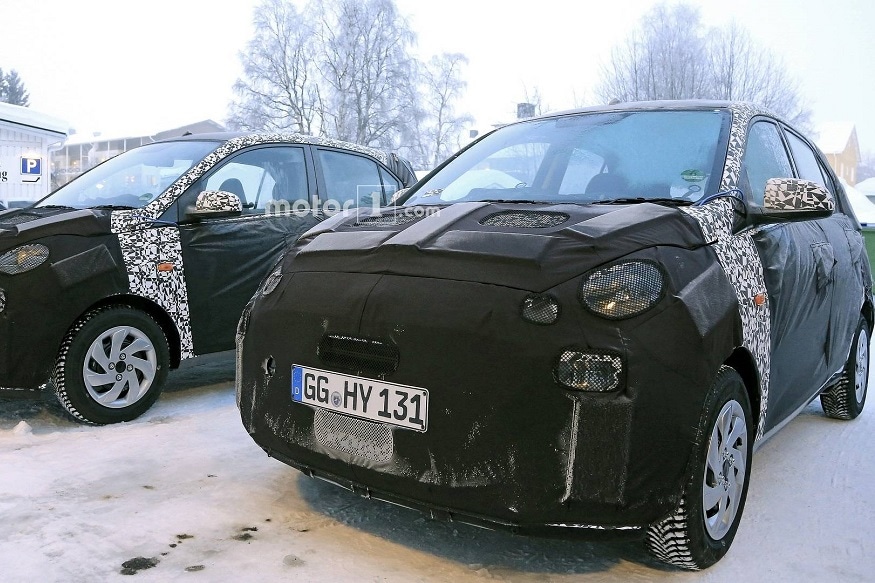 2018 Hyundai Santro. (Image: Motor1)
As per various reports on the internet, the car will come with 1.1 and 1.2-litre petrol engine with a 5-speed manual transmission. The car is also expected to get AMT. First launched in 1997, the Santro challenged the mights of Maruti 800 and Tata Indica back then. In a strategy to push the Hyundai i10 and Hyundai Eon sales and growing emission norms, Hyundai pulled the plug from one of the most popular car in 2014.
Santro also helped Hyundai to reach the 1st millionth car in 2007. Any other detail about the car is yet to be revealed by the company but it is expected that Hyundai may reveal its new hatchback at Delhi Auto Expo 2018.
For more images click here.
Also Watch: Audi Q5 2018 Review (First Drive) | Cars18