Jeep Grand Cherokee Trackhawk: The World's Quickest and Most Powerful SUV
How powerful and quick? A phenomenal 707 hp, 875 Nm of torque and a 0-100 km/h time of just 3.5 seconds. It can also tow 3266 kilos.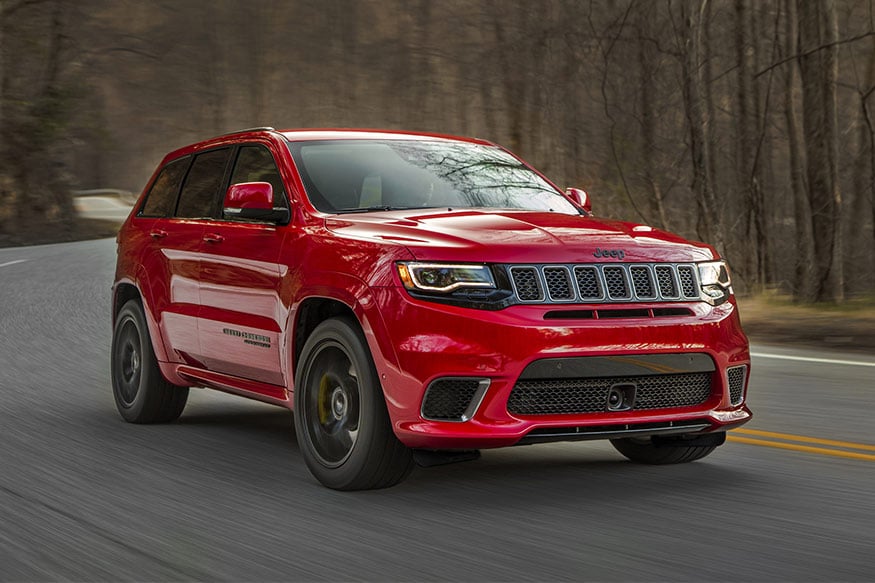 The Jeep Grand Cherokee Trackhawk. (Photo: AFP Relaxnews)
Bad luck, Bentley. For the past year, the luxury car marque has been able to boast that its Bentayga is the world's fastest and most powerful gasoline-fueled production SUV. But the new Jeep Grand Cherokee Trackhawk has just knocked it off its perch.
Unveiled at the New York Auto Show, everything about this SUV is full-sized and full-on, from its Brembo brakes (the biggest ever fitted to a Jeep) to its reinforced drive shafts and rear axles. But the two biggest things about the car are its engine -- a 6.2-litre V8 -- and its heavy-duty supercharger, which can deliver 11.6psi of boost pressure and force over two litres of air into the engine on every revolution.
The result? A phenomenal 707hp, 875Nm of torque and a 0-60mph time of 3.5 seconds. And while other SUV builders take their cars off-road to test their capabilities, Jeep took the Trackhawk to the drag strip where it managed the standing quarter mile in 11.6 seconds.
"Long recognised as the full-size SUV capability leader, Jeep Grand Cherokee is now the most powerful and quickest SUV as well," said Mike Manley, Head of Jeep Brand - FCA Global. "The new Grand Cherokee Trackhawk delivers astounding performance numbers, backed by renowned SRT engineering that combines world-class on-road driving dynamics with luxury, refinement and an array of innovative advanced technology."
Indeed, unlike the company's other hotrod reveal at this year's show -- the Dodge Challenger SRT Demon, this car's performance is served up without any sacrifices to the everyday on-road enjoyment. It's got soundproofing and comfortable seats, climate control, leather trim, and a combined 70 different safety and security features -- from a valet mode to stop anyone but the owner from unlocking all 707 of those horses, to a rear camera system designed to monitor anything being towed.
All of that torque makes the Trackhawk a phenomenal vehicle for pulling a trailer, horsebox or Airstream -- and Jeep says it can safely tow 3266kg.
But whether the car is used for towing, racing or simply hitting the open road with the family on board and getting to the destination very, very quickly, drivers will appreciate its standard adaptive cruise control, blind spot monitoring, park assist, lane departure warning and collision mitigation systems.
Also Watch

Watch Now | Space Out With Actors Vinay Pathak and Manoj Pahwa
Read full article