Kawasaki Vulcan S Review - Middle of the Road
The Kawasaki Vulcan S was launched quietly at an attractive price. It does everything right, but is that enough for the janta?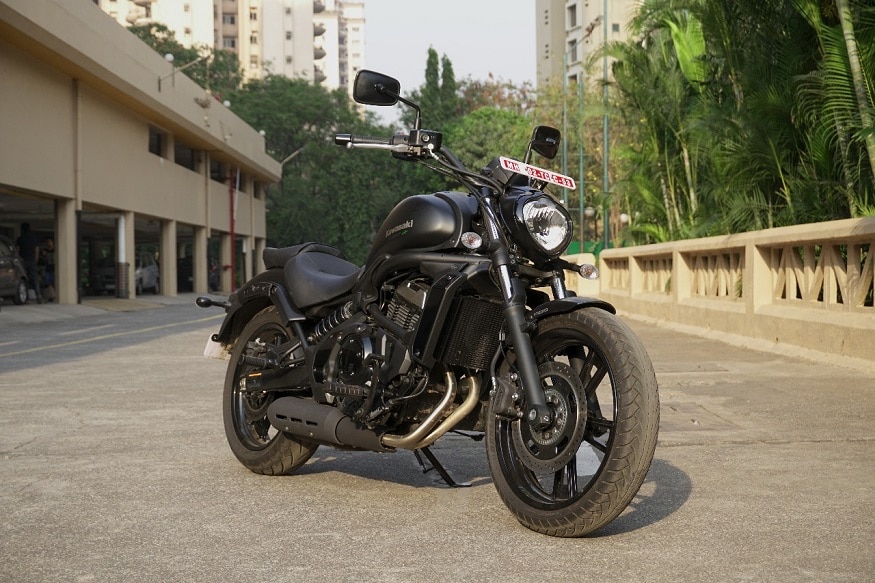 In India, we aren't new to cruisers. Harley-Davidson has been selling a bunch of them here for years, accessible to landed gentry, and more recently to everyone else via the Street 750. Over the years, the little Harley has proven to be a fast-moving item, such as it is, and has had no direct competition until now. The Vulcan S has been a long time coming, and delivers some things that the Harley doesn't. At almost Rs. 5.44 lac ex-showroom, it's slightly more expensive than a base Street 750, but on-road prices are nearly a lac more (Rs 6.47 lac in Mumbai), due to it being a CBU import.
Who's it for?
The Vulcan S is a do-everything motorcycle, based on the same do-everything platform as the Ninja 650, Z650 and Versys 650. All these are very solid, dependable motorcycles, with their own little niggles but no deal-breakers. This carries over to the Vulcan and it's a great bike for a new rider, or someone returning to motorcycles after some years, wanting a gentle re-introduction. This is not a tinkerer's bike or one for armchair racers. There are no electronic nannies apart from ABS and basic features. It's a nice, honest motorcycle that delivers what it says on the crate.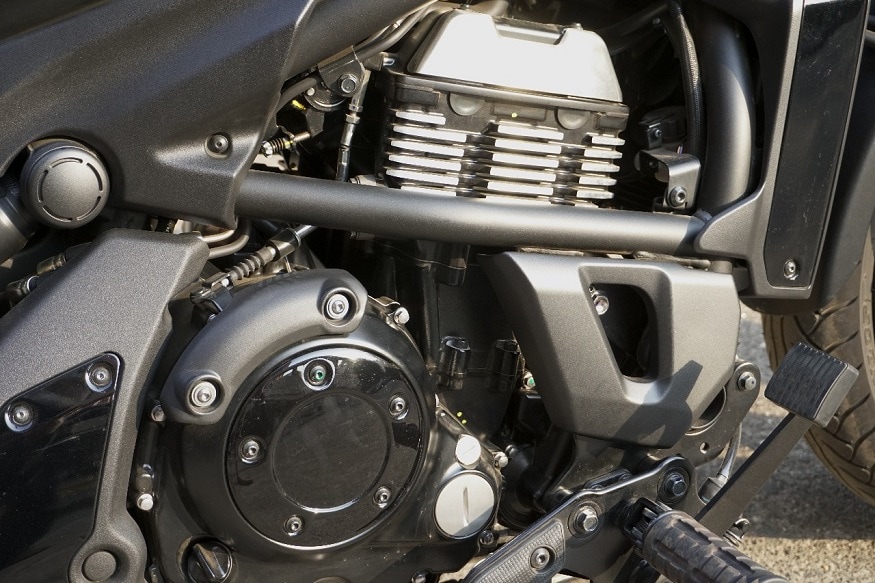 Kawasaki Vulcan S comes with 650cc engine. (Image: Kartik Sadekar)
What does it look like?
As is evident from the pictures, the Vulcan S does a take on the traditional cruiser format. But traditional-looking, it is not. If anything, it's more power-cruiser than easy-rider. The stealth black paint makes it look solid and is good quality. If one were a stickler for heritage, one would want a typical steel frame with the engine cradled within, and perhaps a hardtail or twin shocks. The Vulcan borrows the trellis style of frame from it's sportier brothers, as it does the right-side mounted shock. The headlamp and tank are also more Mad Max than Hell's Angels, making the design a mixed bag. If you're not a purist, you might like it.
Speedometer on the Kawasaki Vulcan S. (Image: Kartik Sadekar)
What isn't necessarily evident from the pictures is just how large the motorcycle is. It's substantial in every way except pure weight -- that's quite manageable. This is a concern for most people in the market for an affordable cruiser: it needs to be manageable and cheap, but they do wish it didn't look like a Bajaj Avenger, something Harley has to deal with and Bajaj is totally owning with their new lineup of bikes.
Is it comfortable?
In a word, yes. The Vulcan does have forward-set footpegs for the rider, as is customary with cruisers. However, they've made them adjustable to three positions, so hopefully this should adapt to most riders. The handlebar is quite large, and reaches back a fair bit. For my 5'9" frame, ergonomics seemed just right, with no unnatural reach forward for any controls. The seat is also quite comfortable for the rider, and is generous enough to accomodate the average rider. For my svelte frame, there was plenty of room to move around. The rear seat is a separate unit, and appears to be a pad with a good height. Anecdotally, our photographer was unhappy with the comfort at the back, but this will depend on your pillion and their preferences. The pillion pegs are in a reasonable place.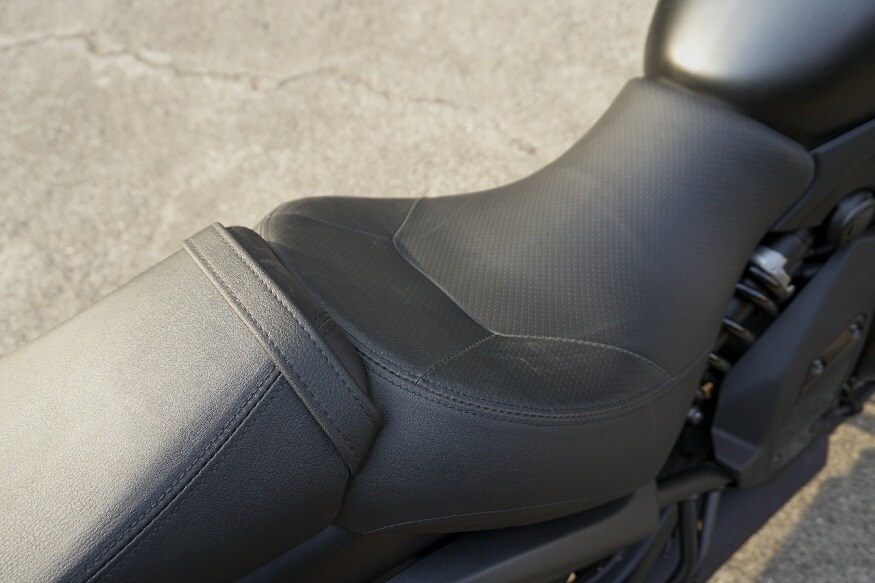 Kawasaki Vulcan S seat. (Image: Kartik Sadekar)
An important feature to note is that the Vulcan S comes with an absolutely gigantic saree guard that looks like it was made by the same guy who made your home window grills. I would recommend you remove it immediately upon buying this motorcycle and ensure you don't do anything stupid like transport saree-clad ladies side-saddle. Unfortunately, the critical grab rails are part of this ridiculous (but mandatory) accessory, so you'll either have to order an official accessory, or find someone to fashion something custom for you.
What's it like to ride?
TL; DR: it's really nice to ride. This comes close to being the perfect entry-level cruiser motorcycle you can buy (or I've tried). It only makes about 60hp, but that's a very solid figure if you compare it to even much larger V-twin cruisers. But you can't, because most of those bikes only publish a torque figure. In any case, the torque is what you feel and is more important for the intent of this motor. The 63Nm that this 650cc parallel-twin motor delivers is plenty to get the bike going quickly. Gearing appears well-matched to the nature of the motor and the bike is just get-on-and-go.
Kawasaki Vulcan S rear end. (Image: Kartik Sadekar)
This is a basic motorcycle in that it is not using ride-by-wire throttle. The motor is fairly eager as well, so one must occasionally feather the clutch to stay smooth. If you're directly comparing this to a v-twin motor, it's a very different experience and you won't get dollops of creamy torque everywhere. This is a more linear, rev-happy motor. Significantly, despite the competitive specs, this motor does not heat up to be noticed whatsoever. On most V-twins, you'll very quickly be doing a strange ants-in-the-pants dance every time you come to a stop, because the heat can become unbearable. Not so on the Vulcan. Simply not an issue.
The suspension is really good. A rear shock is a linkage-type unit unlike older Kawasakis on this platform, so it absorbs your city commute well, with preload adjustability for various loads. The front fork uses 41mm tubes, and like the rear, is non-adjustable. About the only complaint I had was that the bottom of the bike can scrape on some speed bumps, so you might want to adjust the preload a bit more than usual, and certainly before taking a pillion. Otherwise, it works well and lends confidence to an already easy-going bike.
Kawasaki Vulcan S rear suspension. (Image: Kartik Sadekar)
In terms of braking, the Vulcan is good. At low speeds, you have decent feel at the front brake lever and stopping the bike feels secure. It is, however, using only a single 300mm front and 250mm rear disc, so at speed, the mass of the motorcycle does make the brakes work. We did not reach high speeds or deliberately test the ABS, but we're glad it's there, because stopping a 235kg motorcycle from top speed on these brakes would be hairy.
Handling is also very good. To the point that anyone with some experience on a motorcycle should be able to manage this quite easily. I was able to ride it around some very heavily-trafficked roads as if it were a scooter. It's one of the tricks that the Vulcan has in its arsenal -- carrying its weight low and encouraging smooth, easy, poised progress and handling.
What are you not telling me?
Hopefully, nothing important. I did notice that the tyre combination uses 18" front and 17" rear tyres. 17" tyres are fairly common and easy to procure for large motorcycles, but not so much for 18" tyres. This means you're going to have to go back to the showroom when you need to replace them, because this sort of matched pair is unlikely to be available at an independent outlet.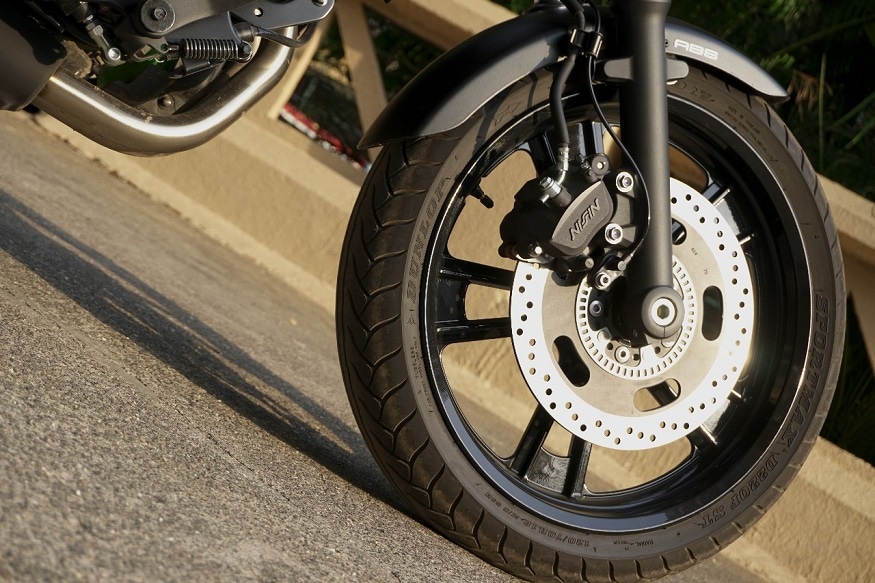 Kawasaki Vulcan S comes with 18" front tyre. (Image: Kartik Sadekar)
Also worth noting is that while a cruiser should be able to take you long distances, this one comes with a 14l fuel tank, so count on making several stops on your long trips.
Perhaps the most egregious feature of the Vulcan S is the indistinct, pedestrian exhaust note, which is uncannily like a four-stroke autorickshaw. We happened to be passed by one in the parking lot, and it was astounding just how similar they sound. Of course, you can fit an aftermarket exhaust system, but regardless, that parallel twin is never going to sound as evocative as a V, inline-four or even one of the recent Triumph twins.
Conclusion
Objectively speaking, all of the above information should be enough for you to get you to the showroom. However, as rosy as the picture looks, it's not going to be enough to push you to write that cheque. The Vulcan S does everything very nicely, but it does not tug at my heartstrings, and I suspect it won't for many people. It's fun, practical, feels bulletproof, comfortable, easy handling and safe. It will work for the newbie, the born-again biker and the focused enthusiast who doesn't want to be a grease monkey or support the after-sales business model of the local dealership.
But charismatic it is not. Years from now, if you want to think back to the time you owned a Kawasaki Vulcan, you'll remember the places you went and the people you met, but not as much the motorcycle. For some people, maybe that's a good thing. But even those people will think twice about spending more than on the Harley.
(Tushar has been a technologist, journalist, corporate babysitter, cat herder and unemployed internet raconteur, roughly in that order. He is currently testing the patience of various marketing and communications departments while routinely imbibing their fine spirits. He contributes to various prestigious publications upon whom the truth has not yet dawned. He can be reached out on Twitter
@tburman
)
Also Watch: Middle-of-the-road: 2018 Kawasaki Vulcan S
| Edited by: Ayushmann Chawla
Read full article
Countdown To
Elections Results
To Assembly Elections 2018 Results