Lamborghini Huracan Performante worth Rs 4 Crore Catches Fire at Petrol Pump, Completely Destroyed [Video]
The incident occurred when an MPV driver drove off with the fuel hose still attached, resulting in fuel spill on the Lamborghini at a fuel station.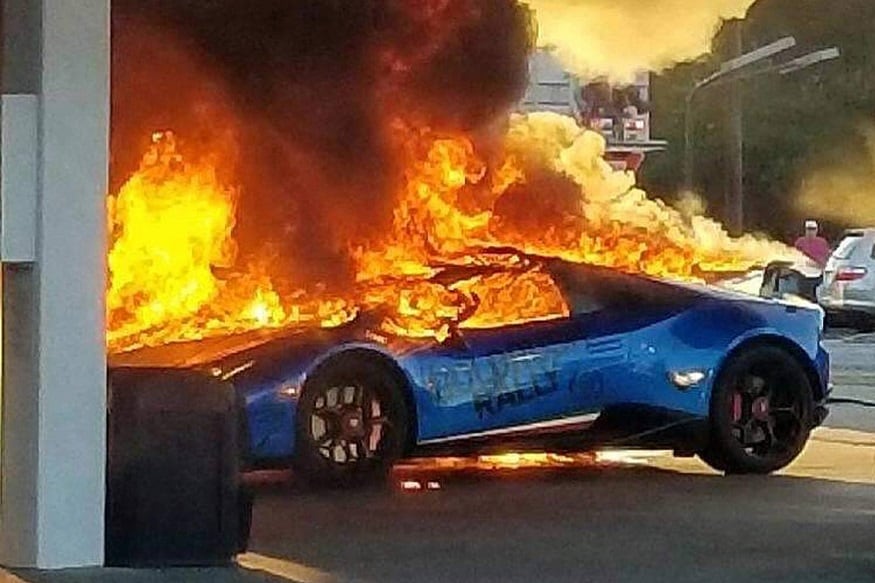 Lamborghini Huracan Performante on fire. (Instagram)
In a sheer display of negligence, a Chrysler MPV driver in St Louis, Missouri, U.S., drove off the vehicle with the fuel hose still attached to the car. As if this was not enough, the negligence resulted in the spilling of petrol over one of the parked Lamborghini Huracan Performante at the fuel station. Since the supercar came straight from an event, the hot engine resulted in a massive fire that engulfed the Rs 4 Crore supercar in no time.
The incident was captured by a passerby who posted the dramatic images on Instagram and wrote - "Yes, that was myself and my friend with the two Lamborghinis at the gas station last night. We were out driving for a bit and I needed to go get gas. The blue Lamborghini pulled up right behind me. He decided to go in to get us waters and while I was trying to pay for my gas at the pump there was a card error, so I also went inside.
As soon as we walked in, we saw a massive fireball out the window. We all ran out of the gas station to the other side of the road. At this point, we had no idea what happened or who's car(s) were on fire. We dialed 911 and when the fire was out you could see that his car was completely burned down, ours just covered in ash.
While talking to police and firefighters a man ran up and said he saw what happened. He was recording the cars to show his friends and caught a guy driving off with a gas pump still in his car. The pump sprayed fuel directly into the Huracan's engine bay and it instantly ignited. Police found the guy that did it and everything will be taken care of. Just thankful we all got away safe and it didn't escalate into a bigger fire."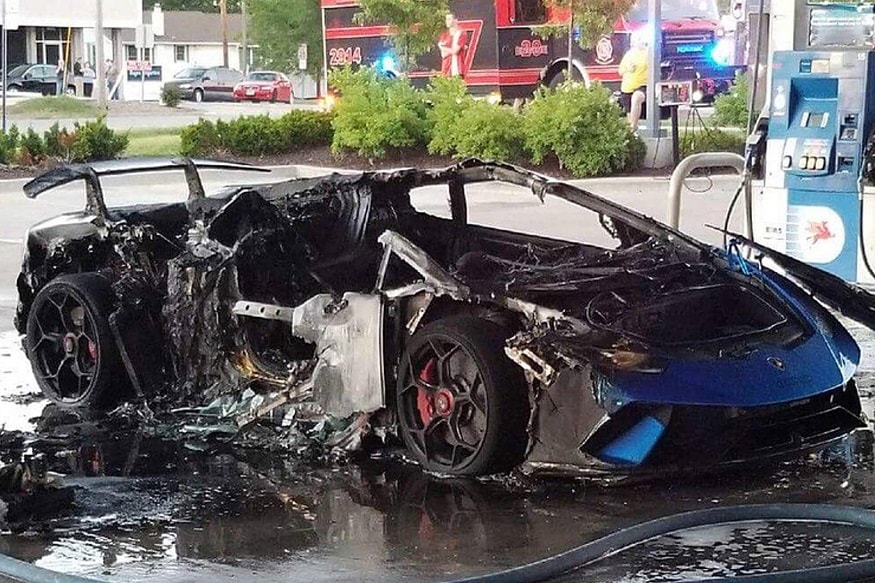 Lamborghini Huracan Performante damaged in fire. (Instagram)
The whole incident occurred when two Lamborghinis that were on their way back home after taking part in the Goldrush Rally stopped at a Mobil1 fuel station to refill gasoline. The rally organisers commented saying: "We are happy to report that no one was hurt in yesterday's fire at a gas station in St Louis involving a Goldush Rally Lamborghini Performante."
The Goldrush Rally finished last weekend in Las Vegas, with exotic car owners traveling across the U.S. for over a period of two weeks. No word on the Chrysler MPV driver is out yet. The Huracan Performante was launched last year at the 2017 Geneva motor show, featuring a 5.2-litre V10 engine producing 631 hp.
| Edited by: Arjit Garg
Read full article