Lamborghini Owner Climbs the Supercar Worth Rs 5 Crore, Breaks Windshield in Excitement
The driver of the Lamborghini climbed the supercar to show-off his prized possession and damaged the windscreen in excitement.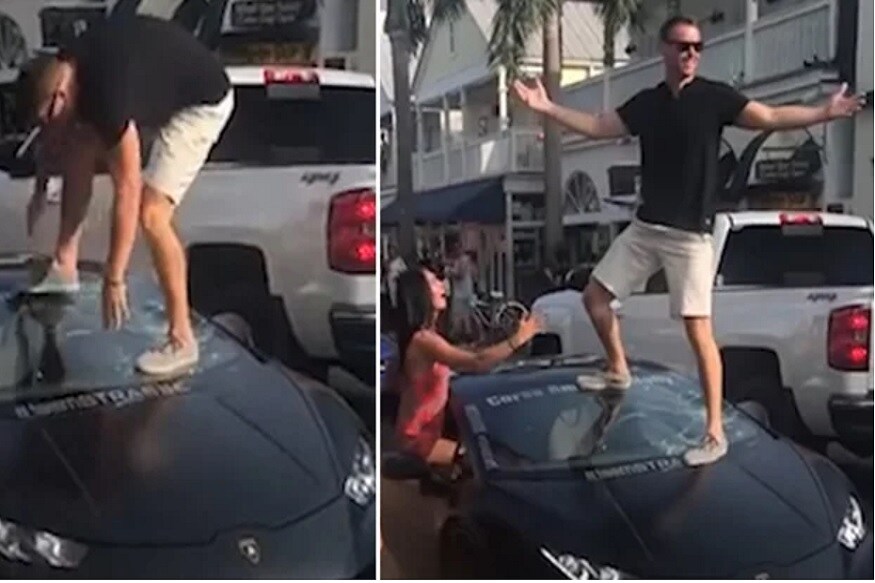 Man climbs Lamborghini. (Image: Screenshot)
As harsh as it may sound, but any person climbing a supercar has to be out of his mind. The reason is plain simple – supercars are made to deliver performance and a powerful engine alone isn't enough for a high speed run. Along with the engine, a light weight body is also essential, which means most of the supercars are not built like a tank and are hardly heavier than 1000-1200 kg.
The Lamborghini Aventador is no different with the weight as low as 1500 kg, most of which is from the engine and wheels. The rest of the car is made of lightweight and strong material like carbon fibre. But this doesn't mean that it is immune to unnecessary weight you put on it. Something of a similar sort happened when a stupid Lamborghini owner climbed the supercar and stood on the windshield.
What happened next was expected as the windscreen of the black Lamborghini cracked under the weight of the owner. And why did he climb the Rs 5 Crore worth Lambo? All because to show off his car to the bystanders who were there to see the fancy cars at the Autopride day in Key West, Florida.
As soon as the windscreen cracked, his co-passenger realizes the intensity of the damage and yells at the driver, while he goes back inside his car, red faced. Just so you know, windscreen replacements aren't cheap and that too of a Lamborghini.
| Edited by: Arjit Garg
Read full article